The ebony-hued Kadaknath chicken, with its myriad medicinal properties, is considered superior to its ilk
◊ By Hemendra Singh Jadon  
The Kadaknath or Kali Masi is a black-hued indigenous chicken breed found in Jhabua town of Madhya Pradesh (MP). This coal black beauty is one of three breeds of Black Meat Chicken (BMC) in the world, the other two being the Silkie (occurring in various colours, including black) from China and Ayam Cemani from Indonesia. Kadaknath is well suited to the Indian climate (they can thrive in extreme weather), with strong immunity and high resistance to disease. Thus, the black-plumed chicken is a low-maintenance, high-return breed, which does not require antibiotics, rendering it safe for human consumption.
Occurring in three varieties—Jet Black (most common), Pencilled and Golden—the Kadaknath is entirely black in colour—skin, feathers (except in the pencilled and golden variety), meat, blood, bones, nerves and even its eggs.
NUTRITION-PACKED
A healthy Kadaknath adult male weighs approximately 1.5 kg. Its black meat has an intense and distinctive taste, and it contains more protein (approx 25%) than white chicken meat (approx 18%). Rich in vitamins B1, B2, B6, B12, C and E, niacin, calcium, phosphorus and iron, the inky fowl has a lower fat content of only 0.73-1.03% as opposed to the approx 25% in other chicken breeds.
Kadaknath meat contains 18 amino acids of which, eight are essential for the human body. Black meat is also considered healthier as it contains 24% linoleic acid, as opposed to the 21% in white chicken.
Furthermore, the cholesterol content in Kadaknath is only 184.75 mg/100 gm as opposed to the 218.12 mg/100 gm level present in other chicken varieties. These attributes make Kadaknath meat and eggs highly desirable to the health conscious.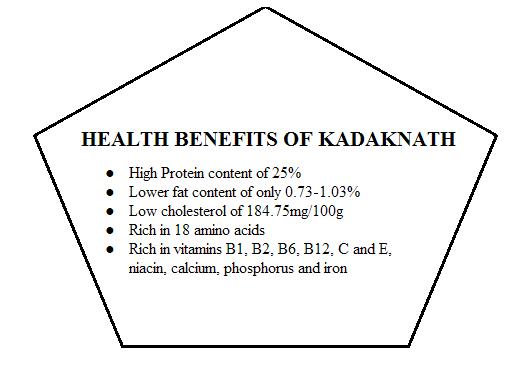 MYRIAD HEALING PROPERTIES
Kadaknath meat and blood are consumed by people with chronic diseases and disorders like anaemia. Since it has lower cholesterol, it can be consumed by those with high blood pressure.
The melanin pigment in the blood of Kadaknath and its meat are said to be beneficial for people with vitiligo in which the skin discolours unevenly in blotches due to the deficiency of melanin.
Kadaknath meat is also believed to help regulate the menstrual cycle besides possessing aphrodisiacal properties. The eggs of the Kadaknath, also dubbed 'Diet Eggs', help alleviate severe headaches, fainting spells, asthma and nephritis. Its meat and eggs are also believed to benefit patients with tuberculosis. Studies conducted by The Central Food Technological Research Institute (CFTRI), Mysore, indicate that Kadaknath meat is good for cardiac patients as it increases blood supply to the heart.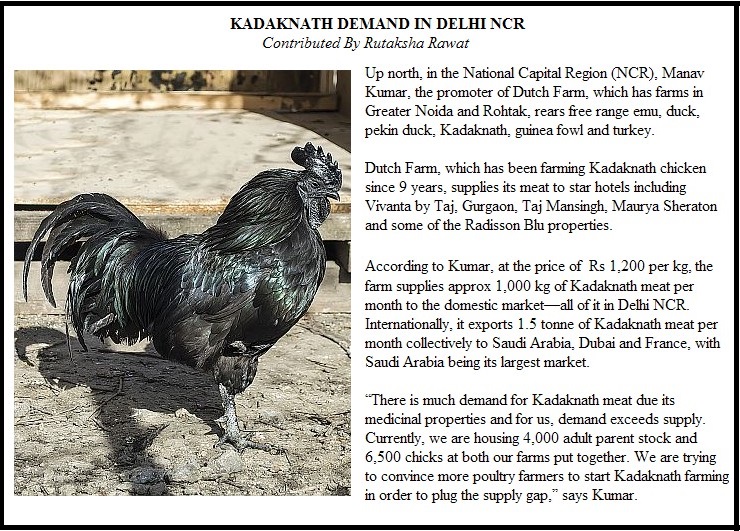 TOWARDS ORGANIC
Our certified organic farm, Towards Organic, in Indore, MP, produces organic grains, vegetables, pulses, fruits and herbs. We chose to farm Kadaknath because we wanted to provide our customers with organic meat, which was antibiotic and chemical free.
Beginning with just seven cocks, today, our farm has a sizeable population of 65 free range Kadaknath fowls, and due to positive response and increasing demand, we are now looking at taking up that number to cater for the domestic market.
Our customers are primarily individual families. We have a CSA (Community Supported Agriculture) concept in place, whereby participating families are supplied cocks and eggs on regular basis. Our eggs are priced at ₹20 per egg and a cock at ₹600.
For those who want to foray into Kadaknath farming, my advice would be to go ahead, provided you have ample space for the chicken to roam free. The investment is very low (we started with a small investment of just ₹3,000) as the birds don't need antibiotics and vaccines. Not one of the Kadaknath fowls at Towards Organic is vaccinated or medicated with antibiotics. Thus far, it has been smooth sailing and the chickens are robust.
With its abounding medicinal properties and health benefits, the popularity of this beautiful indigenous chicken breed will escalate in times to come.
In fact, it is already so coveted in MP and Chhattisgarh, the nerve centres for Kadaknath farming, that the two states had locked horns over its GI (Geographical Indication) tag.
This author, of course, is glad MP won.