Travelling for my family meant bingeing on junk food till I figured out how to plan eco friendly trips, complete with organic meals on the go…
◊ By Dr Supriya Mahajan Sardana, MD
Something as simple as living a healthy/natural/organic/eco friendly (call it what you may) lifestyle has become as com­plicated as managing a career nowadays. Now extrapolate the healthy lifestyle to your travels. Impossible, you say? I beg to differ—it is difficult but very possible.
Until a few years ago, much to my family's delight, travelling meant bingeing on junk/restaurant (non homemade) food and indulging in unhealthy habits, which were otherwise forbidden at home. But their Atlantis went underwater when I figured out how to plan eco friendly trips, complete with natural/organic meals when on the move.
So now we have a set of 'On the Go' Rules, which I try to get everyone to follow, even if it means a bit of coaxing or negotiating. Here they are:
No packaged water bottles/single-use plastics

Carry own towels/toiletries/cutlery/carry bags

Create minimum waste

Wash hands with water; no paper napkins

Have natural, raw and organic meals wherever possible
Here are a few hacks I have learnt along the way:
HACK NO. 1: WATER
Do not buy/drink from single-use disposable plastic bottles! Carry your own reusable bottles. Although glass is the best option, steel ones are obviously sturdier. We carry at least two for a family of three. Most hotels/ resorts, even ones claiming to be environment conscious, give you only plastic bottled water in the room. When you ask for a jug of plain filtered water instead, the housekeeping staff usually appears perplexed as if you have asked for something exotic.
They don't keep jugs in the room anymore except in the dining rooms, where also the water they serve you from a steel or glass jug, actually comes from a big plastic dispenser. So the lesson learnt is that till the government regulatory authorities wake up and make it mandatory for all these establishments to have their own inhouse water filtering plants and totally abolish use of plastic bottled water, CARRY YOUR OWN.
Even if you're staying at a homestay, one is on the move mostly. So you can keep refilling them. Better still, stock up on mountain spring water or water from glacial streams as much as you can. It is the best form of water one can imbibe.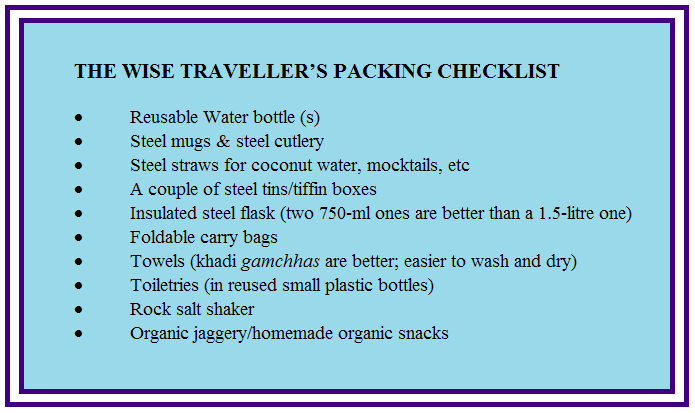 HACK NO. 2: HOT WATER FLASK
Another super 'must carry' item is a thermo-insulated steel flask. Along with a couple of reusable steel mugs and a few organic tea bags, you can enjoy a hot cuppa tea/herbal infusion anytime, anywhere.
No matter how tempting it may be, drinking milk tea from roadside stalls—which is made in aluminium pans with reboiled tea leaves (many times over), or even tea from vending machines, which is poured into waxed paper or styrofoam cups—is hara-kiri to your pro-health way of life.
So reserve your masala chai cravings till you reach your homestay. Avoiding milk tea while travelling also keeps motion sickness at bay, which brings me to my very important 'Say Goodbye to Motion Sickness' hack.
HACK NO. 3: GOING RAW
Mountain, even hill travel, for both my 12-year-old and me, meant reaching from point A to point B drugged with Avomine. Staying RAW during road trips, especially on winding mountain roads has greatly reduced our motion sickness.
For someone who dreaded driving to even familiar Mussoorie, I have come out with flying colours by going raw on the high altitude rough mountain terrains of Ladakh and north Sikkim (with a little help from an occasional homeopathic dose of Cocculus).
So stock up on raw food choices from a local supermarket or farmers' mar­ket because the chances of getting fruits in far flung villages are remote unless a few seasonal fruits and salad veggies are being grown in or around the homestay you have opted to stay at.
Raw does not mean insipid, however. We were in apricot heaven in August in Ladakh. In Sikkim, we gorged on yummy bananas and papayas as they were the only fruits available locally. For the rest of our raw fare, we had to visit the nearest city.
You can even plan your travel according to the local fruit harvest calendar. Wild grown fruits are wonderful sources of nutrition too but one first needs to ensure they're safe to eat. Wild grown strawberries on the mountainside (beware of the leeches!), thickets of seabuckthorn fruit, thorny shrubs of golden Himalayan raspberry and jungles of wild pear have also saved the day for us on many an occasion.
Choosing to go raw for the first few hours after waking up offers yet another advantage while travelling—you also partially avoid the ill effects of cooking in aluminium vessels/refined oils (lethal combo), which brings me to my next, now trending hack.
HACK NO. 4: HOMESTAYS
The advantages of homestays are known to most seasoned travellers. But there are a few things which can further enhance the experience. Even in the best of homestays, just like most Indian households, cooking is pri­marily done in aluminium/hindoleum vessels, with refined oil use being rampant due to the cost factor or lack of awareness. Serving and even cooking in plastic or nonstick ware is also considered fine, even fancy.
Homes in cold places use Chinese glass lined thermos flasks to store hot boiled water, sometimes even single-use plastic bottles to store their bev­erages. So even if they have their own kitchen garden where they grow their own organic food, the whole gamut of chemical toxins overload is present even in the remotest of places.
But the good thing about homestays is that due to the small volume of guests and the somewhat personal environment, the hosts are mostly open to suggestions to be more eco-wise. So go ahead and choose a home­stay over an impersonal rip-off hotel any day.
HACK NO. 5: BREAD
Although I avoid commercially available bread when at home, it turns out to be an ally when on the go. So stock up on some whole grain freshly baked artisanal bread, or else the not-so-good old white bread will do, too, for an 'On the Move' Sandwich. Smear some butter or ghee (prefer­ably homemade) or cold pressed olive oil on the bread, cut a few tomato/ cucumber slices, a sprig of pudina and a sprinkle of salt. Voila!
To prepare an On the Move Burrito, request your homestay host to make you a thickish millet or wheat roti. Smear some olive oil/butter/ghee on it. Fill it with chopped tomato/onion/carrot/capsicum/cilantro as per availabil­ity, along with a dash of salt. You can also carry your favourite seasoning/ spice mix with you.
HACK NO. 6: COOKED MEALS
If you insist on having only dals and vegetables of your preference irre­spective of the season, you will end up being served the cold storage ones. So eat LOCAL & SEASONAL. Experiment with local millets, greens, forest produce, even wild plants like stinging nettle—these are nutritional powerhouses.
Request your hosts to abstain from cooking with refined oil and gen­tly make them aware of the health risks involved even for their own family.
HACK NO. 7: SNACKS
Carry dried fruits like almonds, raisins, walnuts and apricots. Preferably, soak them for a few hours before eating. Also, keep roasted seed mix, homemade chiwda/savouries for munching. Occasional indulgences are fine as the odd treat.
The author is a dermatologist in Delhi NCR and is a proponent of natural living
---
READ MORE ARTICLES FROM THIS AUTHOR: