By Rutaksha Rawat
(All photos © Benefit Publishing Pvt Ltd)
A 100-year-old Kumaoni Tibari has been sustainably restored in a human-sparse rural setting, making for the most remotely located leisure resort in India
Itmenaan Estate in Naogaon, Almora, has many wondrous gifts to offer but the one thing that will strike guests most is the limited human count in its environs. In the span of 3 nights and 4 days, this guest came in contact with only the staff of 7, the manager, Partha Banerjee, 4 guests and approximately 5 to 6 individuals that operated shops in the nearby Chalnichhina market, where we had parked our car before trekking down the steep winding path down to the Estate—a total of 18 people in 4 days! Now, if you live in India or have ever visited here, you know that is unheard of in this country (notwithstanding geographical location), where 1.2 billion (and growing) of us hum to the beats of our individual existences, producing a collective mega cacophony that is overwhelming even to us, who were born to it and should by that token be immune.
Oh, the utter pleasure of belonging to solitude; of being able to hear distinctly each melodic avian chirp that occurs outside your room in the morning; to hear the bellowing of breeze, to witness nature in its undiminished glory and not have to jostle against a crowd to do so (ex: Mussoorie, Nainital). What a rare treat to see nothing but trees, mountains and skies till the line of vision permits. If these are treasures you seek, Itmenaan is the perfect holiday destination for you, being probably the most remotely situated resort in India at the moment.
Even more remote are the Estate's two village guesthouses, located respectively in the villages of Ganghet and Thikalna in Bhanoli of Almora district; so authentically rural, they remain untampered by electrical wiring, and rely on solar lamps for lighting at night.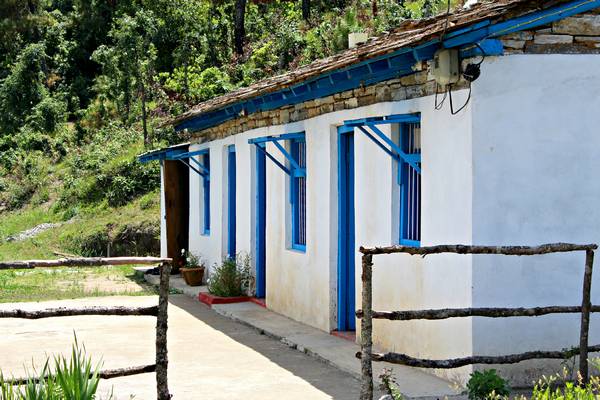 Thikalna Guesthouse
In the form of butler and caretaker, they have Lalit at hand, who resides at the property and provides guests with steaming hot tea in the mornings and comforting hot water bottles at night. The Estate's Kumaoni chef who hails from Nainital, Naveen Adhikari, travels with guests to the village guesthouses during such trips to continue providing gourmet meals. There is more to the village guesthouses, but first, let me inform you of the main property, that of Itmenaan Estates.
'Itmenaan' in the Urdu language means 'leisure'. And, 'Itmenaan' really does manifest itself in every pore of Itmenaan Estate. Upon reaching the Chalnichhina market (very close to the Estate), one has to park her car and trek down to the Estate, which is at an approximately  1-km depth. The path is quite steep but the staff thoughtfully brought along walking sticks; it made a difference.
Upon arriving at the bottom of the spiral path, you see a charming stone cottage-like structure partially shrouded by trees and lush rose bushes of pink. This is the heart of Itmenaan Estate—the initial building that the resort was launched with, comprising three charming if snug rooms—Oak 1 and 2, and Kafal. All three rooms are ensuite and comfortably equipped with creature comforts albeit devoid of gadgetry and Wi-Fi. Built under the three rooms are two adorable mini rooms—one a library, the other a lounge area. These two rooms are tiny with low roofing, and appear almost like dollhouses, their exteriors covered with creeper plants known as "Chipkali Bel". They were probably used in olden times as fodder storage for horses and suchlike. Outside, there's a courtyard with plenty of chairs, a perfect spot for sundowners. On the right of the main building are stone benches for outdoor meals.
Here, I digress, but I must mention the neighbouring Chalnichhina market, which is like a little toy-like bazaar, a true delight to behold for a city dweller! The entire market comprises about seven to eight shops in all, including a tailoring outfit, a sweet shop, two or three grocers, a paan (betel leaf) window (there is literally a miniscule window cut out in a wall with stacks of paan masala displayed), the greenest State Bank of India branch I ever did see, and a dhaba (small eatery) or two that serve nothing but dal (pulses), rice and sabji (vegetables). The starkness of it all—the tiny shops, the missing patrons (there are only 125 families residing in the 7-km radius that is Naogaon), the unapologetic 1-meal menu, the red cheeked curious children peeking from behind barred windows, the mountainous backdrop—offers a welcome respite from crowded malls in metropolitan India. So, when you visit, do make it a point to take your camera for a walk in this unassuming but delightful place. You may never see a place like it again!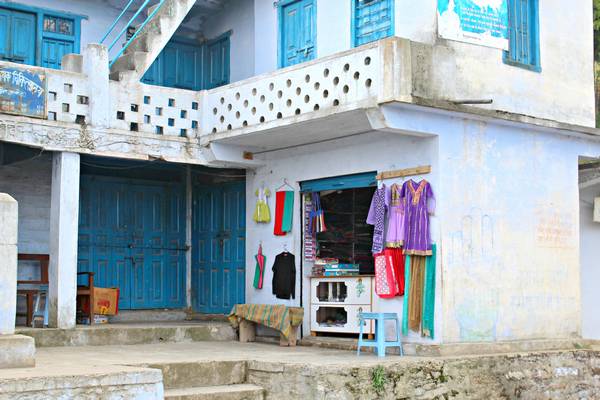 A tailor shop in Chalnichhina market
Back to Itmenaan: the main building that started it all is a 100-year-old Kumaoni heritage stone house traditionally known as a 'Tibari' in the local language. The 10-acre undulating property set at an altitude of 1,800 mt belonged to Kumaoni landowner, Kamalkant Tewari, who had the property in his family for generations but was looking to sell out to migrate to nearby Haldwani, which has more urban facilities to offer its residents. A stroke of luck or destiny, that a young management consultant from the UK, happened to be contemplating a new career in hospitality and was scouting for properties to purchase and revive. The entrepreneur, Ashish Bhatia, wanted to establish his own resort with a view to contributing to responsible but high quality tourism, while also uplifting the local community through employment and commerce. The unlikely duo met and a deal was struck. Exactly 8 months later, the trio of rooms in the main building was ready and Itmenaan was launched in the eco tourism market to a warm response in 2011.
Bhatia, who invested his life's earnings in Itmenaan took a risk that paid off. The positive response from the Tibari helped in building a standalone duplex stone cottage, Deodar, on the left side of the property. Another cottage, a new centralised kitchen and a common lounge are in the works, and two new properties have been added to the Itmenaan banner—Punjabiayat near Amritsar, and Fredy's Bungalow in Bhimtal—both to rave reviews from guests and critics alike.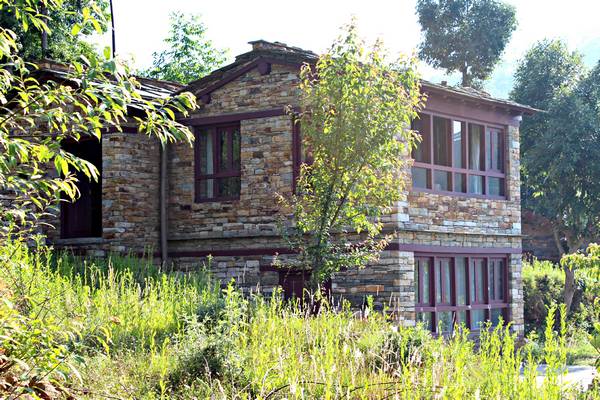 Deodar Cottage
This guest stayed in Deodar, which is to the extreme left of the property—about a kilometre away from the main building. It has a lounge room downstairs, with a spacious bedroom with attached bathroom on top. Judging by the interior, it's evident Bhatia has kept the renovation minimal and used modern trappings only where absolutely necessary. In other words, the cottage is as closely similar to a traditionally heritage Kumaoni stone home as possible. But the decor is dapper and does not disappoint.
The lounge area has no sofas or chairs but floor-strewn mattresses with diwan pillows, mimicking seating style in traditional Kumaoni homes. A modest collection of books beckons the book worm. The bedroom itself is airy and uncrowded—wooden flooring and a pine log ceiling; a metal space heater; a large sofa set lining one of the windows; large windows that make you feel exposed to the elements if left open; crisp white linen; and a bed with mattresses that possess the squidgy consistency of marshmallows. A small vase holding a lone rose adds a soft touch to the hard stone interiors. Sky lights in the bathroom and dressing area bring nature closer still. The architect has deliberately added massive windows and multiple skylights to bring in as much of the outdoors in as possible for an optimum nature experience for guests.
The bathroom is tastefully bare and is made completely of stone. ORGANIC TOILETRIES from SOS Organics lie alluringly next to a stylish sink and a copper tray holding a fresh hand towel. A power shower and a nifty bronze bucket complete with matching lota (spherical metal container) offer bathing alternatives.
Outside the cottage is a patio where the staff lays the table for us to eat breakfast. We sit at the edge, overlooking the ravines and in the distance, the mountain peaks of Trishul, Nanda Devi, Maiktoli, Nanda Kot and Panchachuli. Behind Deodar are also mountains, thickly forested with largely Pine trees. Such is the location of the Estate that the forest is technically at your doorstep, as are the mountains. This is as intimate as you can get with nature in India without being mauled by a leopard.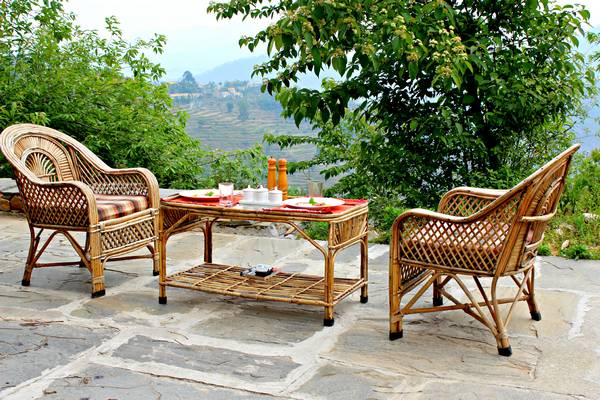 At night, dinner is served in the lounge on the ground floor of Deodar; it's too dark to sit outside. We listen to the night critters communicate. The staff lights several kerosene lamps and puts one on each step of the staircase leading up to Deodar, enhancing the charming setting.
Food & Service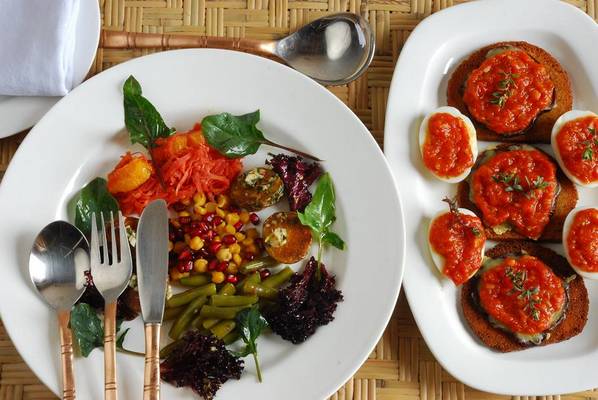 Holding true to its vision of promoting responsible tourism, Itmenaan cultivates most of its vegetables inhouse organically. The kitchen garden includes ORGANIC ginger, pomegranate, mountain lemon, strawberries, walnuts, peaches, pears, spinach, apples, potatoes, onions, fenugreek, chilli and coriander.
As soon as they arrive at the Estate, guests are welcomed with refreshing glasses of ORGANIC rhododendron juice. ORGANIC milk is purchased from village dairymen whose cows graze freely in chemical free pastures. Meat and poultry, too, is purchased from local poultry farmers. Fresh breads and delectable cookies are made inhouse by the chef. Cuisines featured are north Indian, continental and Kumaoni. Although all of the food is fresh, delicious and light, desserts at Itmenaan deserve a special mention. This is the chef's forte. We were served Kulfi Panna Cotta (to die for), Gajar (carrot) Halwa, Apple Walnut Cake, and Chocolate Biscotti Cake with Whipped Cream on separate occasions.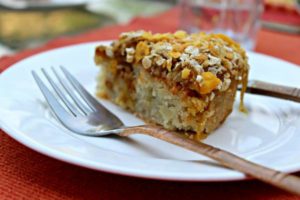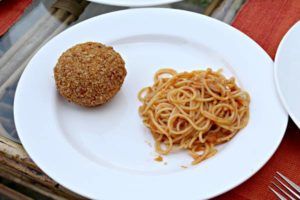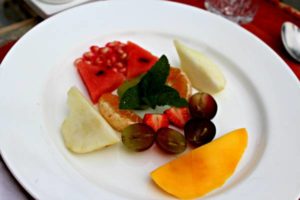 Gourmet meals at Itmenaan
Breakfast was always a healthy fruit salad, muesli, curd and chopped up granola bars, followed by eggs and Aloo Parathas (potato stuffed bread). Our continental lunch comprised carrot dip, pita bread, a trio of salads, vegetarian pate, and spaghetti.
Dinner was mostly variations of chicken curry, dal and vegetables but on the last night of our stay we were served a lovely Kumaoni meal comprising Bhatt ki Dal, Badai Curry and Mandwa Roti (finger millet bread), along with north Indian dishes.
The staff is extremely thoughtful and always asks in advance what you'd like for the next meal, so you can pick the cuisine you want prepared. According to Banerjee, Itmenaan is planning on introducing a GLUTEN FREE menu soon to accommodate guests with Celiac Disease (they are already doing this at their other properties) but even now, gluten free meals can be prepared if notification is given in advance.
In the evenings and mornings, guests are served bed tea, along with platefuls of freshly baked assorted cookies—chocolate, pistachio and mixed nut. Delicious.
As for the service, the nimble footed staff is eager to please and always polite. At meal times they stay close by, as meals are served coursewise, but always are they mindful not to intrude. This guest's heart did bleed a little for the hardworking housekeeping boys that would climb up and down to fetch bed tea and meals (the kitchen is on the opposite end of Deodar), but a centralised kitchen is on its way, I observed.
Furthermore, since the Estate is at a depth from the plains, it is impossible to get there by car. Here, the staff valiantly steps in and manually carries guests' luggage on their persons. Again, one did feel guilty about this but they did seem to be get ahead quickly!
Flora & Fauna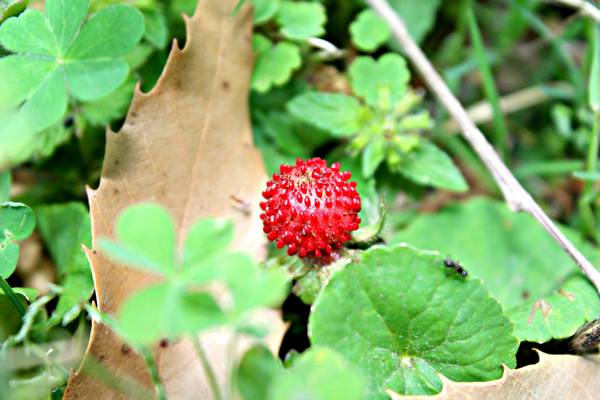 Organic strawberries at the Estate
Besides the fruits and vegetables grown for the inhouse kitchen, Itmenaan is home to more than 400 trees, including Deodar, Oak, Pine, and Bayberry. This, in addition to the array of flowers planted on the property, including roses, rhododendrons, geraniums, bougainvilleas, etc. "During April and May, the Estate is a velveteen carpet of crimson due to the thousands of Rhododendron flowers that come into bloom during the season," informs Banerjee.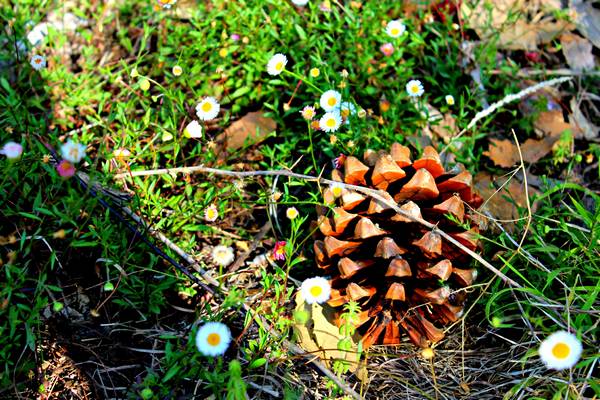 Approximately 350 species of birds visit Itmenaan during a year, most visitations taking place in the summer months. Winged guests to the campus include Yellow Throated Martins, Himalaya Bulbuls, Red Billed Blue Magpies, several varieties of Parakeets, Himalayan Vultures and Roufus-Bellied Woodpeckers.
Besides birds, porcupines, wild boars, goat antelopes and red foxes are also known to have visited Itmenaan, as the forest overflows into the property and there is no "boundary wall" or fencing, so to say.
As for leopards, the staff assured us they shy away from civilisation. But I could have sworn I heard a distinct feline rumble (straight out of a National Geographical documentary) emanating from the forest behind Deodar. I fled indoors at dusk, windows tightly bolted.
Responsible Tourism
In all its facets, Itmenaan adheres uniformly to its key objective of providing high quality but low impact tourism. The main building has been painstakingly restored, with extreme care lavished on maintaining high standards without including the clutter of modern day life. Also, special care has been taken to maintain the original appearance of a conventional Kumaoni home. Even the black electrical switches that are now considered vintage and have long vanished from the markets are present in each room!
The restoration of the property was done using stone, wood and slate recycled during the construction process using a technique known as Kori Chinai, which entails lining up stones with mud plaster. It's an architecture style that reflects affinity with the landscape and also provides for insulation in the winter. A majority of the procurement for construction was done locally to reduce the need for transportation.
Simple objects have been replaced by eco friendly and sustainable alternatives. A beak-like piece of wood juts out from a wall in the dressing area to offer a substitute for a peg; plastic bucket and mug are excluded for a copper bucket and lota; meals are made of ORGANIC ingredients. The list goes on.
The steep path up and down to the Estate is lined with square shaped concrete cavities labelled: "Kooda Daan", meaning 'Dust bin', accounting for a clean and litter free pathway.
The kitchen waste is fed to cattle in the village and two compost pits are being built—for biodegradable and synthetic waste respectively.
Another objective that Itmenaan is fulfilling is to uplift the local community by offering employment to local masons, as well as, staff, members of which hail from local villages. Similarly, dairy, fruits, and meat are procured from local farmers, supplementing their income. People in the village of Naogaon approve. "We wholeheartedly support Itmenaan because it has generated employment for some in the village," says Kundan Singh Routela, the village Pradhan (president).
Furthermore, 10 percent of the profits from Itmenaan (and its other properties) go to community education and health projects in the area.
As part of its Environmental Responsibility initiative, Itmenaan regularly undertakes tree plantation drives and more than 300 trees have been planted since its inception.
Village Walks
Itmenaan enjoys a 90-percent occupancy through the year, even in the winter, when the region is covered in 3-feet deep snow. "Especially, in the winters," says Banerjee, "In the winter months, we receive international and expat guests, who love trekking and Village Walks in the snow clad region." "Summers are more popular with domestic guests, who dislike low temperatures," he explains.
A USP of Itmenaan, besides its advantageous location and high quality services is its Village Walk to the neighbouring villages of Thikalna and Ganghet. "Most of our foreign guests come here especially for the Village Walks, as they love to experience rural India in its most original form," says Banerjee. The walks allow travellers to see rural Kumaon from close quarters wherein they can help village women in farming, share a cup of chai (tea) with the locals, pay obeisance at a Hindu temple or just soak in the stunning scenery.
The village walk package entails travelling 30 km to Thikalna by car, then walking 7 km to Jageshwar, where chef Naveen awaits guests with a fine picnic lunch. Guests spend the night at the Thikalna guest house, and leave for Ganghet the next day—a 12-km walk. They spend another night there and return the next day on foot (14 km) to Itmenaan. If one wishes only to visit one village, that too, can be orchestrated. The Walk can be tailored to suit the wishes of guests.
Views encountered on the village walk
The Thikalna guest house offers a 180-degree view of the Himalayan range and is precariously situated at the edge of a cliff to thrill even the most daring of nature junkies, being only cordoned off with a fragile looking railing fashioned out of tree branches. The cluster of Nanda Devi East and the other Himalayan peaks of the same range are visible from the courtyard of this property.
The guest houses are modest in way of amenities but do possess the basic comforts and hygiene standards expected in global hospitality. Both the Ganghet and Thikalna stays offer true blue rural living set in pure, unadulterated natural settings. Sights during the Village Walk include Kumaoni women in traditional garb carrying haystacks from fields and related scenarios; men smoking hookah; village children returning hand-in-hand from school, horses grazing shyly, quaint little Kumaoni homes. And nature to your fill.
Other exciting diversions that Itmenaan arranges for guests include Kumaoni Food Trails, a Butterfly Tour, and cycling tours—all of which can be pre-ordered and tailor made as per guests' desires and wishes.
So, if you've ever yearned for silence uninterrupted by urbanisation—for peace; to see the sunset without sniffing in clouds of vehicular smoke; to watch the moon set without high rises hindering your view; to hear your thoughts without them being mixed with the clanking of the city, you will find Itmenaan a gem. Naogaon is today what Nainital was two decades ago, the latter now choking with commercial tourism. That Itmenaan will stay pure and remote forevermore is debatable given the past record of tourism in India. But now, at this moment, it is beautiful as can be.
ITMENAAN ABRIDGED
Location: Naogaon, Almora District, Uttarakhand
Accommodation: 3 double occupancy rooms; 1 duplex cottage
Activities: Village Walks, Kumaoni Food Trails, Butterfly Tour, cycling tours, picnics
Ideal Season to Check In: Through the year
Cuisine: Indian, Continental & authentic Kumaoni
Bar: No
Driver Accommodation: Yes
Pets Allowed: No
USP: Pristine remote location with low density population; Village Walk & Stay at Thikalna and Ganghet; ORGANIC FOOD
Word of Caution: The trek down to and up from Itmenaan to the car park may be unkind to seniors, so the elders of the family can probably skip this trip; go indoors after dusk—the jungle is at your doorstep!
Tip: Stay in Deodar for optimum seclusion; carry sports shoes!
Tourist Attractions: Bridh Jageshwar Temple Complex, Jhankarsem Temple, Golu Devta Temple in Chitai. Road connectivity to Almora, Mukteshwar, Jageshwar, Binsar, Bhimtal, Nainital and Corbett National Park
Getting There: Fly to Pantnagar and take a taxi from there; take a train to Kathgodam and cab it from there; travel by road via Haldwani
Tariff: Ranges from Rs 6,630 per room per night (double occupancy) to Rs 12,400 and includes Breakfast and taxes.
---
This article appeared in the July 2015 issue of Pure & Eco India