By Rutaksha Rawat
What to eat, drink, wear and do
"Delhiites have discovered the 'O' word," says Rohit Malik of Health is Wealth, Defence Colony. "This is evident to me because 50 percent of my monthly sales come from organic food sales alone. Women, especially young mothers, are driving these sales, as they are replacing regular foods with organic ones, in their children's diets," Malik adds in a single excited breath.
According to a study conducted by the Associated Chambers of Commerce and Industry of India (Assocham), approximately 61 percent of high income households in Delhi NCR prefer organic foods due to rapidly increasing awareness, higher disposable income and easy availability of organic products in retails stores, as well as, on e-commerce sites.
"Delhiites have discovered the 'O' word and are steadily replacing regular foods with organic varieties"

Rohit Malik, proprietor, Health is Wealth, Defence Colony, New Delhi
Pure & Eco India offers some of the best options available for organic-loving Delhi NCR-ites, who want to eat, drink, buy, wear, and live Organic.
GROCERIES
Staples: With organic foods capturing the attention and imagination of Delhi NCR-ites, the region has become home to scores of retail stores that offer organic staples such as pulses, flours, spices, and rice, with some of them offering organic fruits and vegetables as well. Some popular shopping destinations for organic foods in the region are Altitude Store, Meharchand Market; Himjoli in Aurobindo Place Market, which offers organic goodies from Uttarakhand (with fresh produce being offered on designated days of the week); Dubdengreens in Shahpur Jat, the promoters of which, have been operating their own organic farm for 20 years; Navdanya in Dilli Haat; Down to Earth in Chattarpur; Fabindia stores across Delhi NCR; Ahana Organics in Hauz Khas Village; The Roots Organic Lifestyle Store in Adchini; and The Taste, Malik Bros, Nirvaaha and Health is Wealth—all of them in Defence Colony.
Noidaites, although not rich with options, can head to The Green Leaf Organic (sector 53) for organic staples, as well as, organic fruits and vegetables.
Fresh Produce: Organic fresh produce can be gotten from Ehsaas Organic and Adarsh Bio Organics CSA Farm. Both suppliers have based their business model on farm sharing, wherein consumers can, for a stipulated price, sort of rent a patch of land in the supplier's acre-rich organic farm. That translates to weekly stock of fresh organic vegetables delivered to your doorstep for an annual fee. Adarsh charges Rs 30,000 annual fees for 10 kg worth of organic vegetables per week. Kanu's Delivery Service by Kanu Somany; Laksh Farms, Haryana; I Say Organic—all offer organic produce.
Further, Palika Officers' Institute in Chanakyapuri sells organic produce every Sunday, from 9 to 12 pm. The Delhi Organic Farmers' Market and the Gurgaon Organic Farmers' Market, too, are reliable sources of organic produce.
Milk & Eggs: You can subscribe to organic milk from O' Leche, which gets its yield from imported Friesian Holstein cows fed on aquaponically grown organic feed. There are also White Gold Dairy Farm (distributing only in Noida), and 4 S Milk. Those seeking organic A2 milk (containing only the A2 type of beta-casein protein) can order it from Back2basics, which only serves this category of milk from the Indian breed of Gir cows.
Keggs (near) organic and free range eggs can be purchased from your local Nature's Basket, as well as, from Altitude Store.
Poultry & Meat: Those with a hankering for something more meaty (pun intended) can place orders with Roger Langbour of The French Farm. The farm raises (on all-organic feed) free range Muscovy (variety of duck), peking ducks, quail, guinea fowl, pheasants, chicken, turkey, and pigs. The farm also offers organic vegetables such as carrots, baby carrots, savoy cabbage, red radish, black radish, etc.
Alternatively, Gayatri Organic Farms in Chattarpur offers near-organic non vegetarian options (chicken, peking ducks, Japanese quail and guinea fowl), which it also provides to star hotels in the city.
Beverages: Combat dehydration and detoxify your body this summer with Antidote's range of organic, raw, cold pressed juices, which comprise (depending upon the flavour) leafy greens, courgettes, wheatgrass, green coffee, mangosteen, coastal berry and Noni, amongst other riches. The brand offers five juice cleanse programmes, all of which entail drinking four bottles of their juice cleanse a day. Programme prices range from Rs 850 to 1,750. Currently distributing to Delhi and Gurgaon via home delivery, Antidote is soon to launch its flagship retail outlet.
Juice Up is another brand offering a similar service. Patrons can "subscribe" to raw cold presses juices such as 'Nut Case' (containing cashew, coffee, honey) and 'Green Mile' (containing spinach, celery, apple, pear, cucumber, lemon, basil, ginger). A monthly subscription (comprising 30 bottles) costs Rs 3,000, and delivery is operational in Delhi, Noida and Gurgaon currently. Juice Up juices are fresh, untreated, sugar free, additive and preservative free.
But what of tea and coffee? Mittal Stores in (with outlets in Sunder Nagar Market, Barakhamba Road, Lodhi Road) offers a vast range of organic teas from India, Japan, China and other tea growers of the world. Also supplying to star hotels such as Taj, Hyatt and the Oberoi, Mittal is promoting the concept of tea-fruit pairing by making organic fruit candies of strawberry, mango, papaya and black grapes. These natural candies are truly delicious and completely devoid of preservatives. A good alternative to the candy bar or pack of commercially-made cookies any day of the week.
Caffeine lovers can order organic coffee online from Blue Tokai Coffee Roasters, an outfit that sells specialty grade bean Arabica procured from organic and biodynamic coffee estates across Karnataka and Tamil Nadu. And get this—they roast your coffee after you place the order and ship it within 24 hours!
NEAR-ORGANIC WELLNESS HACK
For evenings that you just want to curl up in bed with a movie, ditch the beer and cocktails for a glass of red wine. While beer is full of empty calories and has nothing nutritional to offer us; hard liquor, consumed in generous proportions, causes harm to almost every part of the body. Therefore, transfer your loyalty to red wine, as it is packed with antioxidants that decelerate ageing and protect the heart. Since white wine has gained notoriety for wearing away the teeth's enamel and rosé is believed to have fewer health benefits than red wine (due to only brief contact between the grape juice and grape seeds and skin while being prepared), red wine is considered the best option from a health point of view.

Although organic wines, quite prevalent overseas, have not yet forayed into North India, Spectrum Organic Wines (Bengaluru) is expected to enter Delhi NCR in the near future and is currently pursuing the proper channel to enter the region. Until then, embrace whatever red is available at your neighbourhood wine boutique.
Snacks: Gurgaon dwellers can visit Truly Natural for roasted natural snacks made from fruits, nuts and seeds. Nourish Organics in Meharchand Market, too, offers, delightful organic treats as these.
Celiac disease-plagued Delhiites can order online from Foodbury, an e-tailer offering only gluten free foods. Their cash on delivery option should it make it easy for all to order.
ORGANIC CHOCOLATE

Buy organic chocolate by Earth Loaf from Malik Bros and Health is Wealth, Defence Colony. All Earth Loaf's chocolates, handcrafted in Mysore, are made of organically certified south Indian cacao beans and Palmyra sugar (also certified), and are the only cold processed chocolate being sold in India currently.
HANGING OUT
When it's not food that's on your mind, head to Teasta-The Tea Shop in Noida's sector 37 (Godavari Complex). Owned by Capt VK Mehra (retired), the unassuming and modestly sized shop is a popular hub for teenagers and hipsters in their 20s. But really, anyone who likes organic teas should visit the place at least once. The shop itself is rather small and cannot seat guests, so patrons just seat themselves on low plastic stools outside the shop. They don't seem to mind at all. In fact, the casual seating arrangement, the humble, unpretentious décor (comprising a few pieces of bone china); the basic but agreeably priced menu of momos, sandwiches and sweet corn in a cup—all render it an eccentric charm. One that seems to agree with the youth of NCR. The star of the place is, of course, its organic green tea. If you do visit, also try the honey lemon ginger tea; it's something special. As mentioned, seating is outdoors, so evening visits may be more enjoyable. Teasta also sells the teas it brews.
Those looking for more elegance and variety can head to the Sancha Tea Boutiques (in Gurgaon, Santushti Shopping Arcade and Chanakyapuri). Sancha Tea also operates the Aap Ki Pasand Tea Gallery in Old Delhi. All Sancha outlets serve as tea boutique-cum-retail shops, wherein patrons can sit at leisure and drink freshly brewed teas, and proceed to purchase ones they like. Sancha offers a selection of organic teas certified by the United States Department of Agriculture (USDA), India Organic and Japanese Agricultural Standard, as well as, green teas certified by the Rainforest Alliance.
Cha Bar at Oxford Bookstore, Connaught Place, boasts an extensive range of flowering, organic, herbal, and fruit teas, from Darjeeling, Nilgiri, Sikkim and Oolong. The Lord William Tea Lounge at Hotel Royal Plaza, Ashoka Road; the Wagh Bakri Tea Lounge in Lajpat Nagar; The Tea Room Co in Gurgaon; tpot in Malviya Nagar; Anandini Himalaya Tea Boutique in Shahpur Jat; Goodricke Teapot in Gurgaon; and tea halt (Noida, Gurgaon)—all serve organic teas, even if not to the exclusion of other varieties.
For an organic cup of Joe, head to Café Lota at the National Crafts Museum, Pragati Maidan. Lota serves certified organic coffee from Karnataka, along with wholesome healthy foods.
Or if you want to be with nature instead of in a crowded tea cafe, visit the Aravalli Biodiversity Park in Vasant Vihar; Yamuna Biodiversity Park in Milan Vihar, or Rajeev Gandhi Renewable Energy Park in Gurgaon, which has the added bonus of offering solar rides for children on certain days, as well as, an onsite organic solar café, Roots.
APPAREL
Want to wear organic too? Buy Do U Speak Green clothes for men, women and children from Luv India, Janpath, and Orange Oregano, Gurgaon. Clothes by the brand are made of Global Organic Textile Standard (GOTS) certified cotton and bamboo fibres.
European organic kids' wear brand, Gron Stockholm, stocks 100 percent organic clothes at its three outlets (DLF Place, Saket; DLF Promenade, Vasant Kunj; DT Mega Mall, Gurgaon). It houses products of international organic clothing brands like Geggamoja from Stockholm, Mijn from Netherlands, Bamboo Baby from the United Kingdom and Jumina of Norway. Gron is at par with Tommy Hilfiger and Zara, with regard to standard and design.
All Things Uber Nice (Galleria, Gurgaon) also sells organic clothes for children, although it does have regular clothes in stock as well. Van Heusen and Peter England offer eco-friendly shirts, which can be purchased at stores that stock the brand. Anokhi outlets stock handblock-printed fabrics tinted in vegetable dyes. Yell (Khan Market, GK 1, M Block Market, Defence Colony, Gurgaon) features clubwear for men and women that is made predominantly from authentic natural fibres.
Those looking for handwoven sarees, fabrics and stoles can visit Raw Mango stores in Ogaan, Hauz Khas Village; Good Earth, Select Citywalk Mall, Saket; and Good Earth, Khan Market. Alternatively, visit Rajiv Gandhi Handicrafts Bhawan on Baba Kharak Singh Marg to admire and purchase handwoven, handblock printed, and handcrafted sarees and blouses.
Several online retail options can also be explored for organic, bamboo or other natural clothing. Korra Jeans delivers organic cotton jeans coloured with natural dyes. The zipper, button and rivets used in the jeans are all made of pure brass. The unique feature of these jeans, besides the fact that they are organic, is that each pair of jeans is made by one tailor; thus, rendering the handcrafted pair of denim unique and one of its kind. In fact, each pair is marked with the tailor's signature and numbered to ensure traceability! Prices range from Rs 2,900 to Rs 3,900 a pair.
For organic bamboo clothes, navigate your mouse towards Bamboo Organic Clothing, which offers clothes and underwear made of bamboo fibres for men, women and children. 
Other online options include organicshop.in, which offers Zeme Jeans—a 100 percent organic product from California, USA. Forty Red Bangles, Enwe, Samtana and No Nasties, are all part of the online organic clothes clan.
A unique and novel online store is the aptly named Ahimsa Silks (Ahimsa means non violence), which has invented a humane method of creating an alternative silk fabric, which requires no killing of silkworms. So novel is this method and invention, that the enterprise has filed and been awarded a patent for this practice, and is therefore, the only outfit in India, or really, in the world, offering non violent silk. Their patent has been proudly uploaded on the website for all to see. Ahimsa offers clothes and fabrics for men, as well as, women.
GROOMING
Beauty Products: Those of you that have long been crying foul at chemical hair dyes but resentfully sticking to the product for fear of begetting a head full of white, can now buy Radico (certified) organic hair colour online at their e-store. The product claims to be free of ammonia and synthetics, besides being made of 100 percent organic herbs. Radico's hair colour is available in 10 shades including black, brown, wine and mahogany.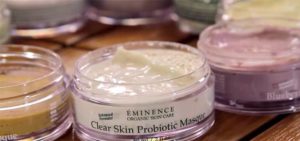 For handmade organic skincare products, head to Chittranjan Park (M-27), wherein you can buy goodies from Eminence Organics, a Hungarian brand that makes handmade beauty products from organic materials. Eminence is free of parabens (preservatives), animal byproducts, propylene glycol, sodium lauryl sulfates, harmful colourants and fragrances, mineral oils, petroleum, and other harsh cosmetic chemicals. Many of the ingredients used in Eminence's beauty concoctions, claims the company, are combined with pure waters drawn from a thermal hot spring lake containing minerals and trace elements. Further, Eminence products are prepared without severe heating or hydrogenating processes, which affect the nutritional content and potency of natural ingredients.
Bath and beauty products from Khadi Natural (not organic but all-natural), and Omved (chemical free, natural, handcrafted, fair trade, and biodegradable), SOS Organics of Uttarakhand (all organic), Auravedic (not organic but all-natural), Aloe Veda (ayurvedic products made from aloe vera) can be found online, while SoulTree's all-organic products are available at Serendipity, Mandi Road;The Goodness Store, Urva & Nature's Hub, Gurgaon; Buzzaria, Lado Sarai; Anoothi, Malviya Nagar; Earth Organic, Greater Kailash; Roots, Adchini; Tatsat, Hauz Khas Village; Navya and Altitude Store, Meharchand Market; Naturelife Health,Dwarka; Moha, Rajiv Gandhi Handicrafts Bhawan;Oxford Book Store, and Connaught Place,New Delhi.
Nyassa's natural bath and body range can be purchased at the Riyaat Store in Gurgaon.
For combing, buy Vega handmade combs online at their e-store. The combs appear to be plastic but are, in fact, made of cellulose acetate, a non petroleum based material derived from natural plants. Or if you prefer Neem, pay a digital visit to Neem Wood Comb, an e-tailer selling, you guessed it—neem combs.
Spa: The Ishana Panpuri Organic Spa in the Metropolitan Mall, Saket, employs organic herbal, and natural ingredients for its treatments. Ishana's signature is a facial, using Panpuri Organic Spa products from Thailand.
For a good detanning, head to the Four Fountains Spa in South Extension 2 for their popular Organic Ubtan Scrub.
YOGA & SPIRITUAL RESPITE
Yoga and organics mean very different things but the two are deeply intertwined. Yoga is good for the mind and body and nourishes the spiritual self. Those inclined towards this practice are drawn towards foods that aid it, and support the sattva way of life (refer to article titled My Battle with & Victory over Tamas). Therefore, it is very common to find that organic food consumers are also enthusiastic yogis, even if amateur.
Yoga, meditation, prana healing and other such practices abound in Delhi NCR, as do providers of the same. Those looking for Yoga classes have at least a hundred choices in the city but to name one, there is Yogstars in Noida, which conducts beginner and advanced level yoga classes for adults and children alike (with dedicated children's classes). The Yoga Studio in GK 1, Atre Yoga Studio in Hauz Khas Village, and Yoga & Fitness Komal in Gurgaon—all offer yoga classes. Those looking for personal yoga instructors for home visits may get in touch with Priyanka Devi Gupta of New Friends Colony, who holds a certification by the International Sivananda Yoga Vedanta Centre, Canada, and has over two decades of yoga abhyaas (practice) under her belt.
Pregnant ladies can avail of prenatal yoga classes by Mallika Bhanot of Prenatal Yoga at Fortis La Femme, GK 2; Fortis Memorial Research Institute, Gurgaon; and Fortis, Shalimar Bagh.
To appease your spiritual cravings, visit Zorba the Buddha, for a well rounded exercise in spiritual growth, emotional wellness, and self exploration. The 3-acre eco village on Mehrauli-Gurgaon Road includes award-winning gardens, ponds, exotic birds, eye-soothing vegetation, work studios, accommodations, a meditation hall, dance and performing arts hall, and outdoor performance spaces. Zorba offers courses on yoga, meditation, wellness therapies, as well as, creative arts. Events and workshop themes include holistic healing, ayurveda, Tibetan pulsing, past life regression, and chakra painting, amongst others.
The Padma Centre for Soul Realisation in Hauz Khas is another destination for those drawn towards self realisation and spirituality. The Centre conducts regular meditation workshops, as well as, a plethora of events based on topics as diverse as organic farming, pranic healing, vegan cooking, arhatic yoga and psychotherapy. Padma offers courses on pranic healing (basic and advanced), soul realisation, and pranic phsychotherapy. Guests can avail of Twin Heart Meditation sessions every Wednesday (7 to 8: 30 am), as well as, Arhatic yoga and meditation every Saturday and Sunday at 5:30 am.
Oshodham in Pandwalan Khurd, and the Art of Living centres across Delhi NCR, too, offer similar spiritual rejuvenation and respite.
HOME
Cleaning agents: Why use organic shampoo but let harsh soaps and detergents damage our skin? Chennai-based Krya brings Delhiites two organic (and vegan) goodies for their clothes and dishes—Natural Detergent Powder and Foaming Natural Dishwash Powder.
The detergent powder (priced at Rs 290 for 400 gm) is hypoallergenic, anti bacterial, anti fungal, gentle on colour, water efficient, compostable, and is made from certified organic soapberries (areetha, reetha, Sapindus trifoliatus). The dishwash powder is made from organic soapberries, neem leaves, zeodary (white turmeric) and lemon grass essential oil, and is priced at Rs 190 for a 350-gm pack. Krya products can be purchased online at the Krya e-store, or in person, at Roots, Adchini.
Car owners, for a water efficient car cleaning, try the Green Duck Waterless Car Wash, an eco-friendly car-cleaning spray that has no chemicals and is non volatile. The spray is made of Brazilian carnauba wax and eliminates the need for car washing with water. Green Duck can be purchased from Flipkart or Snapdeal.
Tableware: With scientists and the media harping on the ill effects of cancer-causing bisphenol A (BPA) present in plastic, home owners are adopting earthen pottery, glass and copper as plating options. Good Earth's Kansa Dinner Service features a dinnerware range made of Kansa, a form of bronze (78% copper, 22% tin). Handmade by tribal craftsman, the Kansa dinner set can be purchased from any of the Good Earth stores in Delhi NCR.
Ecoware in GK 2, manufactures 100 percent biodegradable and compostable tableware. The plates, bowls, trays and boxes sold by Ecoware are made of biomass pulp (USDA certified) of plant origin, and contain no binders, additives, coatings or fillers.
Larah Opalglass and La Opala, both dinnerware brands, are good choices for vegans, being bone ash free.
Appliances: Go rural chic with Mitti Cool's electricity-free refrigerator. Made entirely of terracotta clay, the fridge can be purchased from the brand's Delhi dealer in Sarita Vihar. Weighing in at 22 kg, with a capacity of 50 litres, the earthen fridge is priced at Rs 5,500.
The upper portion of the refrigerator can store 10 litres of water, while the lower cabinet has separate space for storing fruits, vegetables and milk. Through the bottom layer of the upper chamber, small droplets of water percolate below, keeping the inner climate moist. Water evaporates through the side walls, reducing the inside temperature and thereby, providing the desired cooling effect.
The fridge's inventor, Mansukhbhai Prajapati, created the appliance in 2001 for rural people who did not have electricity in their villages, and was honoured as 'Rural Scientist' by Dr Abdul Kalam for the creation. The outfit also sells a host of terracotta kitchenware.
Or you could opt for one of the multitude of electronics available in the market that claim to be energy efficient and green.
Paper: For your eco friendly paper needs, head to The Paper Store, Shahpur Jat, which stocks a wide variety of papers, notebooks and other stationary made of handmade or recycled paper.
Compost: Charity begins at home and so does composting. Compost at home with the Green Earth Machine by Foundation for Greentech Environmental Systems, Sarita Vihar. Or order the Smartbin from GreentechLife, an online store.
Gardening: Want your own organic garden, terrace or balcony? Call Kapil Mandawewala of Sajeev Fresh for assistance. The firm guides people on how to set up organic home gardens and can hold your hand through the entire process in the early days.
Solar: Contribute to improving the nation's energy crisis by going solar. Buy solar gadgets at India Goes Solar, an online portal offering solar calculators, powerpads, lamps, chargers and backpacks.
Or if that's too superficial for you, you can contact Su Kam for their Solar Hybrid Technology Home UPS 250 VA to 3.5 KVA.
Gautam Solar, Okhla, offers solar systems for home owners, which include LED lanterns, CFL solar lanterns, and solar home lighting systems.
Cleaning Services: Time for spring cleaning? EcoCleanz in New Friends Colony, offers chemical-free home cleaning services (floor, windows, facade, etc) with water based solutions made of neem and lemon.
For your car, you could try Cleanoid in Dwarka, which offers Dry Eco Car wash services. Cleanoid cleans cars with water-based solutions and uses water only on the lower part of the car, where dust accumulates. Interiors are washed with solutions that are caustic (ammonia) free.
Paints: Opt for Berger's Breathe Easy range, featuring eco friendly, non toxic, odourless paints which are also fungus resistant. The paint has been certified by the Green Label Committee of Singapore Environment & Health Safety Standards.
Nerolac, offers its Impressions Eco Clean range of paints, which are manufactured with new generation additives, and are odourless, with no Volatile Organic Compounds or VOCs (chemical substances that are emitted as gases from freshly painted walls).
Asian Paints also, bitten by the green bug, has launched its Green Assure seal, a logo it has imposed on those of its paints (Royale, Royale Shyne and Apex Ultima) that are VOC-safe. Paints with the seal not only conform to international VOC specifications but also do not contain hazardous raw materials like lead, heavy metals, and alkylphenol ethoxylates.
THROW AWAY THE PLASTIC BOTTLES!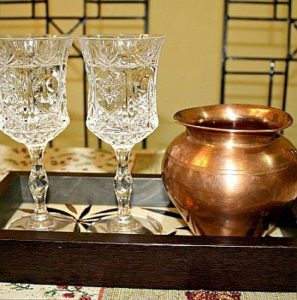 This summer, make a pledge. Ban plastic bottles in your home. Throw out each one.

Plastic is not only bad for the environment in that it is not biodegradable, but on a personal level, it can wreak havoc with our bodies due to the BPA it contains. Studies hold BPA responsible for causing or largely contributing to cancer, male impotence, reproductive disorders, heart disease and several other life changing and many times, fatal diseases. Babies and young children are especially sensitive to the effects of BPA.

If the temperature is warm enough, which, we all know, Delhi has boiling temperature, the contents of plastic melt a bit and mix with the water in the bottle. Therefore, everyone that is drinking water from plastic bottles is taking in a bit of BPA with every sip.

Instead, store drinking water in empty wine and glass bottles. Or in copper jugs and lotas (round-shaped vessels). When water is stored in a copper vessel, the copper gently leaches into the water and lends it its positive attributes. Copper-contained water aids weight loss, improves digestion, and slows down ageing, among other benefits.
EATING OUT
There are options galore for organic eateries in the city. While most organic eateries come in the form of casual cafes, Varq, at the Taj Mahal Hotel on Mansingh Road, offers a fine dining option for the organic snob. The 76-seater restaurant offers Indian gourmet dining created by Chef Hemant Oberoi. All meals served at Varq are made from organic ingredients flown in from Bengaluru-based First Agro Tech Limited.
Navdanya Slowfood Organic Café at Dilli Haat (Shop No. 18), offers organic respite in the midst of the sea of greasy food stalls that dot the shopping arcade. This is a shop-cum-café, so you can eat wholesome organic foods and shop for organic staples and eco friendly stationary at the same place.
Organic Express in Gurgaon allures with its large white French windows and soothing, aquamarine-hued furniture. As the name suggests, the café-style eatery offers food made of organic-only ingredients—that encompasses fruits, vegetables, spices, milk, eggs and chicken.
To give an example of their offerings, they feature 'Vegetails' such as 'Race Runner' (made of aloe vera juice, cucumber, fennel, ginger, lemon at Rs 140) and 'Glowing Skin' (made of carrot, cucumber, celery, apple at Rs 120) to rejuvenate patrons. Toppings for smoothies and juices include goji berries, flax seeds, and multigrain flakes amongst other nutritional riches. Solids on the menu comprise salads, dimsums, sandwiches, burgers, subs, pitas, wraps, pastas, Indian gravies and desserts. All their breads are made of whole wheat bread.
With another outlet in Hyderabad, Organic Express, like Navdanya's Café, offers shopping options for guests (organic groceries). All its recipes are designed in consultation with nutritionists and dieticians, and a meal for two costs roughly Rs 600 to 800.
Other organic restaurants in Delhi NCR include Fire at The Park (Connaught Place), which serves up organic vegetables and dals; Kiyan World Cuisine at Dusit Devarana, Samalkha, which acquires organic produce from its own organic farm in Rajokri (a village near the Gurgaon border); and Roots-The Café in the Park, Gurgaon.
Brown Bread Bakery in Paharganj (inside Ajay Guest House) offers organic dishes and baked goodies. All its baked products are made from different kinds of organic grains, which are freshly ground. The bakery also offers organic cheeses procured from Himachali, Nepalese, Kodai, Auroville-residing and Sikkimese dairymen. In fact, they have recently become the sole distributor for Hampi Cheese, a much sought after (by star hotels) organic Swiss Cheese made by Swiss expat, Hampi Wuthrich, who is settled in Manali, Himachal Pradesh.
Vegans can flock to Café Turtle outlets (in GK, Nizamuddin East, Khan Market), Lean Chef in GK 2, and The Piano Man in (with outlets in Vasant, Palam Vihar)—all of which offer respectable smatterings of vegan food.
If ordering in, Yoga Cafe is a decent vegan home delivery option. As is Tattva Fresh Organic Kitchen in Shahpur Jat, which is currently offering home delivery and catering but is in the process of constructing seating space and a brand new vegan menu.
For catering, call The Olive Tree, which offers vegetarian Indian, Italian, Pan-Asian and Mediterranean cuisine created from organic ingredients.
VEGAN ICECREAM & ALL-NATURAL ICE LOLLIES
White Cub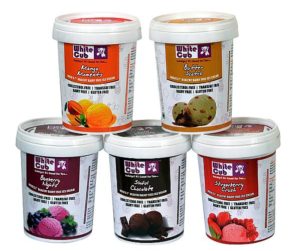 White Cub is perhaps India's only vegan icecream brand, and indeed, a staple for the expanding vegan community in the city. Made from almond, coconut and soy milk, the icecream is available in mango, butterscotch, blueberry, strawberry and chocolate flavours (this particular flavour is sugar free, being made of cocoa and dates). Dairy free, cholesterol free, transfat free, and gluten free, White Cub is armed with a certification from the FICCI Research Analysis Centre (FRAC).

White Cub tubs (500 ml) can be purchased at Nature's Basket and Foodhall stores across Delhi NCR, with a tub costing between Rs 310 to 450.


Frugurpop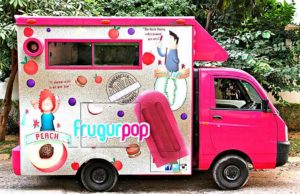 Frugurpop offers handcrafted Mexican ice lollies (Paletaz) made from natural fruits that contain no added syrups, colours or preservatives, and are 100 percent vegetarian. Available in tempting flavours such as tiramisu, plum, peach and cranberry, the brand sells the icy treats to Gurgaon residents through its adorable pink food truck (at sector 57). Bars cost between Rs 100 to 200 each, depending on the flavour.