◊ By Gayathri Radhakrishnan
The Organic F&B market in the Middle East will be worth $18.42 billion by 2022
Millennials are driving growth as they prioritise healthy eating and clean products, and the population is growing at 18.9%
25% consumers believe there aren't enough healthy products available in stores despite 60% increase in shelf space of Organic & Natural products in 4 years
The Middle East imports 70% to 90% of its food
The Organic F&B market in the Middle East is expected to be worth $18.42 billion by 2022, showing a 14.4% CAGR growth from 2015. Dubai, the global F&B destination, has more restaurants per million than New York, and organic and natural is on the rise in the region, if the 60% increase in shelf space over the last four years is any indication.
Another fast-growing sector in the Middle Eastern and African market is natural and organic beauty; estimated to be worth $2.5 billion in 2017, experts predict a 12-15% growth per year for another 5 years. This indicates that the market would almost double by 2022, reaching $5 billion in value by then.
Dubai holds the position as the third largest re-exporter in the world, with over $546 billion worth of goods being sent out from the trade hub. Its unique location allows it to link hemispheres together, making it a popular center for re-export.  The city is also ranked first globally for its tea re-export.
"We are expanding in the region, and people want to see healthy and organic products on display. We are on the lookout for snacks, confectionery protein bars, drinks and more from European suppliers"

Christophe Noblet, General Manager, 7-Eleven, UAE
The region, specifically Saudi Arabia and Dubai, has seen a marked growth of the organic industry over the past four years, and looks poised to grow even further. This has attracted the attention of European suppliers, who have collectively devoted 13.5 million hectares to organic farming, and who are looking to develop into new markets.
The demand for European products can be attributed to the rise in the spending power of millennials, who prioritise healthy eating and clean product consumption over cost in a region where food imports are expected to grow by $53.1 billion by 2020. The favourable population growth of 18.9 in the region also fuels their entry into the market. Moreover, low food security has led to the Middle East importing 70% to 90% of its food needs.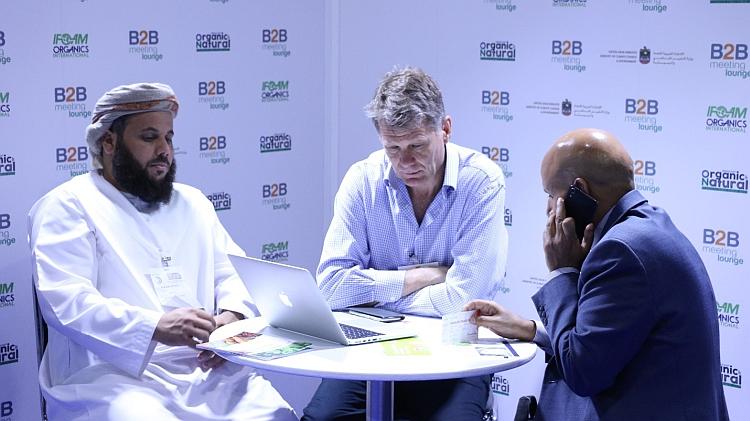 Businessmen at the onsite B2B lounge of Middle East Organic and Natural Products Expo
This trend is reflected strongly in the Middle East Organic and Natural Products Expo Dubai; the region's sole business event that focuses on natural products, which has been connecting suppliers with buyers for 15 years. Held under the patronage of the Ministry of Climate Change and Environment UAE and supported by International Federation of Organic Agriculture Movements (IFOAM), the success of its 2017 edition has led to it doubled size this year. It drew over 6,500 industry buyers in 2017 and expects over 9,500 specialised visitors from 18th to 20th November 2018, at the Dubai World Trade Center.
The event's Exhibition Director, Shinu Pillai, casts light on the show's success. "The new online to offline strategy, 'O2O Connect', that we initiated last year was hugely successful and delivered over 865 pre-arranged meetings with qualified buyers. Our Hosted Buyer and VIP programmes delivered business on the floor which amounted to approximately $317 million being generated over those 3 days. The launch of organic 247 – the Middle East's only e-commerce platform that facilitates bulk organic and natural trade and connects suppliers and buyers throughout the year, is also part of what proved to be an effective combination for our exhibitors."
These benefits have proven to be compelling, especially when it is coupled with the chance to get into a burgeoning market, where the demand for organic products is so high that 25% of consumers believe there aren't enough healthy alternatives available in stores.
This year will see the return of a group of Armenian companies, joining to form a country pavilion at the Middle East Organic and Natural Expo Dubai. As David Muckenhuber, the Project Team leader of the Armenian pavilion puts it, "We decided to present our products at the expo in Dubai to capture the growing organic market opportunities there, as UAE is a big market and also has a very convenient geographic location for re-export."
The Armenian organic producers under its country pavilion are introducing products such as dried and fresh fruits and vegetables and beverages such as herbal tea amongst others.
The expo will also showcase growing European companies such as Jutta Fink GmbH, Stutenmilch Tochterlehof GmbH from Austria, Raw and Wild and Bentley Organic from UK, SMS Evrodom, SK Beverage and Smart Organic from Bulgaria, Ecoagri Serbia from Serbia, Bioquantum from Switzerland, Lean & Six Sigma Expert SRL and Pronat Srl from Romania, Delouis S.A. and SDMR from France, Ekolife Natura d.o.o from Slovenia and AlmaWin Reignigungskonzentrate GmbH from Germany, amongst others.
Christophe Noblet, the General Manager of international grocery chain 7-Eleven in UAE is a keen visitor of the show. "[7-Eleven] certainly feels that the organic and natural industry is headed in the right direction. We are expanding in the region, and people want to see healthy and organic products on display. We are on the lookout for snacks, confectionary protein bars, drinks and more from European suppliers," says Noblet.
The ease of organic food import into the region has more relevance now than ever, with the Gulf Cooperation Council countries signing international agreements to promote sustainability and passing stricter laws regarding quality. In effect, this opens the doors to sellers of healthier, cleaner produce.
To develop business in the emerging market in the Middle East, register for the Middle East Organic and Natural Products Expo or contact the sales team at info@naturalproductme.com
Marketing Contact:
Gayathry Radhakrishnan
T: +971 4 8747 528
Email: gayathry@naturalproductme.com
Global Links Exhibition Organizers & Conferences LLC
---