23-year-old Shalimar Spice Garden in Thekkady stuns you with its dramatic entrance and unveils its charms one by one
◊ By Rutaksha Rawat; Photos © Benefit Publishing Pvt Ltd
 Shalimar Spice Garden in Thekkady, Kerala, is an extremely pleasing property, especially because it takes you by surprise. Surprise at what a gem it is.
A Google search hardly does it justice. The photographs on TripAdvisor are deceptively plain. Internet searches throw up faded, blurry photographs depicting a worn out, no frills resort. The narrow dirt road leading up to the property is craggy and unimpressive and the signboards along the way are small and contain only the logo of the resort. No spoilers there.
The wooden gate is medium-sized and bears the name of its residence in bronze. Again, pretty standard. But this is where the mundanity ends.
DRAMATIC REVEAL
Step inside and you find yourself staring down at a lush tropical paradise. To your left and right are dense blankets of plants and trees. A flight of stairs framed by wooden logs bound together with jute ropes leads you down to a wooden bridge (which again is bestridden by foliage). At the tail-end of the bridge stands the main building, made in the traditional Kerala style of architecture (a theme that permeates most built structures at Shalimar). A lady in formal attire and an attendant wait at the foyer with a welcome thali (plate) in hand.
Shalimar does not reveal its charms at once. The property is planned to seduce. The flora is so thick you can hear and see things but are not entirely sure where the sounds emanate from or what the flickering lights in the distance are. Captivating sights wrapped in dusky foliage come into view one by one as you descend from the entrance or ascend towards the rooms/cottages from the reception area. The welcome drink of lemon and ginger refreshes the senses and following exchange of pleasantries and adhaar card verification, we are led to our residence for the week.
ITALIAN HERITAGE & KERALAN ARCHITECTURE
In a nutshell, Shalimar is a 6-acre spice plantation cocooning 22 accommodations (9 rooms, 11 cottages and 2 private villas with temperature controlled mini pools). The plantation initially belonged to Italian expat Maria Angela and her partner Shaji Anthony, who bought it in 1995 and registered it under the company, Angela Tourism Pvt Ltd. In the early days there was only a single accommodation (Cottage no. 220), along with a housekeeping department.
More rooms, the pool, spa and restaurant were added to the inventory the next year and the resort was bought out by Delhi based businessman Gurmeet Singh Uberai in 2003. The property was later acquired by Amritara Hotels & Resorts in 2008 and remains under its care today.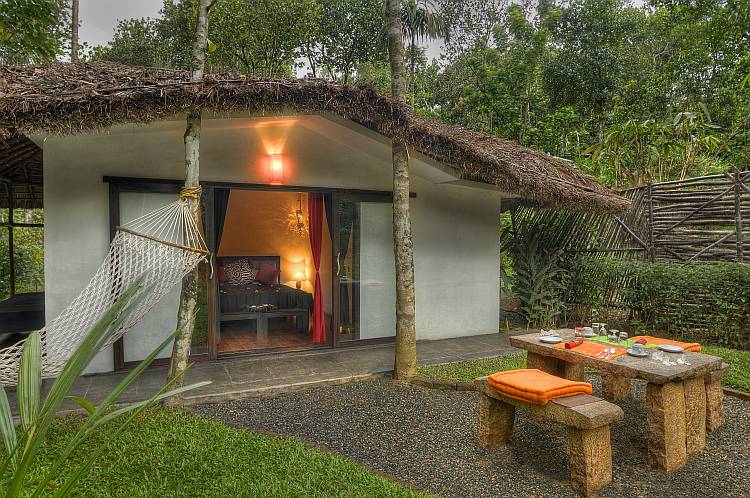 The main building holds the reception, lobby, a souvenir shop, a snug fireplace lounge area ('Red Lounge') and the restaurant, 'Falling Leaves'. The 22 accommodations are scattered along an uphill slope covered in green. Concrete slabs form a staircase that meanders up the slope and one or two cottages or rooms are placed at intermittent levels of height. Each abode is surrounded by trees and bushes in such a manner that they act as barriers of separation, conjuring up an atmosphere of seclusion. One of the unique features of Shalimar is that even at optimum occupancy you are unlikely to bump into other guests. The only time we were aware of other patrons was when we ventured out of our cottage for meals at the charming, dimly lit outdoor seating area of Falling Leaves.
Our cottage was carpeted with a wooden floor and fitted out with large glass sliding doors offering panoramic views of the outdoors. Teak, Mahogany and Jackfruit furniture adorned the room. An inviting sit out area beckoned with its diwan-style bed and plush mattress, and the balcony overlooked the flora-covered spice plantation.

Not all rooms are alike. While cottages like the one we stayed in are built in modern European style, others are constructed in the traditional Kerala style of architecture called Nalukettu, with wooden flooring and carvings and slotted wood on the ceiling and doors—complete with an Aattu Kattil (swinging wooden bed) oscillating in the sit out area.
A short climb up the slope will lead you to the pool, the spa ('Teertha') and a quaint library, which, this author was told, fuels a roaring fire in December. The pool is crystal blue and surrounded by curious artefacts. Parallel to it stands a café, where one can order snacks and beverages.
ATTENTION & CARE
A positive attribute of Shalimar is personalised service. With only 22 rooms and 40 members of staff at hand, each guest receives personal (but not intrusive) attention, something which larger, busier properties lack. The front office often sincerely enquires if one is comfortable and carefully makes note of and attends to your each and every need, no matter how insignificant. Given the staff's unequivocally professional conduct across ranks, it was surprising to learn from the general manager, Gireesh, that 90 percent of the staff has been absorbed from rural Kerala and is unschooled in hospitality. In line with Amritara's vision of providing rural employment to many, they were trained by the company at the Sinhgad Institute of Hotel Management & Catering Technology in Lonavala, Maharashtra.
The décor of Shalimar is tasteful, warm and inviting, not opulent and jarring. A painting here, a lamp there, contribute to a lived-in vibe. Sculptures, carvings and curios peer back at you from unexpected nooks and crannies, delighting at every turn. The pool and library area and, in fact, the entire property is dotted with curious and eccentric but lively little pieces of art—logs of wood carved into a woman, crocodiles, monkeys, boats and what have you. As well as stones carved into elephants, fish and owls. Shalimar's oldest employee, the shy-miened and soft spoken gardener, Babu, is the creator of these delightful oddities. Thus is the entire property peppered with about 100 such objets d'art belonging to his oeuvre.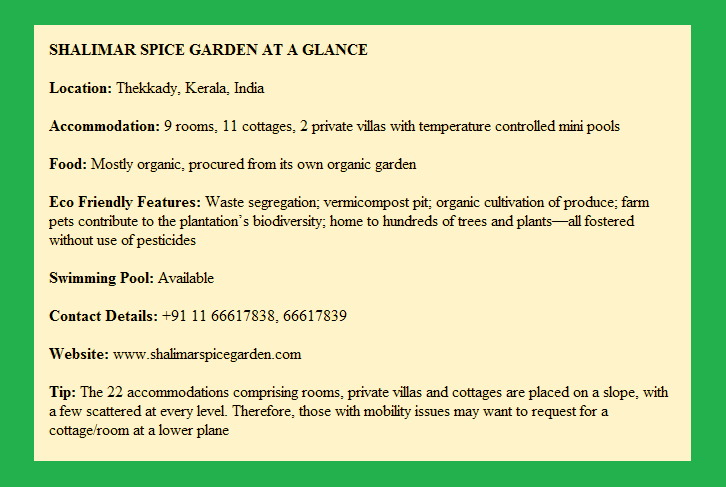 FLORA & ORGANIC VEGETATION

Shalimar is home to hundreds of trees and plants. Teak, rosewood, Jackfruit, betel nut, silver oak, gooseberry, cashew, strawberry, nutmeg, allspice, pineapple, coconut, Mandarin orange, angel's trumpets, varieties of lilies, lime, ginger, avocado, mulberry, clove, bamboo, mimosa, cardamom, birds of paradise, bananas, turmeric, hibiscus, anthurium, pomegranate, sapota, varieties of roses, mango, passion fruit, tea, cinnamon, pepper, coffee, guava, okra, brinjal, chillies, beans—all thrive at the resort, untarnished by pesticides.
Shalimar takes pride in its organic produce and consumes most of it inhouse. The organic banana it cultivates is made into crispy banana chips and placed on the mini bar for guests. Its organic cardamom and some other spices are packaged and sold at the reception and in the souvenir shop to guests who wish to take home a piece of Thekkady with them.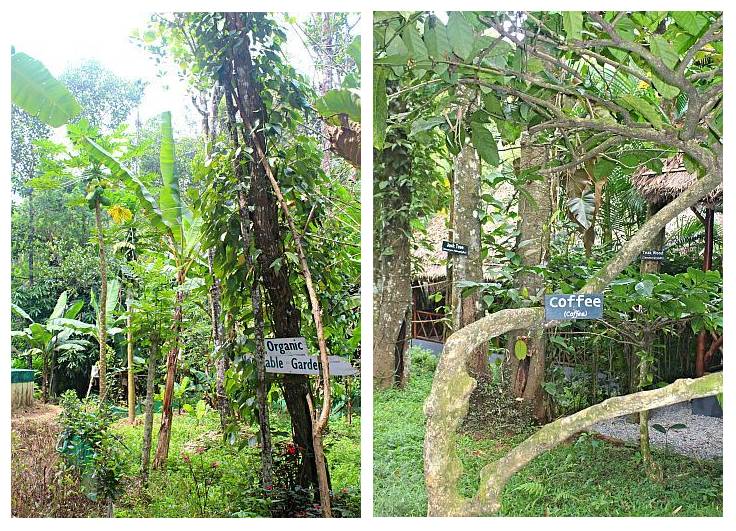 Falling Leaves offers a range of continental and Indian (north and south) foods, with a smattering of Chinese cuisine. The food, though delicious, is spice shy, perhaps out of consideration to the international guests but this is a mere blip on the otherwise spotless suite of services rendered, and the dishes can be easily customised with a quick recommendation to the chef. The hotel's affinity with nature extends to its waste disposal through systematic segregation. A vermicompost pit sits by the cowshed, where a small herd of indigenous cows reside. The waste from the cows goes into the pit and is converted into manure. The animals fostered at Shalimar are pets of the resort and don't serve any culinary purposes.
MIRTHFUL ACTIVITIES
As for activities, the Periyar National Park and the certified organic farm Harvest Fresh (in Cumbum town, Theni district) are both at about an hour's distance from the resort and a trip to these destinations can be arranged by the resort's travel desk. Also at a short distance are the Navarasa Kathakali Centre, which hosts Kathakali performances in the evening and the Kadathanadan Kalari Centre, which features hour-long demonstrations of the exciting Keralan martial art of Kalarippayat (highly recommended).
Yoga classes are available at Shalimar at notice and a local yoga instructor has been retained by the resort to impart training to guests.
The verdant property is also home to some pretty vocal geese, along with a turkey, a flying duck, a posse of rabbits and some roosters. The geese cry up a storm through the day (and sometimes at the crack of dawn) but it's never jarring and to a nature parched urbanite like this author, you know that sound is ecstasy.
---
The author was a guest at Shalimar Spice Garden in November of 2017