By Lily Tekseng
(All photographs featured in this article are the property of the respective outfits mentioned and cannot be used without permission;Featured photo:© The Serai, Jaisalmer, Rajasthan)
Glamour Camping allows guests to stay in the lap of nature while still being able to enjoy the perks of a star hotel
I met my cousin for coffee last week. She had just returned from The Glasshouse on the Ganges, the Neemrana property in Rishikesh, Uttarakhand. "How were the rooms?" I asked.
"Actually, we stayed in a riverside tent," came the reply.
"A tent!" I exclaimed. I was surprised. This cousin of mine was particularly dainty and didn't seem the 'hardy' type at all, always fussing over her nails and obsessing over what brand of mineral water to drink when outdoors.
She went on to explain the tent had been right on the banks of the river but had been "just like a room". "A luxury room," she added.
The term for this kind of luxury camping, I found out, is 'Glamping', a compound of 'Glamour' and 'Camping'. So, if you love the thrill of being one with nature but abhor the hassles that come with living in a tent in the middle of nowhere, then your next trip should be spent glamping—the hot, new trend on the lips of eco luxury vacationers in the country, and everywhere else in the world.
When glamping, undercooked meals made on amateurly erected bonfires and barbecues are replaced by five star cuisine prepared by internationally trained chefs. Crumpled sleeping bags are replaced by starched and pristine linen, and the almost trademark-worthy camping activity of mosquito-swatting is replaced by drinking champagne in the private jacuzzi. And no, you do not have to "go" in the wild. There are fully equipped washrooms at hand.
Experiential travelling—whereby visitors do not simply stay at a luxury hotel and visit standard tourist spots but experience the place they visit in its full life and breadth—is the new vista of the travelling industry in India, and glamping may be its finest manifestation. It makes the exquisite mix of camping and luxury possible by bringing comfort to the very lap of nature.
Although in its nascent stages, glamping has become a preferred mode of travel for an increasing number of Indians. Arup Sen, director, special projects, Cox & Kings Ltd, says, "Glamping allows camping in otherwise inaccessible places with scenic views, with the added element of luxury. It blends adventure, safety, romance and luxury. These luxury mobile camps can pop up all over the country for required, timed periods, in carefully selected, exceptional locations and for various festivals."
Below is a list of 5 stunning glamping destinations across India.
1. The Serai, Jaisalmer, Rajasthan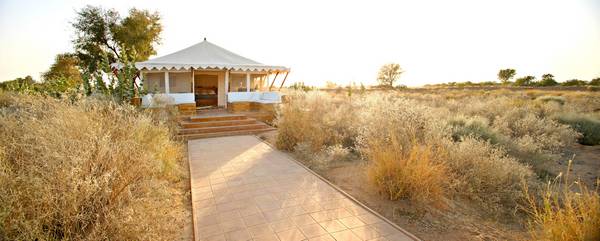 The Serai places its camp in the heart of the Thar Desert
This breathtaking luxury desert camp is located in the heart of the great Thar Desert, near the historically rich city of Jaisalmer. The Serai harbours 21 tents (some of which are fitted with private jacuzzis), a spa, an outdoor pool, butler service, Wi-Fi, valet service and a dining tent, which serves delicacies prepared using locally-grown food produce. In the evenings, Manganiyar (hereditary communities, which make their living as musical performers) songsmen serenade the guests under the Moon's glow.
Sujan Luxury, the promoter of The Serai, also operates two other luxury camps in Rajasthan—expressly in Jawai and Ranthambore.
Price per night: 32,500 INR onwards (with complimentary à la carte breakfast)
Website: www.sujanluxury.com
2. Aman-i-Khas, Ranthambore National Park, Rajasthan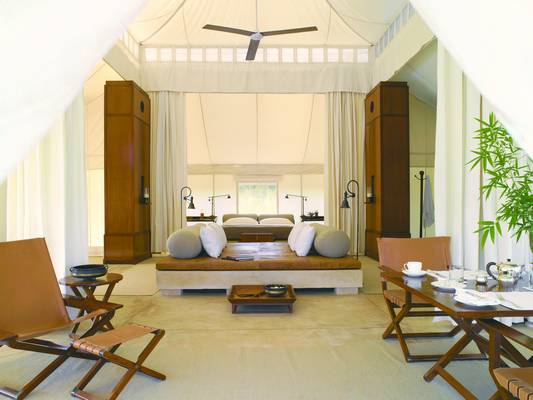 Aman-i-Khas tent entrance
Located on the outskirts of the Ranthambore National Park and surrounded by the Aravalli Hills, Aman-i-Khas has 10 beautiful luxury tents. It has a spa and a dining tent, which provides a range of Indian and Western dishes using fresh produce and herbs grown in their own ORGANIC FARM. Guided wildlife excursions are available twice daily. The camp stays open from October through to May each year.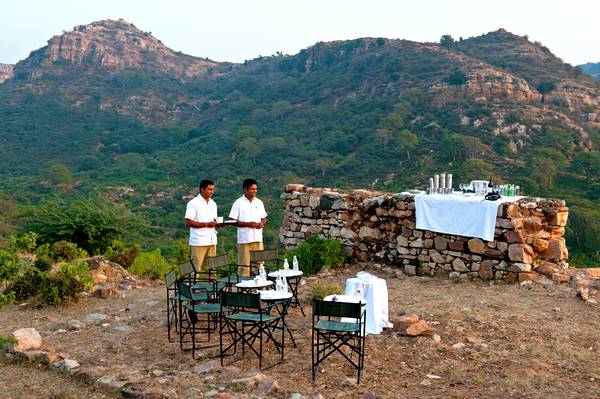 Sun downers at The Sherpur Hillock, Aman-i-Khas
Price per night: 60,000 INR onwards (for double tent)
Website: www.amanresorts.com
3. Grass Roots, Wayanad, Kerala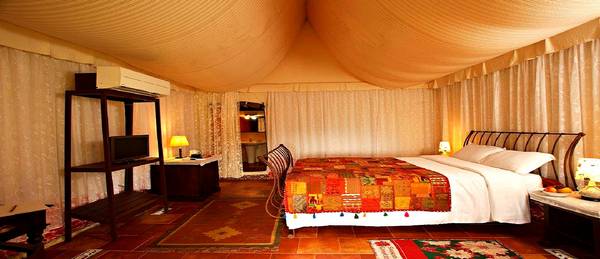 Luxury swiss tents at Grass Roots, Wayanad
Grass Roots in Wayanad, Kerala, features five luxury swiss tents with all the amenities of a deluxe hotel room. Set on a three-acre slope of coffee, areca nut and pepper, Grassroots overlooks tea plantations planted during the colonial era. The site is situated at the foothills of the Vythiri ranges, with the majestic Chembra peak to the left and the Banasura/Kuruchermala to the right. A swift flowing river runs through the property, with an Adivasi (indigenous community) colony inhabiting the bank of the river!
Meals at Grass Roots comprise freshly baked breads, fresh coffee, estate-made jams and chutneys, and regional snacks.
Price per night: 4,300 INR (with complimentary breakfast)
Website: www.grassrootswayanad.in
4. The Ultimate Travelling Camp(TUTC), Kohima Camp, Nagaland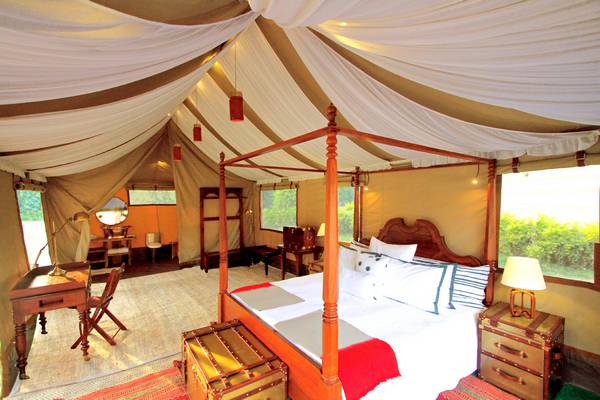 Khakhi tent, TUTC, Kohima Camp
This camp takes its guests to one of the most exotic locations in the country, still unsullied and mostly isolated—Nagaland in the Northeast— a region bubbling with cultural and environmental biodiversity. This camp is hosted every year in Kohima district of Nagaland for only 11 days and always coincides with the Hornbill Festival, wherein the 16 tribes of Nagaland display their rich heritage of crafts, sports (archery and wrestling), food, music and dance.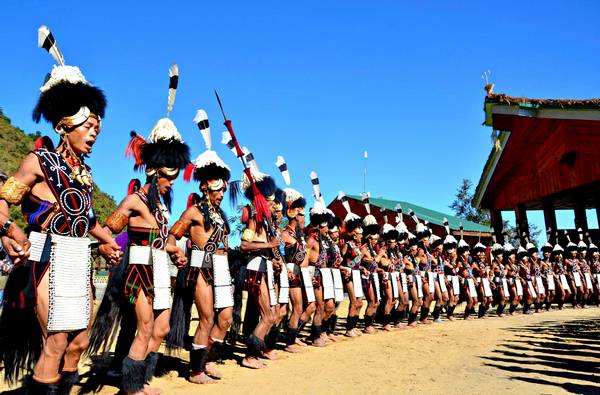 A vibrant scene from the Hornbill Festival, Kohima
This year, the camp will host guests from November 27 to December 11, 2015. The Hornbill Festival will take place from December 1 to 10.
The fully furnished tents come with en suite bathroom and white-gloved butler service. Local Naga cuisine and rice beer is available for adventurous foodies.
Price: 1,38,000 INR onwards (for 2 nights and 3 days)
Website: www.kohimacampnagaland.com
5. Chhatra Sagar, Dist. Pali-Marwar, Rajasthan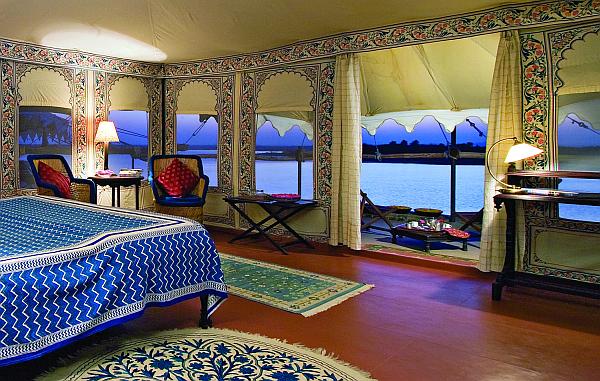 Tent interior, Chhatra Sagar
Only operational from October 1 to March 31, Chhatra Sagar features 11 luxury lakeside tents, with two additional tents stationed on a hill. All tents face east, overlooking a lake, and have private sit outs offering panoramic views. Each tent is carefully handcrafted, with interiors block printed in traditional floral motifs.
Traditional recipes for the meals served at Chhatra Sagar have been in use for generations by the owner's family, and are prepared in the family kitchen using
fresh farm produce.
The camp organises farm and village visits, as well as, conducts bird watching tours for guests.
Price per night: 33,000 INR (Dual occupancy; inclusive of all three meals, non alcoholic beverages, bird watching tour or farm and village visit)
Website: www.chhatrasagar.com
Note: All prices are subject to change
Those with the thirst for international travel, can use these two international digital platforms to source glamping providers anywhere in the world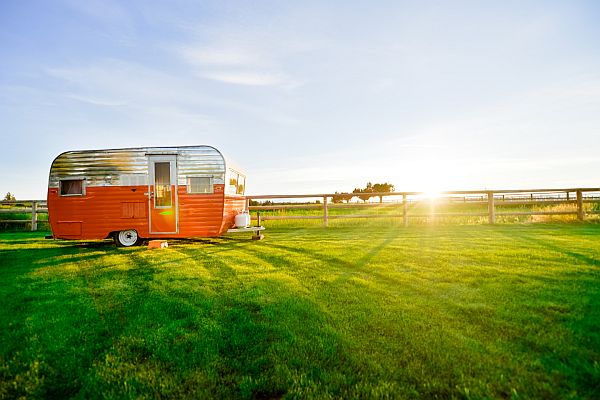 GLAMPING HUB: This nifty website offers users hundreds of glamping options across the world. There is no continent they have left out. Glamping options listed are not limited to tents. They are far more diverse—from barns to campervans; from cabooses to caves; from domes to eco pods; and huts to igloos—Glamping Hub really is the international traveller's hub for glamping and in fact, any unique accommodation.
www.glampinghub.com
GLAMPING.COM: As with Glamping Hub, Glamping.com, too, offers users accommodation options across continents. Their options include yurts and tepees, eco lodges, cabineering and huts, amongst others. This website only lists glamping providers that have received a mandatory 4-star or higher rating on TripAdvisor. The website also offers a dedicated budget selection for economy travellers.
www.glamping.com
---
This article appeared in the April 2015 issue of Pure & Eco India