INDIAN ORGANIC INDUSTRY IS GROWING BY LEAPS & BOUNDS!
BIOFACH INDIA together with INDIA ORGANIC 2016 concluded its 8th edition successfully in New Delhi on November 12, 2016. Hosted at the NSIC Exhibition Grounds in Okhla, the fair was inaugurated by Rani Kumudini, IAS, joint secretary, Ministry of Agriculture, Government of India, and witnessed attendance of eminent dignitaries such as Sompal Shastri, ex member of Planning Commission and Ministry of State – Agriculture, Government of India; Markus Arbenz, executive director, IFOAM Organics International; Markus Reetz, executive director, International Exhibitions, NuernbergMesse; Sonia Prashar, managing director, NuernbergMesse India and Manoj Kumar Menon, executive director, International Competence Centre for Organic Agriculture (ICCOA).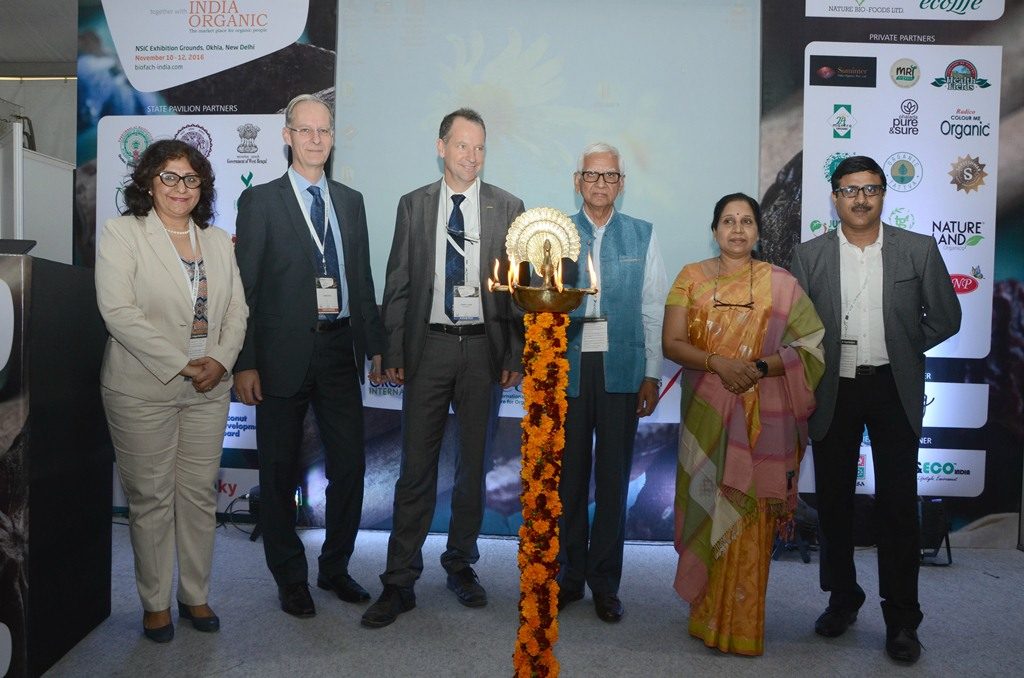 The event comprised five core areas—the exhibition, the international conference, buyer-seller meetings, an organic food court and the consumer connect initiative, and enjoyed participation of 177 exhibitors. The Buyer and Seller Meets welcomed buyers from Europe, US, Middle East and Asia and as many as 190 business meets were hosted at the fair. Twenty three buyers, including 19 from foreign countries, participated in the event. The total value of business generated over the three days was 15% higher than last year's edition and business enquiries to the tune of Rs 100-crore (EUR 14 mn) were garnered.
"ICCOA, with its grass roots experiences has realised organic farming is sustainable to the farmer only if market linkages are developed. Adoption and certification is only the first step. Links with businesses to sell organic produce at a premium, as well as, consistent buying support is essential to keep the farmer motivated. With growing demand from metropolitan cities, shifting our venue to a consistently growing consumer, New Delhi, was a great move"

Manoj Kumar Menon, Executive Director, International Competence Centre for Organic Agriculture (ICCOA)
Key Exhibitors
Exhibitors included private stakeholders, state pavilions, government boards, as well as, key certification bodies, who exhibited a diverse range of food and non-food organic products. Leading private organic stakeholders such as Nature Bio-Foods Ltd, Brahm Arpan Organic Pvt Ltd, Pure & Eco India, MRT Organic, Suminter India Organics, 24 Mantra, Phalada Agro, Radico, Agronic Food Inc, Sarveshwar Foods Ltd, Just Organik, Natureland Organics, Amaara Food & Wellness, Terra Greens Organic and others displayed wide assortments of organic products. Notable international participants included BIOAGRICOOP SCRL from Italy, MK Enterprises Inc from Japan and Murray River Organics Ltd from Australia. Besides the organic food and beverages segment, BIOFACH INDIA also enjoyed participation from the natural care, wellness, and organic textiles sectors.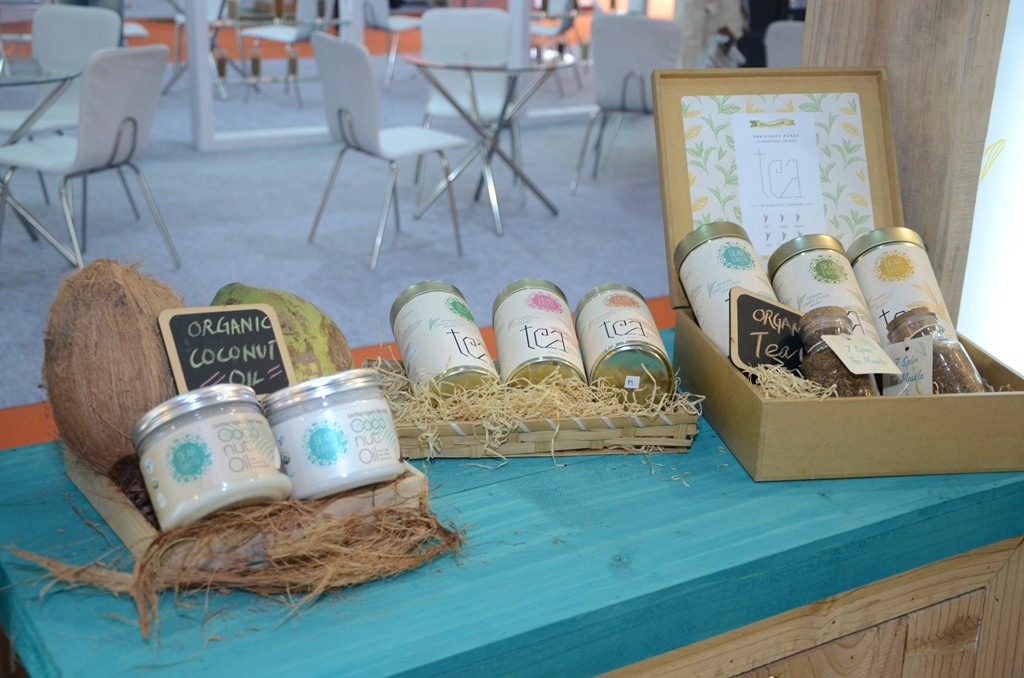 International Conference
Concurrent to the fair, an international conference was conducted to deliberate on the current practices, trends and challenges faced by the organic sector. It addressed the entire ecological value added chain—from organic production to sales— through specialist presentations, case studies and best practice examples. In addition, the conference offered participants an optimal communication platform, enabling them to enter into an exchange with each other on sector-relevant themes.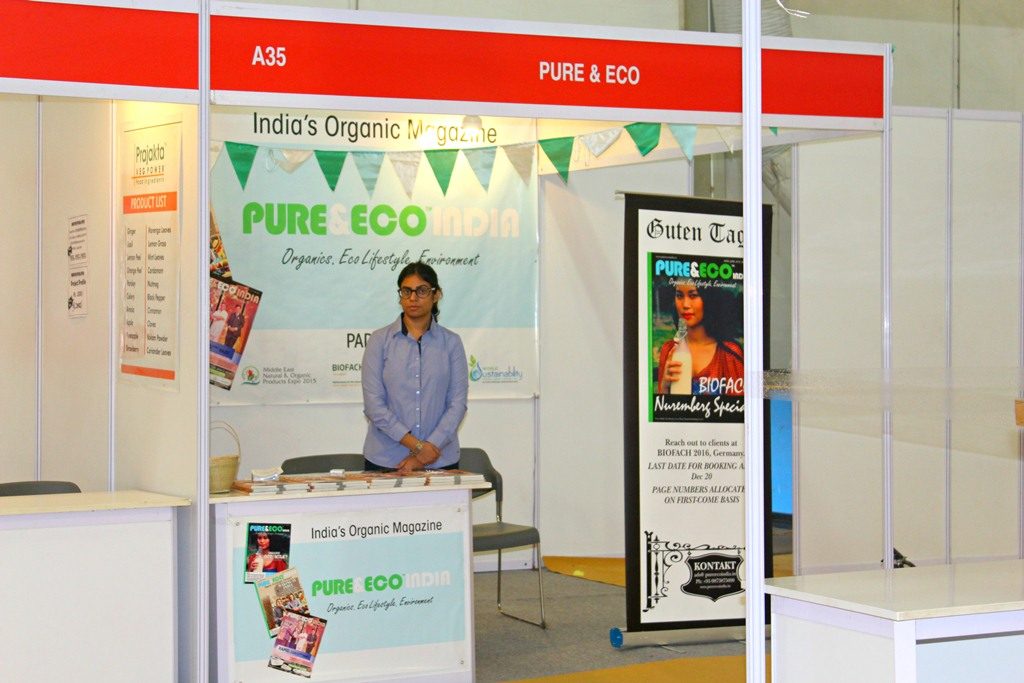 Consumer Connect Initiative
The Consumer Connect Initiative saw nutritionists, farmers, farming cooperatives, agricultural experts and doctors participating in a workshop illustrating the advantages of organic agriculture and lifestyle through vivid presentations. The workshop also addressed school children and mothers, with the objective of educating them on organics and increasing adoption of organic foods amongst consumers. Quizzes and competitions were also organised as part of the initiative.
The 9th edition of BIOFACH INDIA together with INDIA ORGANIC will take place concurrently to the ORGANIC WORLD CONGRESS in Delhi NCR from November 9 to 11, 2017.
Contact for Exhibition:                                            Contact for Press & Media:
Priya Sharma                                                                    Manasi Multani
NuernbergMesse India Pvt Ltd                                     NuernbergMesse India Pvt Ltd
Tel.: +91 11 4716 8830                                                    Tel.: +91 11 4716 8843
priya.sharma@nm-india.com                                         manasi.multani@nm-india.com