By A. Raghavendra Rao
As per the latest norms of the National Pollution Control Board, manufacturing units are prohibited from discharging solid waste or liquid effluents outside their premises even after treatment. The new order dictates that all new factories are to be designed on a 'Zero Discharge' concept.
Various technologies available for treatment of liquid effluents are well established. Liquid effluent from a food processing unit can now be recycled after suitable primary, secondary and tertiary treatments, with confidence that treated water is almost free from any physical, chemical and biological contaminations.
The solid waste generated from a Food and Vegetable (F&V) processing plant is, however, a veritable nuisance as it constitutes approximately 45 percent of the raw material used. As per the prevailing practices, the solid waste is either used as landfill or burnt in the boiler after sun drying. Some quantities are used for making compost.  All these processes incur different variable costs, which recycling the waste into energy can save.
Various studies in Europe and USA reveal the best way to do away with solid fruit and vegetable waste is to convert it into biogas and utilise the gas for generation of power, while the solid residue or slurry generated in the process is as good as organic manure, which can be offered to farmers at nominal or no cost.
This article is derived from a project, which was conceived for a large scale F&V processing complex that was proposed to be set up with a capacity of about 400 TPD (tonne per day) of fruit and vegetable input. The processing complex was to generate approximately 180 TPD of solid waste in the form of peels, stones, pulp, leaves and stems of fruits and vegetables per day.
The project envisaged subjecting the entire quantity of solid waste to anaerobic biomethanation digestion to generate biogas containing about 53 percent methane, which is considered to be clean gaseous fuel. The biogas is compressed, cooled and used directly for generation of power through gas based power generators.  The hot blue gases leaving the generator are used for the generation of steam to be utilised directly in the process plant. The total quantity of power generation was estimated to be 2000 kW and the steam output from the turbine was estimated to be 1400 kg/hr at 3.50 bar.
The material and energy balance of the unit is explained in Table 01 given hereunder:
 Table  01: AVAILABILITY OF FRUIT & VEGETABLE SUBSTRATE FOR GENERATION OF BIOGAS & POWER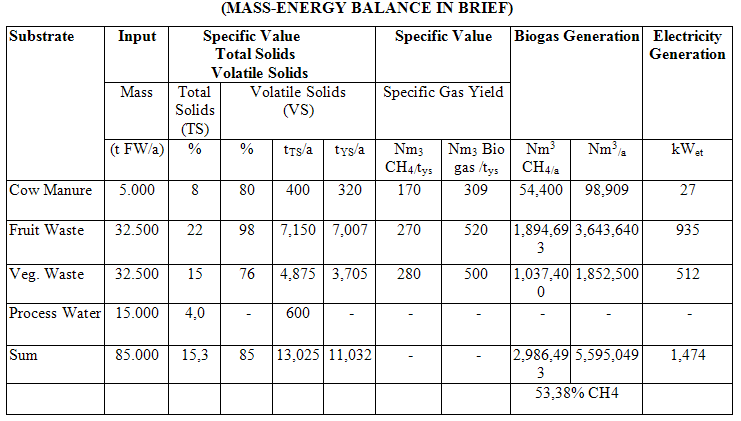 The F&V processing complex under reference was envisaged to process fruit and vegetables in equal quantity with a capacity of 20 TPH or 400 TPD to generate about 197 MT of waste every day. Annual fruit and vegetable waste would be about 65,000 TPA. To achieve a good amount of fermentation, the process demanded addition of about 7 to 8 percent of cow manure to the waste in the fermentation digester. The total quantity of cow manure required per annum was estimated to be 5,000 MT. The solid waste and cow manure in the digester had to be made into the slurry with the addition of 15,000 TPA of water. Thus, the total input per annum in the digester was estimated to be 85,000 MT, with the average total solid content of 5.3 percent. The volatile organic content present in the entire mass was about 85 percent of the total mass available for enzymatic decomposition to generate biogas. The total gas generation was estimated to be about 5.60 mn Nm3, which contains the combustible methane as the clean gaseous fuel to the extent of 2.97 mn Nm3 per annum. The total amount of electricity generation was estimated at about 1.5 MW. The major components for the biomethane plant for gas generation would include the following:
Conveyor belt for feeding fruit and vegetable waste to the mixing plant.

Plant and machinery for thorough mixing of fruit and vegetable waste with cow manure, enzymes and water.

Bio digesters.

Continuous belt presses for separation of solids from the slurry.

Biogas-based power plant.

Steam boiler.
The economics of the project is given briefly in Table 02. It reveals that with an investment of Rs 35.00 cr, the company would save enough in terms of power and vapour to recover the costs in 6 years, even without the consideration of the other alternative variable costs and economic incentives available.
Table 02: ECONOMIC VIABILITY OF BIOGAS FROM FRUIT & VEG WASTE and GENERATION OF POWER & PROCESS STEAM
AA. Basis
Capacity of power plant based on biomass    =          2000 kW
Capacity of steam generation as byproduct    =         1400 kg/h at 3.50 bar

CC. COST SAVING =          2000 kW x 0.75 (efficiency factor) x 24 hrs/day
                                                x 300 days/annum x Rs.6.00/kWh = Rs 648.00 lac
Steam              =        1400 kg/hr. x 20 hrs/day x 300 day/annum
                                   =          8400 MT ie, HSD eqvt. of 840 MT
Oil                    =          840/0.9 = 933 kL @ Rs 50,000/kL
                                                or Rs 467 lac
Total Saving to Client             =          648.00 + 467.00  = Rs 1115.00 lac  or Rs11.15 cr
 DD. TOTAL FINANCIAL COST OVERHEAD ON INVESTMENTS = Rs 5.83 Cr
            (Assuming interest @ 10.00 % and Depreciation @ 6.67%)
EE. GROSS SAVING TO THE PROJECTS = Rs 5.32 cr
FF. PAY BACK PERIOD = 6 years
GG. BENEFIT TO CLIENT
i) Self generation of power & steam
ii) Carbon credit as cash incentive, as additional benefit 
iii)   Earnings from sale of manure
iv)     Depreciation amount
v) Creating eco friendly environment free of solid waste pile up
Establishing this kind of solid waste treatment plant is worth venturing into because:
The nuisance of disposing huge quantities of solid waste is avoided.

At zero raw material cost, the plant generates power and steam to meet the requirement of the entire food processing complex, without being dependant on power supply by the State Electricity Board.

The project would be entitled to earn carbon credit bonds, which is an appreciable income incentive.
---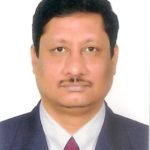 The author is CEO of Flex Foods Ltd, India