You can have a perfectly wonderful Diwali WITHOUT rubbish impure foods and toxic firecrackers. Eco friendly, healthy and MORE FUN OPTIONS abound
By Nandini Gulati
Diwali is a festival of hope, lights, celebration and gifting to loved ones. Yet, over-commercialisation of this festival is leading to unhealthy and environmentally destructive practices such as thoughtless gifting, prolific consumption of packaged, sugar-laden foods and poisoning of the air through toxic fireworks.
The good news is that we can do something about this problem at an individual level and 'be the change' we wish to see. Hereunder are 7 suggestions on ways to celebrate a healthy and eco friendly Diwali.
1 MAKE HOMEMADE MITHAI
Instead of buying commercially made sweets for your loved ones, which can be harmful to their health, why not put some love and effort into preparing simple festive date and nut laddoos (recipe below) or your grandma's favourite recipe at home? When you serve these homemade goodies, I am sure your guests will appreciate the loving gesture.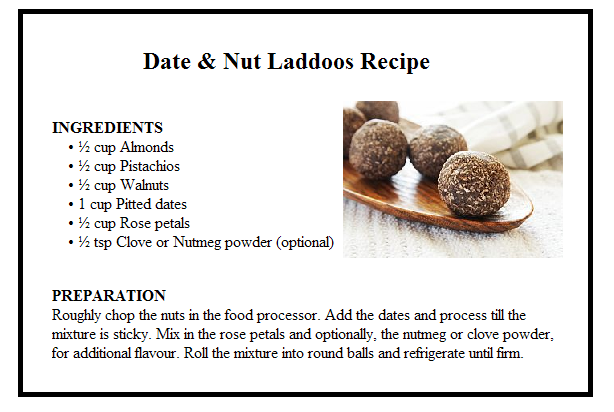 2 LIGHT DIYAS NOT CRACKERS
Earthen diyas filled with sesame oil cause no damage to the environment and make your home and entrance look pretty. For fragrance, you can light some incense or put essential oils in a diffuser lamp. The loud, noisy and smoky fireworks scare animals, precipitate asthma attacks and pollute the air with toxic chemicals for weeks to come— air which we all breathe—resulting in eye and respiratory infections, among other things. Let's all vow to protect our air quality this Diwali.
3 REPURPOSE GIFTS
Instead of buying more and more useless resource-guzzling gifts made of plastic, which never biodegrades, you can keep a shelf of unused gifts at home and recycle them. Alternatively, to break the cycle of useless gift giving, have a rule within your family of giving the gift of time, with loved ones doing what they love to do and gifting experiences, instead of 'stuff'. And if you really must give something, make it with your own hands and pour some love into it. Now that's a gift I would like to receive!
4 PACKAGE ECO FRIENDLY
I have seen many people save and re-use gift wrapping paper. That's a good idea. At home, we use old newspaper tied up nicely with a ribbon and decorated with drawings by the kids. If you are making edible goodies, package them in reusable glass jars instead of plastic containers.
 5 MAKE AN ECO FRIENDLY RANGOLI
Avoid the purchase of chemicals as much as possible; they are certainly not required for the traditional rangoli. You can use leftover colours from Holi, or you can use spices and different coloured powders already available at home. Also, explore NGOs and self help groups making eco friendly rangoli colours. It's a lovely way to keep children busy and create a sense of pride and bonding among family members.
6 GIFT ORGANIC & NATURAL FOODS
It never ceases to amaze me that we 'treat' our loved ones with harmful, expensive, chemical food at the cost of their health. Why not make a gift hamper of organic and natural foods and gift your loved ones something healthy that will support and heal them rather than harm them? What is good for our bodies is also good for the Earth and the environment.
7 SUPPORT LOCAL & ECO FRIENDLY ENTERPRISES
Many natural and organic fairs are held during Diwali time, or you can explore shops selling natural, eco and socially responsible gift items. If you have genuine reason to give gifts, then source them from one of these responsible and ethical enterprises. There are women's self help groups making everything from pickles to clothes to home decorations; there are orphans and prisoners learning art or handicraft skills for future rehabilitation—an abundance of such organisations provide eco friendly gifts during the Diwali season.
Where you choose to spend your money can shape the world for your children. If you buy from ethical and responsible businesses, these will grow in the future. Remember that every rupee you spend is a vote for the world that you support and want to live in. Therefore, use it wisely and give it to people who are putting in a lot of effort to make a positive difference.
Have a lovely, earth friendly and loving Diwali. May you all be healthy and happy!
---
The author is a health coach, public speaker and corporate trainer. Co author of 'Guilt-Free Vegan Cookbook', she shares her insights and experiences about healthy living on her blog, www.healthyhabitsnow.com and through her video series, 'Monday Mojo with Nandini'