Small-batch not mass produced.
Handcrafted not factory-churned.
Fresh not preserved.
◊ Handpicked by Rutaksha Rawat

SUCRES DES TERRES
Gourmet artisanal ice cream by Le Cordon Bleu-schooled chef
(Available in Mumbai)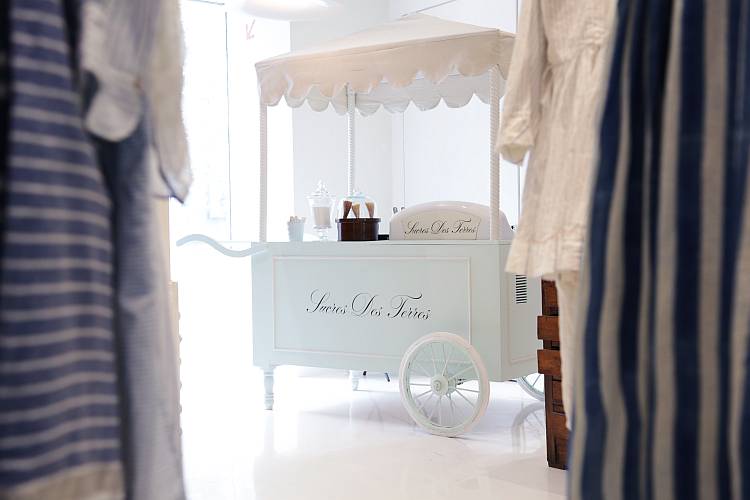 Sucres Des Terres (French for Sugar from the Earth) is an artisanal ice creamery based in Mumbai. Founded by pastry chef Kunali Dattoobhai, who has trained at Le Cordon Bleu in Paris, and entrepreneur Yohaan Dattoobhai,  Sucres is a culinary ode to the flavours of their childhood and the memories of their travels around the world.
Artisanal & Natural: Sucres' ice creams are made in small batches and delicately packaged by hand in dainty custom made mason jars of 500 ml. Also making a range of delectable ice cream sandwiches, all products by the ice creamery are natural and shun usage of chemical stabilisers or preservatives.
Sucres uses fresh seasonal produce in its creations, resulting in vibrant concoctions such as Mango Mascarpone, Strawberry Black Pepper and Orange Rosemary. It's also popular for its festive specials such as Christmas Gingerbread, Thanksgiving Apple Pie and Chinese New Year Chocolate with Szechwan Peppercorn.
Bestselling Flavours: Salted Caramel and Bean To Jar.
Other Novelties: Sucres Des Terres has recently launched a coconut-based vegan range, The Coco Collection.
Where to Buy: Sucres Des Terres ice creams and ice cream sandwiches are available exclusively via orders placed at its ice creamery in south Mumbai. The Sucres Des Terres ice cream cart can also be booked for private events. One can place an order by calling
+91-99209-85880 and home delivery is available for Bandra and Cuffe Parade
residents.
Ice Creamery Address: 2A Rashid Mansion, Samunder Point, Dr Annie Besant Road, Worli, Mumbai
Website: www.sucresdesterres.com
---
BINA'S HOMEMADE ICE CREAM
An Indian mom's lovingly hand-churned treats
(Available in Mumbai)
Mumbaikar Bina Doshi's love for ice creams led to the founding of her artisanal ice cream business. It all started with her making ice creams for close friends and family. The appreciation, love and support she received made her decide to become an icecreamist full time. As the orders continued to pour in, Bina moved her little venture out of her home and into a small ice cream workshop in south Mumbai.
Artisanal & Natural: Even though Bina is not technically making ice creams at home anymore due to the sheer volume of orders, her ice cream is still very much 'homemade' and artisanal in that it is not mass produced and is still made using the age old method of hand churning.
Bina's ice creams are prepared using farm fresh A2 milk from the local milk brand, 'Native Milk', and strictly exclude additives, powders, preservatives, and added fat or cream. "We've started using A2 milk because it is enriched with protein-rich A2 Beta casein, which has many health benefits, does not contain hormones and is also rich in antioxidants," says Doshi.
Bestselling Flavours: Rose Sabja, Chocolate Hazelnut, Paan Chocochips, Thai Red Ruby and Spicy Guava.
Other Novelties: Bina also devises exotic flavours such as Jasmine Rice, Ginger Crunch, Dark Winter, Chocolate Wasabi, Speculose Biscuit and Lemongrass to tickle the taste buds of her loyalists. Sugar free ice cream is available for bulk orders and a vegan range is afoot.
Where to Buy: Home delivery is available to south Mumbai, Andheri, Goregaon, Malad, and Chembur. One can also order online through Swiggy, Scootsy and Zomato.
Workshop Address: Shop No. 14, Raghav Wadi, below French Bridge, Patidar Samaj Hall lane, Chowpatty Hughes Road, Gamdevi, Mumbai
Contact Number: +91-9930312999/98/97
Facebook Page: www.facebook.com/binashomemadeicecream
---
ARTINCI
Socially evolved artisanal ice cream supporting the disabled
(Available in Bengaluru)
With the tagline, '100% Natural and Handcrafted, No Lab-Made Ingredients, No Unpronounceables, No Nasties', Artinci in Bengaluru produces smallbatch artisanal ice cream.
Along with catering pure, unadulterated ice cream to the citizens of Bengaluru, the founder, Aarti Laxman Rastogi, who is 80% hearing impaired, has also made it her mission to provide employment to the disabled, as well as, transgender people. To facilitate this, Artinci has established a relationship with Enable India, a charitable trust working towards economic independence of persons with disability, to recruit disabled staff for Artinci.
Artisanal & Natural: Artinci's ice creams are handcrafted and made in petite batches. The volume ranges from 1 to 25 litres, as per the size of the order. Artinci uses entirely Indian ingredients and is emphatic that India is self sufficient in ingredients such as vanilla, cocoa
and coffee. "There is no need to look far out to Madagascar or Ghana or Colombia for any of these wonderful ingredients, which grow a mere 100 miles from us, in the Western Ghats," says Rastogi. Being all natural, Artinci's ice creams contain no emulsifiers, stabilisers, artificial flavours or essences.
Bestselling Flavours: God's Own Vanilla and Darkest Dark Chocolate.
Other Novelties: Artinci also produces all-natural peanut butter, which is roasted and ground inhouse, and organic (by trust) peanuts are sourced from Tamil Nadu for this. Green Tea and Thandai are some of its more offbeat ice cream flavours.
Where to Buy: Artinci currently operates as a cloud kitchen and is limited to home delivery. Delivery is available to Whitefield, Brookefield and Mahadevapura. To place your order, call +918660691998.
Website: artinci.myshopmatic.com
---
FRUGURPOP
Vibrant-hued paletas with zero preservatives
(Available in Mumbai)
Established in 2012, Frugurpop serves artisanal icy desserts called Paletas—icy treats made from fresh fruits, nuts, edible flowers and herbs, finely blended together, frozen and served on polas or sticks.
Artisanal & Natural: Frugurpop's flavours are made entirely with fruit juices and contain no concentrates, preservatives or artificial flavours.
Bestselling Flavours: Fruitilicious and Cookies and Cream.
Where to Buy: To purchase, visit the Frugurpop cart at Pali Naka, ICICI Bank, Corporate Office, Mumbai.
Contact Number: +91-9833141983
Website: www.frugurpop.com
---
HICE CREAM
Organic ice cream for adults only
(Available in Goa)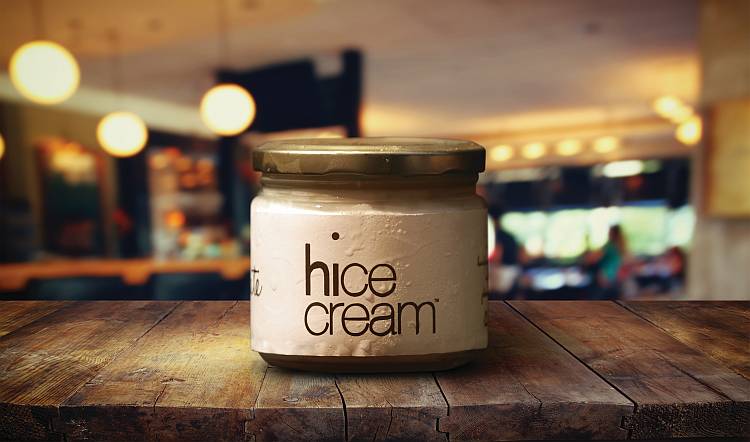 Packaged in stylish, chunky reusable glass jars, Hice Cream features artisanal ice cream made of largely organic ingredients with dashes of liquor. It also offers a non-alcoholic and vegan menu.
Artisanal, Natural & Organic: Hice does not use any chemicals or preservatives and is handmade in small batches. As far as possible, Hice uses organic ingredients. It sources organic coffee and organic vanilla from Coorg in Karnataka, organic cocoa from Bali, organic mint oil and organic almonds from Dehra Dun, organic lavender from Japan, organic raisins from Mumbai and organic dried apricots from Kashmir.
Bestselling Flavours: Whiskey Rock-a-Roller, Werewolves of London and Sin City.
Where to Buy: Home delivered in and around Assagao, Goa. To place your order, call +91- 9867691483.
Facebook Page: www.facebook.com/hicecreamgoa
---
 PALETERIA INDIA
Handcrafted popsicles bursting with fresh fruit & cream
(Available in Mumbai)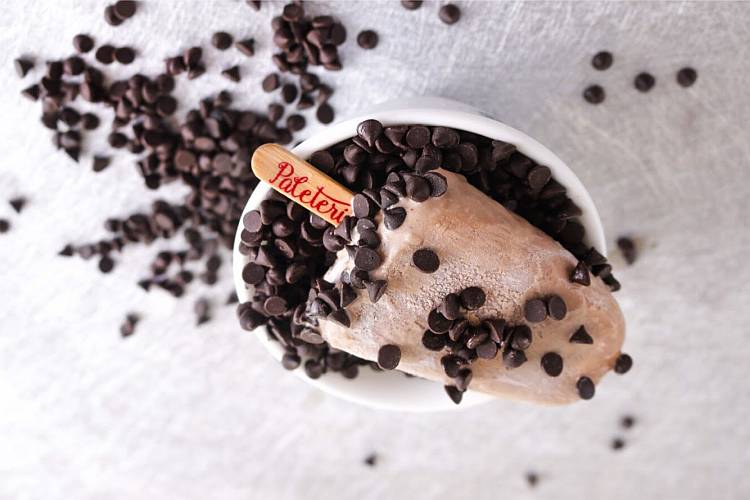 Founded by Mallika Sawla in 2016, Paleteria home delivers handcrafted popsicles made of fresh fruits, featuring flavours such as Mango Strawberry, Kiwi Strawberry and Raspberry Cheesecake. The menu is divided into fruity and creamy pops, with 14 flavours on offer.
Artisanal & Natural: Paleteria's popsicles are devoid of artificial colouring and preservatives, and are handcrafted at its Goregaon workshop. Sugar free and organic fruit popsicles are available on request.
Where to Buy: This is purely a home delivery-based service, and orders can be placed on +919702952300.
Facebook Page: www.facebook.com/paleteriaindia
---
GMT
(GELATERIA MONTECATINI TERME)
Authentic Italian gelato, made and owned by Italians
(Available in Bengaluru, Puducherry & Chennai)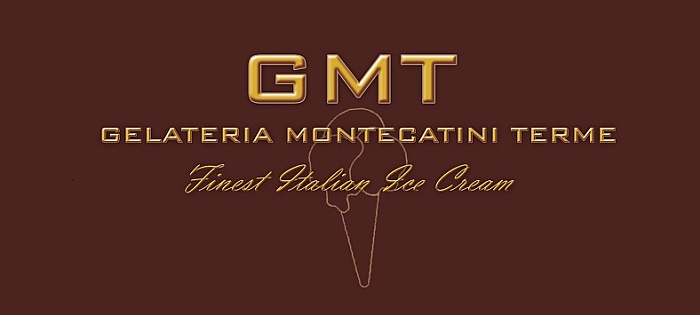 Gelateria Montecatini Terme (GMT) is an authentic Italian ice cream brand established in 2015. Owned by Italian, Adriano Natalini, and created by Italian gelato master chef Giorgio,
GMT follows the Italian heritage style of preparing ice creams. While its flagship outlet is located in Puducherry, it has one outlet each in Bengaluru and Chennai as well.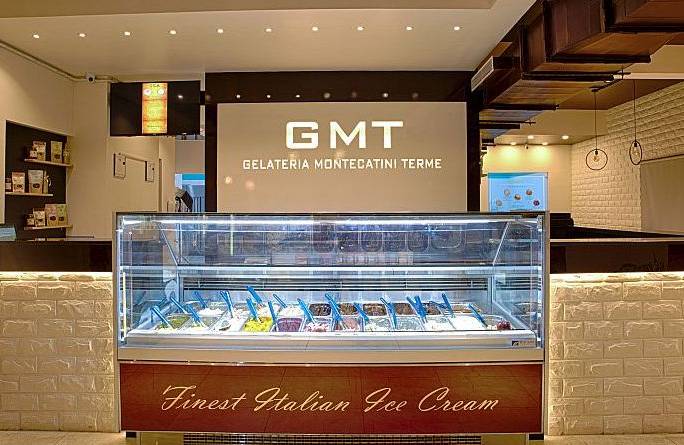 Artisanal, Natural & Organic: All ingredients at GMT are handpicked and carefully selected and processed at its laboratory using the traditional method of making gelatos—without adding any artificial flavours, colours or preservatives. Almost all the ingredients used by GMT are organic.
Farm fresh milk and fresh cream are procured from the Galaxy Milk Farm in Puducherry. Organic frozen berries are imported from USA, organic pistachio from Iran, and organic almonds from Turkey.
GMT has also tied up with several local organic farmers for regular supply of fresh fruits.
A USP of GMT is that it uses zero hydrogenated fats in its gelatos compared to all the industrial ice creams that use these unhealthy fats to preserve the ice cream. GMT's gelatos are prepared fresh on daily basis.
Bestselling Flavours: Tiramisu, Himalayan Salted Caramel, Bacio, Almond, Amarena and Italian Gianduja.
Where to Buy: Visit a GMT outlet in your city (Bengaluru, Chennai or Puducherry) or order via Zomato and Swiggy.
 Outlet Locations:
 Bengaluru: No 298, 6th Main, HAL 2nd Stage, Defence Colony, Indiranagar, Bengaluru
 Chennai: 1st Ave, G Block, Anna Nagar East, Chennai, Tamil Nadu
 Puducherry: #62, Goubert Avenue, (Beach Road), Puducherry
 Website: www.gmticecream.com
---
MINUS 30
Artisanal gelato made from farm fresh milk
(Available in Delhi NCR)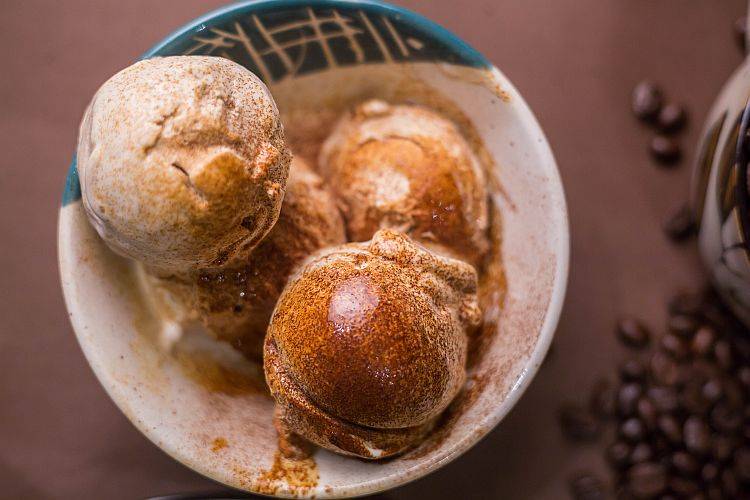 Minus 30 features artisanal gelato, made with farm fresh milk.
Artisanal & Natural: Minus 30 gelato believes in small batch production to maintain superior quality. Each batch is handcrafted and no emulsifiers are used in the making of the gelato. The milk used is procured from the milk brand, Europaea.
Bestselling Flavours: Belgian Chocolate, White Chocolate Baileys, Dark Chocolate with Almond Milk, Salted Caramel, Tiramisu and Mango.
Where to Buy: Minus 30 is home delivered to south and central Delhi, as well as, Gurgaon. To order, call +91- 9871028888.
Website: www.minus30.co
---
PEKO PEKO
Organic spa for the belly
(Available in Mumbai)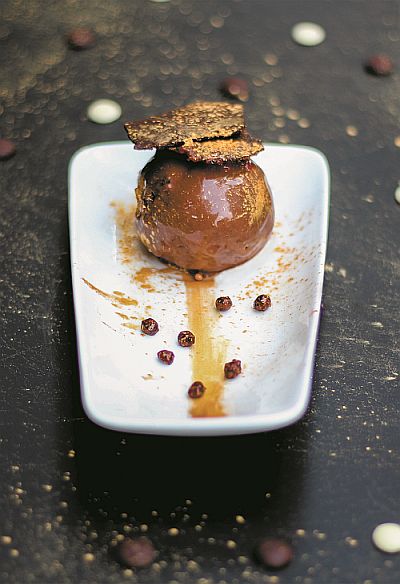 Peko Peko in Mumbai offers a selection of hand churned, artisanal ice creams, in addition to desserts, ice cream sandwiches, affogato and milk shakes. The ice creamery is focused on offering gourmet experiences to customers and refers to its gastronomical creations as "spa for the belly".
Artisanal, Natural & Organic: All Peko Peko's ice creams are made from scratch, using preservative free and natural ingredients. Handcrafted by chef & founder, Rishab Varma (another Le Cordon Bleu alumnus), they contain no artificial flavours or stabilisers.
Peko Peko imbibes farm fresh milk and fresh organic fruits and vegetables, and also cultivates its own herbs in its inhouse organic garden.
Bestselling Flavours: Dark Chocolate Sea Salt, Green Apple and Basil Sorbet, Banana Chocolate with Farm Fresh Raspberry Jam, Almond Praline and Malai Kulfi.
Other Novelties: Plated affogato bar garnished with edible gold dust.
Where to Buy: Visit Peko Peko in Andheri West or request home delivery (available across Mumbai).
Parlour Address: Store No. 5, New Sai Texprocil Building, Ganesh Chowk, DN Nagar, near The Club, Andheri (West), Mumbai.
Contact Number: +91-9833645888
Facebook Page: www.facebook.com/pekopekoindia
---