By Lily Tekseng
(All photos © Benefit Publishing Pvt Ltd)
An Ecotel that incorporates sustainability in the world of hospitality
My partner and I packed our bags one hot Delhi evening and decided to visit Goa while the flush of monsoon was still heavy, and before the customary rabble of tourists descended upon its beaches in October.
Being associated with an institution that is dedicated to organic and environment lifestyle means that I try to adhere to what we preach as much as I can. Fern Gardenia Resort was, hence, a very natural choice as our place of stay. To help us stamp a seal of approval on our decision, a cursory look at their website was enough. That Palolem is one of Goa's most scenic and untouched of beaches, and an excellent alternative to the crowded beaches of North Goa, did not deter us from picking Fern Gardenia, since its located just a stone's throw away from the said beach. We prebooked a Winter Green cottage, a cosy cottage ensconced in between lush green foliage.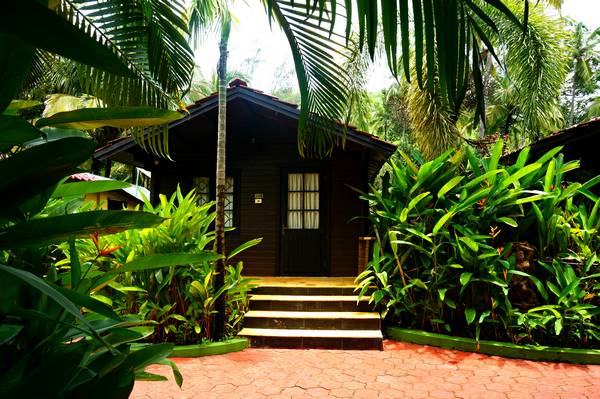 One of the many cosy cottages at Fern
At the resort, we were greeted with refreshing cold wipes and cranberry juice. Even before we were led to our room, I asked for two fresh, minty mojitos by the pool to officially start off our weeklong excursion out of Delhi.
If I had imagined out of season quiet, I was up for a surprise. While on our stay at Fern, we met four young couples— two from Mumbai, one from Spain, one from Russia, a British family of five, an Indian family of four, and two groups of young professional of four each from Mumbai.
Fern wears with pride the Ecotel tag, an environmental certification renewed every 2 years, which entails strict audits and adherence
By the pool where our mojitos were awaiting us, were also a young couple: with her legs dipped in water, the woman was typing away at her phone while her partner tugged at her legs between laps across the pool. I dragged my old man to the other end of the pool and hoped that our drinks would now compensate for our bumpy flight. Before long, Maria and I smiled at each other and got talking.
Maria and Stefan, 27 and 36, had just returned from a weeklong Yoga retreat in Rishikesh via Delhi. It was their first time in the country and understandably, they "didn't want go back" to Spain, their native country, without seeing one of the most frequented tourist destinations in the country. Both were practicing vegans and they had chosen Fern, Palolem, over a number of other conventional hotels because "it is cosy and green."
The Fern Group
Fern group of hotels is one of India's most loved, fastest growing and leading environment friendly hotel brands. It is dedicated to creating travel experience designed for modern India and combines premium hospitality service with award winning dedication to the environment. It has several resorts, hotels, spas and residencies across India, Asia, Middle East and Africa; Fern City is the branch that is spread across prime location in India's main cities, near airports and central business districts, and Fern Residency is a group of mid tiered hotels and resorts in the 3 to 4 star categories.
Designed keeping in mind the perfect harmony with nature, it boasts of remarkable eco friendly credentials. For instance, it has the Ecotel tag, which is an environmental certification that is renewed every 2 years.
Fern Gardenia, Palolem, located 800 metres from the Palolem Beach in South Goa's Canacona district, is a property owned by the Ramcon Groups of Builders but operated by the environmentally sensitive Concept Hospitality Ltd (CHL). This model is applied by and large to other Fern hotels and resorts: CHL and Chaudhary Groups (CG) Hotels and Resorts, another hospitality management group based out of Nepal, is responsible for the operations of the Fern brand of hotels. Both CG Hotels and Resorts and CHL are committed to inculcating sustainability effectively in the premium hospitality industry.
An Ecotel with a Difference
On our way to Palolem beach the next morning, Afrozhusain Shaikh, the general manager of Fern Gardenia, greets us. Before I venture to ask him for an introductory tour around the property, I jump to ask him for culinary recommendations. His suggestion— a Goan dish called Shark Ambotik, is a rich, spicy delight. In one of the most popular restaurants in Palolem, my partner and I sit next to a lively group of middle aged local men, and sip our first coconut Feni, a strange local drink that takes more grit to gulp down than our poor city hearts can muster.
Fern Gardenia has an adequate restaurant called The Azolla, for those too heady in love to bother discovering anything other than your beloved while in Palolem. It is multi cuisine and offers round the clock menu. There is a bonus for cat lovers: three beautiful, friendly, leopard print cats live in the garden next to the restaurant!
Winter Green cottages are cosy, air conditioned and is arranged in the swastika layout, drawing from the 'aangan' local Goan architecture. The Hazel Suite is the presidential suite, with a separate bedroom and lounge area, has a study table, sofa, LCD TV, and a minibar.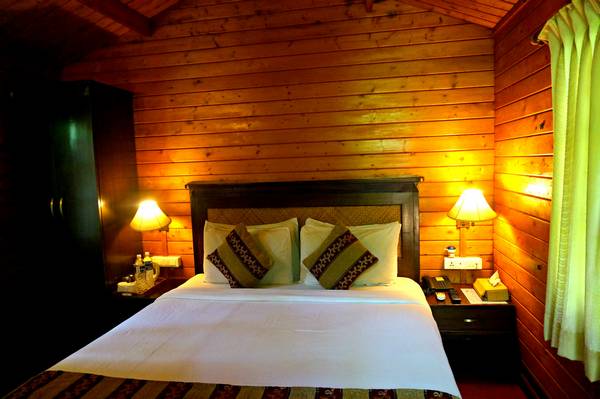 Cottage interior
We meet the Green Team of the hotel: it is an internal team that is created in every Fern hotel to ensure that the green practices prescribed are followed by the staff. They also often ideate on finding innovative means of making their hospitality practices more environment friendly and conduct external events involving the local community.
"You (sic) know that an average hotel purchases more products in one week than 100 families purchase in a year? We try to instil this in our employees and work in ways to reduce this wastage," said Shaikh, elaborating on the hotel's ethos. Towards achieving this, CHL ensures that their hospitality practices seek sustainability in areas of waste, water, energy management by investing on employee education and community involvement. Employee training and induction is spread over weeks, with intensive sessions on environment daily and eco discussion with educational institutes.
Rina, a member of the hotel's Green Team, shared, "We start with small steps like saving water, electricity and recycling wastes— all things I learnt after coming here. I practice this at my home also. It's good for nature, something which is not seen in other hotels here."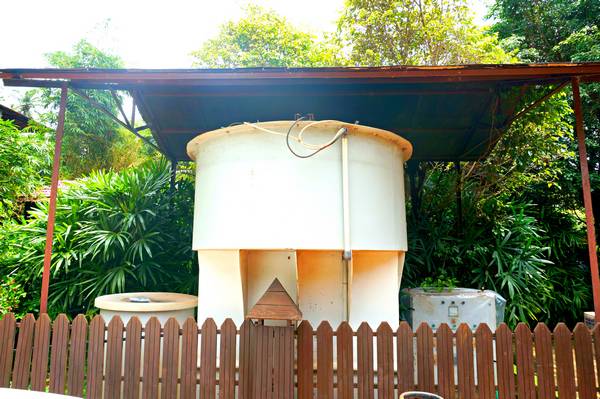 On campus sewage treatment plant
Fern's solid waste management is robust: they have colour coded, separate recycling bins for garbage segregation. For example, black bins contain biodegradable wet waste, green bin contains biodegradable and recyclable waste, white contains non biodegradable and recyclable waste, and red contains the non biodegradable and non recyclable wastes. There is also a vermicompost pit and a Sewage Treatment Plant (SPT) in the property which treats waste water which is used in horticulture and AC cooling units. Predictably rich monsoon every year also means that they amply use rainwater harvesting methods to save water. Other methods of saving water includes the use of aerators in plumbing which restricts the flow of water, which in turn, saves water, drip irrigation, geberit concealed cistern, and Save Our Planet Cards (SOP) that prescribes a number of conservation practices to guests (for instance, avoid giving for laundering towels and sheets that are clean).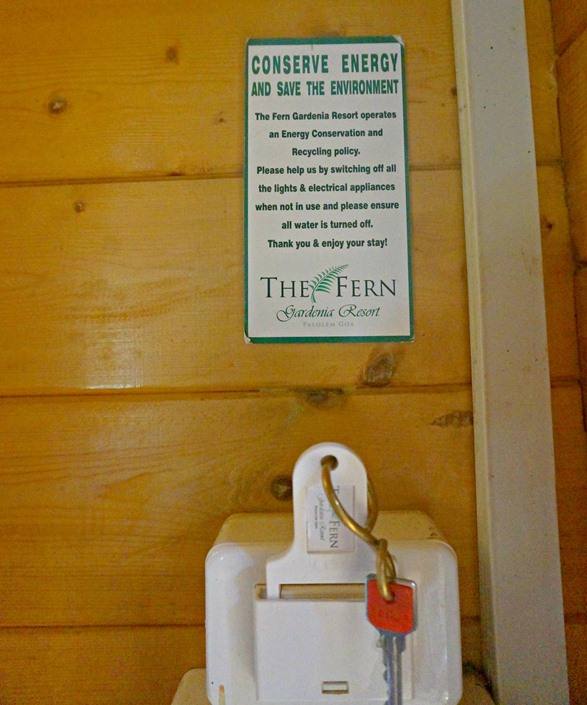 Save our Planet cards at the hotel gently nudge guests to mind their water and electricity consumption
Practices to save energy range from the use of minibar refrigerators with fuzzy logic technology (which senses the load and cools accordingly), use of CFL lighting, energy efficient air conditioners, and solar panels for generating solar energy. Fern also avoids the use of plastic, potted plants or cut flowers. Heliconia plants are strategically grown abundantly in the property in order to reduce pests and mosquitoes naturally. It is also ensured that guest amenities are eco friendly. For example, stationeries are made of recyclable and biodegradable materials, slippers are made of jute, and hangers of rubber wood.
Fern's Ecotel practices extend to the architecture of the place as well. Double and triple glazed windows are used to reduce solar insulation, thereby, saving electricity, and the bathrooms are installed with eco friendly toilets.
As we pack our bags, I realise that I have read not more than 10 pages of my otherwise engaging book. It's not an indication of the quality of the novel at all— the uncharacteristically sunny weather, interspersed with early morning rains, the large variety of fresh seafood offerings, delicious cocktails and wine, coupled with the liberty of spirits that comes with holidays are to blame.
To return to a warmly lit cottage every evening and wake up to straight away splash around in the pool and therein take our first cup of tea, knowing well that we were demanding less from nature with every passing day of our stay at Fern, gave me serious holiday blues hours before we had even started the drive back to the airport. 
 Location: Palolem, Goa
Accommodations: 18 cottages in all
Activities: Palolem beach, Agonda beach & Butterfly beach; inhouse pilates, yoga & cooking classes
Ideal Season to Check In: Through the year
Cuisine: Multicuisine
Bar: Yes
Driver Accommodation: Yes
Pets Allowed: No
USP: Free pick up and drop to and from the beach till 6 pm
 Green Features: Certified Ecotel; dedicated 'Green Team' trained in eco friendly practices by the hotel; solid waste management; sewage treatment; drip irrigation; vermicompost pit; minibar refrigerators with fuzzy logic technology (which senses the load and cools accordingly); CFL lights, energy efficient ACs; solar energy usage; plastic free property; no cut flowers used for display; eco friendly guest amenities; Heliconia grown in property to reduce pests and mosquitoes naturally; eco friendly toilets
Tip: Winter Green Cottages offer best value for money
Getting There: About 60km from the airport; 2km from the Canacona Railway Station (pickup available)
Tariff: Rs 3,000 – 8,000 per night with complimentary breakfast
---
This article appeared in the October 2015 issue of Pure & Eco India