THE INDO-GERMAN ACTRESS & SOCIAL ENTREPRENUR IS DEVOTED TO HER MUMBAI-BASED CHARITY FOUNDATION, SEAMS FOR DREAMS, AND HER LOVE OF THE ORGANIC LIFE
◊ Orchestrated by Jaideep Pandey
Congratulations. You were recently conferred the 'Philanthropist of the Year' award at the Tassel Fashion & Lifestyle Awards 2016 for the work done by your NGO, 'Seams For Dreams'. Tell us a bit about it and what it does.
Thank you! It feels amazing for me and my team to be appreciated for the work we are doing. But the ones who are actually behind Seams For Dreams are the donors! At SFD we take your old clothes donations, from your t-shirts, kurtas and jeans to your party dresses and designer wear. These clothes are then distributed to people in need of clothing or sold at fundraising events. The idea behind SFD was to bring together the film and fashion industries in an endeavour to find a way for them to give back to humanity.
 You grew up in Germany, where the organic food scene is very evolved….
I think the main reason Germany has picked up so well on the organic lifestyle is due to education. It is important to learn about what you are eating and how you can live a healthier lifestyle by tapping into available natural resources. Organic food is not just a fancy diet— it goes much deeper to the root of society. We all must check where the things we buy come from, be it is food or clothing. There should be proper regulations in place and I think India is very much on the right track but has some ground to cover, still.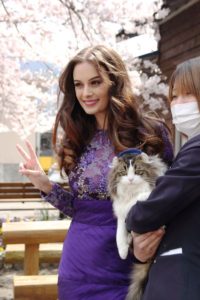 Your opinion on the surging popularity of the Vegan movement?
I admire people who live a fully vegan lifestyle. It is much healthier to eat vegan than eating animal products. It always comes down to: You are what you eat! And I'd rather be a strawberry than an egg. Personally, I like to maintain a vegan lifestyle, which is so easy because there are umpteen options here to pick from.
"In Germany, we are spoilt for choice where organic foods are concerned. Since my mom is very much into the organic lifestyle I would choose her kitchen over a restaurant any day. In Mumbai, we have the Organic Farmers' Market every Sunday in Bandra, Hill Road. I love going there and picking out fresh organic vegetables and fruits"
Your opinion on the Fruitarian community, which survives solely on fruits?
Ok, now that would be too difficult for me. Even though I agree fruits are some of the most tasty and healthy foods available, I need a hot cooked meal every day.
 Which is your go-to organic/vegan food place in Mumbai and also back at home, in Germany?
In Germany we have too many options, so it really would be hard to pick one. But since my mom is very much into the organic lifestyle I would choose her kitchen over a restaurant any day! In Mumbai, we have the Organic Farmers' Market every Sunday in Bandra, Hill Road. I love going there and picking up fresh organic vegetables and fruits.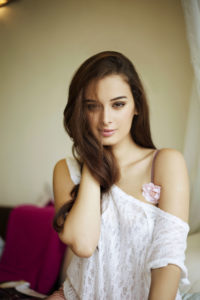 Are your bath & body products organic as well?
In fact, I love to make my own bath salts, body scrubs, face masks, hair oils and body lotions from natural ingredients. You can find everything in nature or your kitchen that you would need to create your own product. I am also a huge fan of ayurvedic products.
What do you normally have for breakfast?
I am a big fan of granola, muesli and fruits in the morning. With a fresh brewed coffee with almond milk and raw sugar.
 A superfood you swear by…
Chia Seeds. They are just wonderful for your body.
Your secret natural beauty tip…
Aloe Vera is my secret. It works wonders on your skin and hair. You can even make aloe vera juice shots and have them with your breakfast. I started growing aloe plants on my balcony years ago and they are fantastic because now I have my own personal stash of fresh aloe in my balcony, from which I can extract fresh aloe every day. No need for bottled potions with suspiciously long shelf lives. In fact, everyone should do this. It's surprisingly easy to do and maintain.
How do you avoid contact with toxins in your home and everyday life?
 That's impossible in the 21st century. But the best way to keep toxins away from your body is to buy second hand clothes, use organic fabrics and avoid using too much detergent when you wash your clothes.You wear clothes 24/7, so be careful what you put on your person.
 What are you working on currently?
I am currently shooting for two movies, besides also working on Seams For Dreams.
 Your advice to young girls that want to look pretty and fit?
 Work out and eat right. Looking great goes hand in hand with feeling great. Crash diets and fast weight loss programmes do you more harm than good and are extremely frustrating. A healthy lifestyle will stay forever and you will feel and look great! Girls, remember, sensible, healthy eating habits are sustainable and will see you through your latter years. Crash diets will only yield short term returns and will literally 'crash' on you. So, play smart.
 How do you stay motivated?
I stay motivated by my faith in God, and my focus towards a great future and my purpose in this life!
 Your philosophy of Life?
Life is not about yourself, but about the impact you made in other people's lives.
 Who is Evelyn?
I am a fun loving adventurous person, who loves to spend time with friends and eat fresh, organic foods. Oh, and I have a raging obsession of collecting books!