By Jency Samuel (Photos © Jency Samuel)
India's first certified organic farm to offer experiential farmstay inspires guests to go green
Delighted laughter greeted us as we rounded a bend lined with bushes of yellow-gold alamanda. The laughter was mingled with rapid fire French as the Harvest Fresh Farms sprang into view. A group of tourists from Nova Scotia, Canada was visiting Harvest Fresh, the first and only organic certified farm in the country to offer farmstay. The visitors were just back from a bullock-cart ride along the winding road that abuts Harvest Fresh Farms.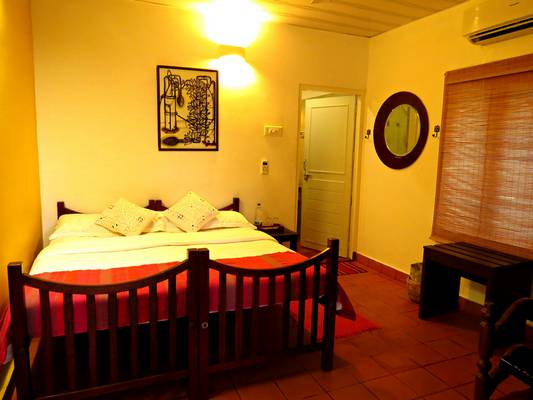 Harvest Fresh, nestled in the verdant Cumbum Valley in Tamil Nadu, overlooks the mist-covered Western Ghats and silvery water falls down the slopes glistening in the sun. From the creative signboard to the palm-lined pathways, the thatched gazebo, the yellow-green bottle brush hedges, to the wooden planters and art pieces made from waste wood, everything has been planned artistically organic. Everything about the farm is purely Organic. It has received the Organic certification from INDOCERT and is accredited by the National Accreditation Body (NAB), Government of India, as per the National Programme for Organic Production (NPOP).
In the farm spread over 35 acres, pomegranate trees occupy 25 acres as the climate is conducive for pomegranate cultivation. Trees of coconut, papaya, passion fruit, custard apple, guava, teak, guava, avacado (butter fruit), soursop fruit, nutmeg, bamboo, eucalyptus, sandal wood and mango dot the rest of the farm. The farm, divided into segments is named after saints, as St Bernard, St Paul, St Theresa, etc, for ease of reference and maintenance.
When the Jose family bought the farm in 2007, they took a conscious decision to go green. "We wanted Harvest Fresh to be distinctive. And being extremely health conscious, we opted for organic farming," informs Kurian Jose (Jr), CEO. "We decided to convert it into a farm stay only two years back," adds Joseph Jose, brother of Kurian Jr. Their decision to go organic in all activities stood them in good stead when the farm stay was offered, enabling them to offer fresh and healthful produce to their guests. "Besides, we want Harvest Fresh to inspire visitors, especially youngsters, to get into organic farming," asserts Kurian. Harvest Fresh sets a fine example to impress and inspire visitors. "The organic activities here are extensive. I would highly recommend a visit to Harvest Fresh Farms to learn about organic farming," avers Johanna Chagnon of Traditour, the tour facilitator.
The natural taste of the welcome drink made from freshly-harvested passion fruit and pomegranate lingers, during the guided tour.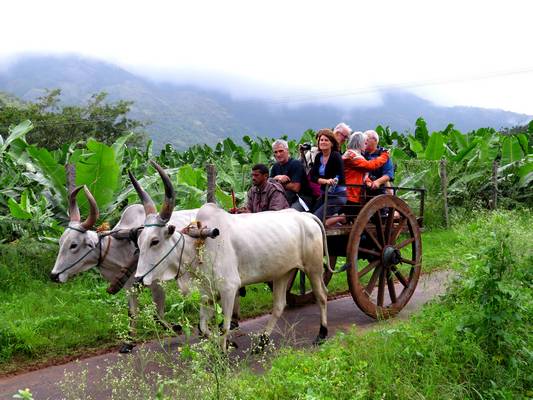 Guests enjoy a bullock cart ride around the farms, with the Western Ghats as a backdrop
The team at Harvest Fresh believes in letting each creature, including mice, have its share of the produce. Squirrels and parakeets are warded off the fruits with small electronic devices that emit calls of predatory birds at intervals. But we notice koels and squirrels nibbling at fruits. "We are organic in the true sense. They are part of the ecosystem. So we do not disturb them," smiles John Thomas, the manager. In pockets where the number of squirrels is high that the harvest is likely to be drastically reduced, fruits are wrapped in paper, protecting them from squirrels. Solar-powered traps keep harmful insects at bay. Organic-certified liquids make shoot and fruit borer insects in pomegranate plants inactive, rather than eliminating them.
Waste generated in the farm is creatively and beneficially used. Coconut coir is left evenly on pathways. The coir loses its acidity during rains. Then it is used as mulch at the base of trees to conserve soil moisture and to prevent growth of weeds. Residual granular pith from the coir, mixed with biodigestors, jaggery and powdered green gram is used as compost.
The dairy, with Vechur and Kasargod Dwarf indigenous cows, supplies milk and curd. Only virgin coconut oil is used for cooking. The poultry farm has indigenous hens, turkey, guinea fowl and geese.
The dairy shed floor is designed to divert the urine separately. The cow dung is directed to a 5,000-litre capacity biogas plant. The slurry, mixed with cakes of neem, groundnut and castor, and fermented for four days in the plant, supplies gas to fuel the stove in the farm's kitchen. Dried sludge from the plant is used as manure. Panchgavya (a concoction prepared by mixing five products of cows) and Jeevamirtham (concoction of soil, cow waste and jaggery) prepared using cow dung and urine among other ingredients, are used as effective pesticide and fertiliser respectively. The kitchen garden, with more than 20 vegetables, supplies the kitchen with fresh produce. Kitchen waste, pruned branches and dry leaves are also turned into manure.
The highlight of the farm is its beautifully landscaped herbal garden. Winding pebble-lined pathways takes one through the garden comprising 230 species of herbs, including white and purple water lilies in small ponds. "The herbal garden is amazing and I am impressed by the detailed explanations about all the plants," says Andre Lessard, a guest.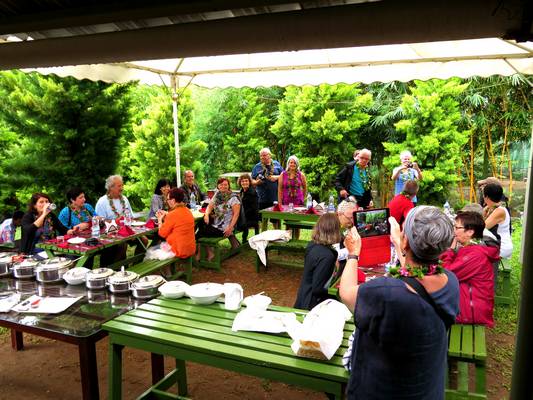 Rows of tall and hardy Agathi trees (Sesbaniagrandiflora) serve as windbreakers, protecting the pomegranate plants from the harsh winds from the hills. A pond has been created to harvest and store water. The cottages, built mostly with eco friendly materials, are simply decorated. Plants from the farm's nursery and fruits and juices are retailed from a shop on the highway.
But it's not all trees and farming at Harvest Fresh. A host of activities are on offer for guests seeking variety. "We welcome farm visits and day trips, wherein visitors can learn about Organic farming, feed farm animals, climb atop watch towers for commanding views of the valley, and enjoy delicious local cuisine prepared from organic, home grown produce. A charming bullock cart ride to the farm takes visitors through neighbouring vegetable farms, past gurgling streams to Harvest Fresh. Guests can also enjoy tractor rides, jeep safaris and cycling inside the farm," informs Kurian.
HARVEST FRESH ABRIDGED
Location: Cumbum Valley, Tamil Nadu
Accommodation: 3 bedroom-farmhouse (with living room & kitchenette); 10 more in the offing
Activities: Bullock cart ride, tractor rides, jeep safari, harvesting farm produce, cycling, guided farm tour, feeding farm animals and birds, pruning of plants, demo of honey extraction, observing the valley and bird watching
Cuisine: South & North Indian
Wi-fi: Yes
Driver Accommodation: Yes
Pets: Allowed
USP: First organically certified farm offering farmstay and hands-on involvement in farming activities
Green Features: INDOCERT-certified organic farm, drip irrigation, rain water harvesting, dairy products from indigenous cows, herbal garden, virgin coconut oil and farm fresh vegetables for cooking, fuel from biogas plant, kitchen waste compost, coir mulch, coir pith compost, solar pest traps, eco friendly building materials
Ideal Season to Visit: September to February
Getting There: 110 km from Madurai airport; about 12 km from Kumily, Kerala, and 11 km from Cumbum, Tamil Nadu
Tariff: Cottage – Rs 5000 (USD 74/EUR 68) per night for 2 adults + 1 child, with complimentary breakfast during peak season; Rs 3,500 (USD 51/EUR 47) during off season
---
This article was published in the April 2016 issue of Pure & Eco India