Pritesh & Megha Asher were shocked to see materials used in INDUSTRIAL LUBRICANTS on the ingredients list of a FACE CREAM. They decided to start Juicy Chemistry as a way to offer pure & organic alternatives to people who appreciate natural and toxin free products
The Ashers realised that most skincare products contained harmful chemicals and decided to launch Juicy Chemistry (JC) as a chemical free, organic alternative.
Juicy Chemistry is one of the few brands in India to offer full disclosure to consumers, ie, it lists on its packaging, each ingredient it uses in each of its products, and to what degree.
JC does not use any preservatives and instead uses vitamin E, salt and sugar, which are natural preservatives. Also, the organic oils it uses act as pickling agents, which prolong the shelf life of its products naturally
◊ By RUTAKSHA RAWAT
On a visit to a local shopping mall, when encountered by a sales person promoting an all natural face cream, Pritesh Asher obliged. The words Propylene Glycol and Mineral Oil caught his attention. "I couldn't believe what I was reading on the label. I was gobsmacked at what chemicals used in industrial oils were doing inside a cream!" recalls Asher, who has experience working in the industrial lubricants business.
CHEMISTRY OF A DIFFERENT KIND
"My family business was into manufacturing of industrial and automotive speciality lubricants. Here, I learnt complex formulations and manufacturing techniques among other intricacies of the business. But I immediately realised that the layman did not have the insight I did. People were happily lapping up these products, actually believing the 'Natural' con and thinking they're doing themselves a favour," says Asher. The Ashers recognised there were few alternatives available in the market. Almost all the other skincare products contained the same toxic concoctions masquerading as natural healing potions.
Further discussions on the subject led to the decision to launch their own line of organic skincare products. "We wanted our products to be truly pure. No parabens*, no chemicals, no preservatives, no synthetic colours. No lies. No half truths," says Megha. Thus, in 2014, the couple launched Juicy Chemistry (JC).
"We want our products to be truly pure. No parabens, no chemicals, no preservatives, no synthetic colours. No lies. No half truths"

Megha Asher, Co founder, Juicy Chemistry
THE PURGE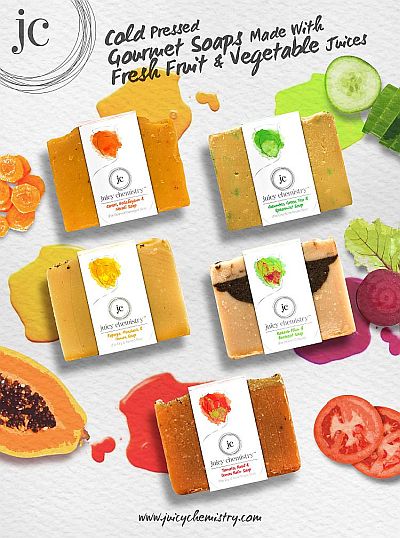 Just as they suspected, the Ashers' preliminary research revealed that most commercial skincare products base their formulations on petrochemical concoctions such as liquid paraffin (a derivative of petroleum), preservatives, propylene glycol (also a petroleum derivative), artificial colours and fragrances, etc. They began by making the first few changes, supplanting mineral base oil with nutrient-rich natural butters and carrier oils; synthetic fragrances with organic and certified essential oils; artificial colours with natural clays and fresh fruits and vegetables; and microplastic exfoliants with organic AHA (Alpha Hydroxy Acid)-rich sugars.
Once they were able to eliminate water from the formulations, they were able to weed out the use of emulsifiers** and parabens. "We preserve our products naturally by using no water, and also by using vitamin E, salt and sugar, which are natural preservatives. Moreover, the organic oils we use in our formulations act as pickling agents, which prolong the shelf life of the product naturally," informs Megha.
For instance, the Ashers inform us, JC's Aloe and Calendula soap is made using the cold pressed method and imbibes extra virgin olive oil, calendula oil, virgin coconut oil and aloe vera—all organic. On the other hand, the ingredients in a parallel product in the non organic category sound like they belong in a chemistry laboratory: coconut oil, ethanol, water, sucrose, sodium hydroxide, glycerine, castor oil, stearic acid***, fragrance, PEG 40 hydrogenated castor oil (polyethylene glycol derivative of hydrogenated castor oil), jojoba oil and tetrasodium EDTA (preservative).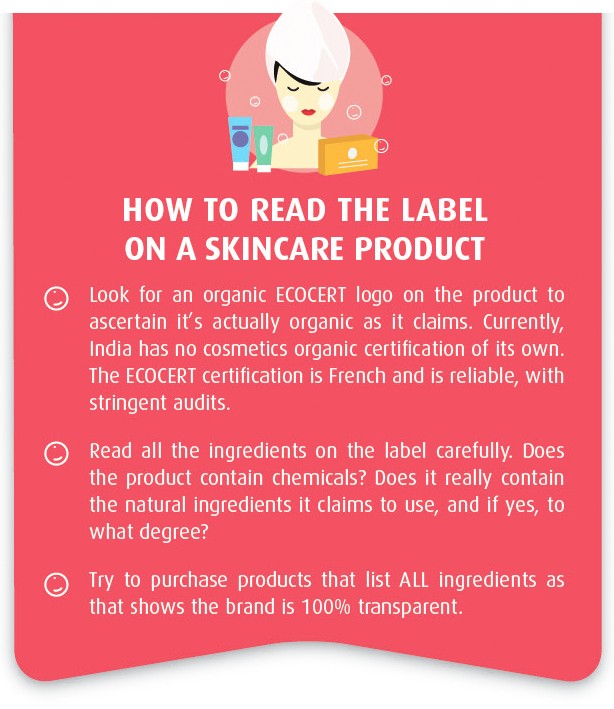 PURE & HONEST INGREDIENTS
JC's handcrafted creations comprise a blend of organic essential oils, butters, base oils and botanicals. Organic ingredients sourced from almost every region in India, and some from foreign countries, come together to form the Juicy Chemistry range.
Organic Saffron, Rose, Lavender and Chamomile are brought in from the valley of Kashmir; cold pressed Organic Coconut Oil is sourced from organic farms in Tamil Nadu and Kerala; Essential Oils of Eucalyptus, Citronella and Lemongrass are procured from the Nilgiris; fresh fruits and vegetables required for soap making are purchased from local organic farmers; and Herbal Dehydrated Powders of Neem, Liquorice, Amla (Indian Gooseberry), Bhringraj (False Daisy) and Aloe Vera are transported from Gujarat and Rajasthan.
Organic Mango Butter, Shea Butter, Cocoa Butter and Kokum Butter act as nourishing natural moisturisers; Organic Demerara Sugar is employed as an exfoliant in scrubs; and French Pink and Green Clays, as well as, Fuller's Earth and Rhassoil Clay are the protagonists of JC's face and body masks. Cold Pressed Organic Oils of Tamanu, Sesame Seed, Seabuckthorn and Pumpkin Seed; Bergamot, Neroli and Ylang Ylang Essential Oils; Aavaram Senna Flowers, and Wild Forest Honey—all these and many more natural materials make up the more than 350 organic ingredients used by Juicy Chemistry in its products.
LEGIT ORGANIC
The Ashers wanted to consolidate their organic promise to consumers through formal validation. Their endeavours have passed muster as earlier this year, Juicy Chemistry received the ECOCERT organic certification under the COSMOS standard, which makes it mandatory for brands to mention each ingredient used in each product, along with the quantum used.
Not only its products but Juicy Chemistry's 7,000-sq ft manufacturing facility is also organic certified by ECOCERT. It also carries the state FDA (Food & Drug Administration) licence, which is requisite as per the cosmetics manufacturing law.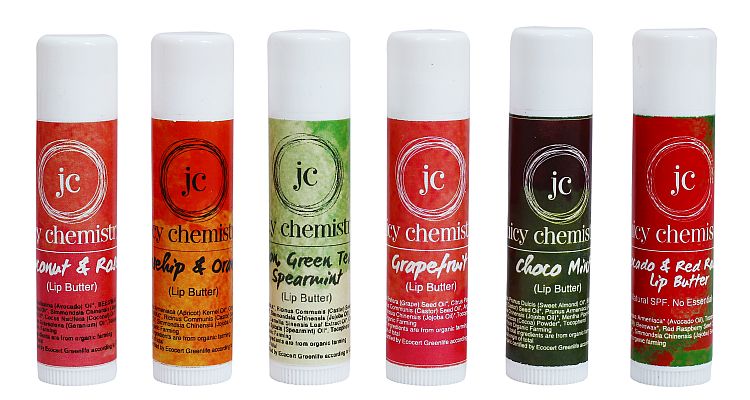 The couple vows to maintain its organic status despite the labyrinthine compliances involved in acquiring and retaining organic certification. "We work very hard to obtain yearly certification and are proud to use the words 'Certified Organic' on our label. We also proudly list all ingredients used in our products as we have nothing to hide from consumers. We are aware it would be so much simpler to not be organic certified because then there wouldn't be such strict regulations, but that is not what we want. Our goal always was and is to offer pure things to our customers and we wouldn't want it any other way," emphasises Megha.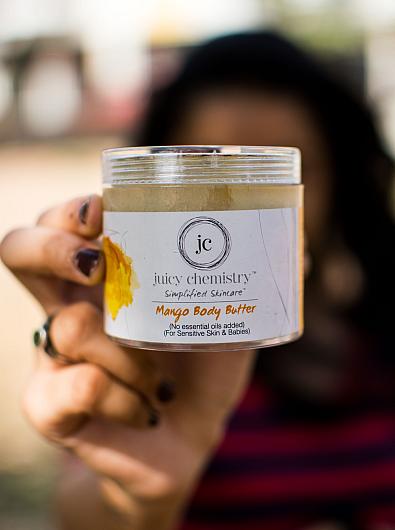 100% GROWTH WITH 100% PURITY
Bootstrapped JC initially started with only three products—a face scrub, a face mask, and hair oil. Today, it has over 110 SKUs and is experiencing a 100% rate of growth annually. It caters to customers in over 25 Indian states and 20 countries globally. With its flagship store in Coimbatore, Tamil Nadu, JC's products are available on its native portal, www.juicychemistry.com, as well as, on other digital marketplaces such as Nykaa, Amazon, Purplle, ecotokri and Myntra.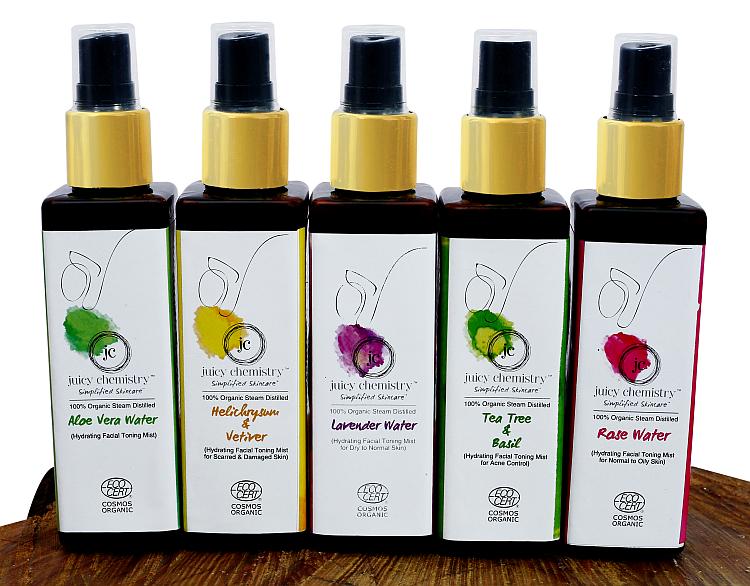 Currently, the brand offers organic skincare products for all skin types and across a range of applications—from Soap Bars, Toners, Body Butters, Moisturisers, Face and Hair Serums, Eye Creams and Eye Serums to Lip Balms and Lip Scrubs, Dusting Powders, Face Scrubs, Hand and Foot Creams, Foot Scrubs and Soaks, Bath and Body Oils, Essential Oils, Shampoos, Conditioners, Face and Body Masks, Body Washes, Hair Oils—and even Pain Relieving Balms, Natural Mosquito Repellent and Beard Oil for men.
According to the Ashers, JC's pilot baby product, the Organic Avocado & Coconut Baby Shampoo & Body Wash, is a hit with young mothers, having already sold lacs of bottles ever since its launch. Next in the pipeline for the brand is the launch of exclusive offline stores in Chennai, Bengaluru and Mumbai. While it currently has channel partners in Goa, Mumbai, Chennai, Coimbatore, Tiruchirappalli and the Nilgiris, it is actively working towards expanding its reach to Hyderabad, Pune and Delhi over the next 6 months.
WHAT IT MEANS WHEN A COSMETICS PRODUCT HAS ECOCERT LABEL
That the ingredients used in the product have been produced without the use of pesticides, genetically modified organisms (GMOs), sewage sludge or irradiation. That the product is free of synthetic chemicals. That both the raw ingredients used, as well as, the finished products have been handled, packaged and distributed without contamination.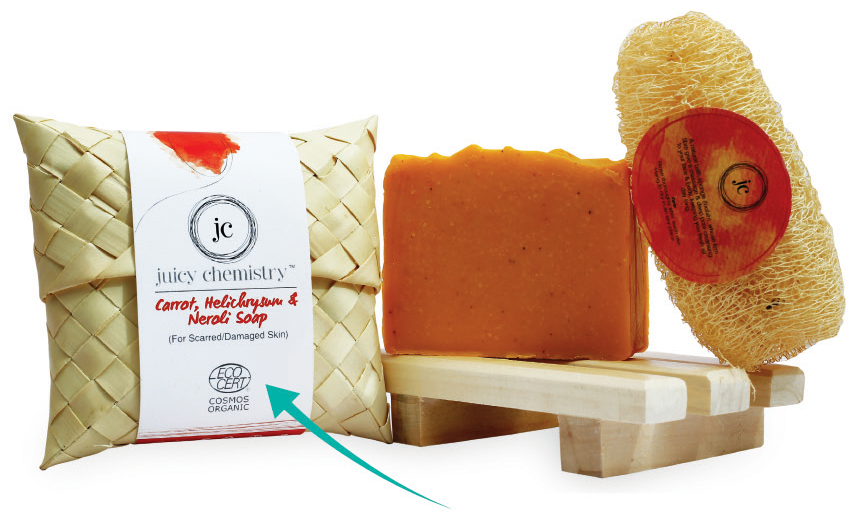 HOW RELIABLE IS ECOCERT ORGANIC CERTIFICATION?
ECOCERT not only certifies the ingredients used in each product, but also the entire manufacturing process, from start to finish. This takes into account the equipment, the products used to clean the machines and facility, labelling precision, packaging and even the organic certificates of each supplier. Not only does a company have to get certified once but in order to remain certified, repeated annual audits are carried out with the same byzantine list of formalities to be fulfilled every time.
TO BE ECOCERT-CERTIFIED, EVERY YEAR, COMPANIES ARE REQUIRED TO:
Submit an application.

Pay a fee.

Provide an 'Organic Handler System Plan' listing all of the safeguards in place to ensure proper handling of organic material and adequate cleaning of all equipment (even the kind of cleaning solutions used in the facility are monitored).

Provide the organic certificates of each supplier for each organic ingredient used in each product.

Provide a map of the manufacturing facility, indicating the locations of all preparation and storage areas for organic raw materials, as well as, for finished products.

Provide a quality assurance plan that includes ongoing education of employees.

Provide extensive record keeping logs, which are audited each year to keep track of the organic ingredients in every product made.

Provide written annual production plans.
After the application is reviewed, an ECOCERT accredited inspector visits the facility for an audit (twice every year). The inspector samples products to verify that:
The labelling complies with the prescribed guidelines.

The preparation, storage, and packaging comply with prescribed guidelines.

The organic product's output matches the intake of organic ingredients. For ex, if the inspector is inspecting JC's Organic Mango Body Butter, the company is required to show how many jars it has sold in a given year. If it sold 200 jars, it must be able to produce a flow chart that includes the date, recipe and batch number for each batch made; the lot numbers of all organic ingredients used; the quantity of each ingredient used in the recipe; the matching invoices for each ingredient along with lot numbers to show that JC did indeed purchase all the certified organic ingredients needed to make the 200 jars of Mango Body Butter.
---
*Parabens are a class of preservatives used in products to extend their shelf life. They are deemed endocrine disruptors, and have been linked to breast cancer and reproductive issues.
**Emulsifiers are chemical additives, which keep unlike ingredients (such as oil and water) from separating in an emulsion.
***Stearic Acid is used as an emulsifier and is considered a low to moderate hazard ingredient depending on the quantities used.
---
Do you know why transparency (the product's package should list ALL the ingredients that went into making the product, and also the quantities used) is such a big deal? READ THIS!