By Benefit Publishing Bureau
3,000 organic farmers, organic farming veterans, industry captains, agronomists, extension workers, government officials, NGOs and organic farming associations from over 100 countries will descend upon Greater Noida in November to attend the Organic World Congress, the largest event for organic industry stakeholders in the world
With the theme, 'An Organic World through an Organic India', the 19th edition of the Organic World Congress (OWC), the global forum for organic agriculture, will take place at India Expo Mart, Greater Noida, in the National Capital Region (NCR), from 9 to 11 November this year.
OWC 2017 expects participation from 3,000 organic farmers, organic farming veterans, agronomists, extension workers, industry captains, government officials, NGOs and organic farming associations from over 100 countries, making it the largest congregation of organic farming stakeholders in the history of the organic farming movement and of OWC.
The triennial event, monikered Jaivik Krishi Vishwa Kumbh in Hindi, is being hosted in India for the first time and will be co-organised by the Ministry of Agriculture and Farmers' Welfare, Government of India, as well as, the Agricultural and Processed Food Products Export Development Authority (APEDA), Ministry of Commerce, Government of India. Pure & Eco India, the country's only magazine exclusively focused on the organics vertical, is OWC's Media Partner.
This year's Congress marks the first time in the history of the OWC wherein the host country's government is co-organiser.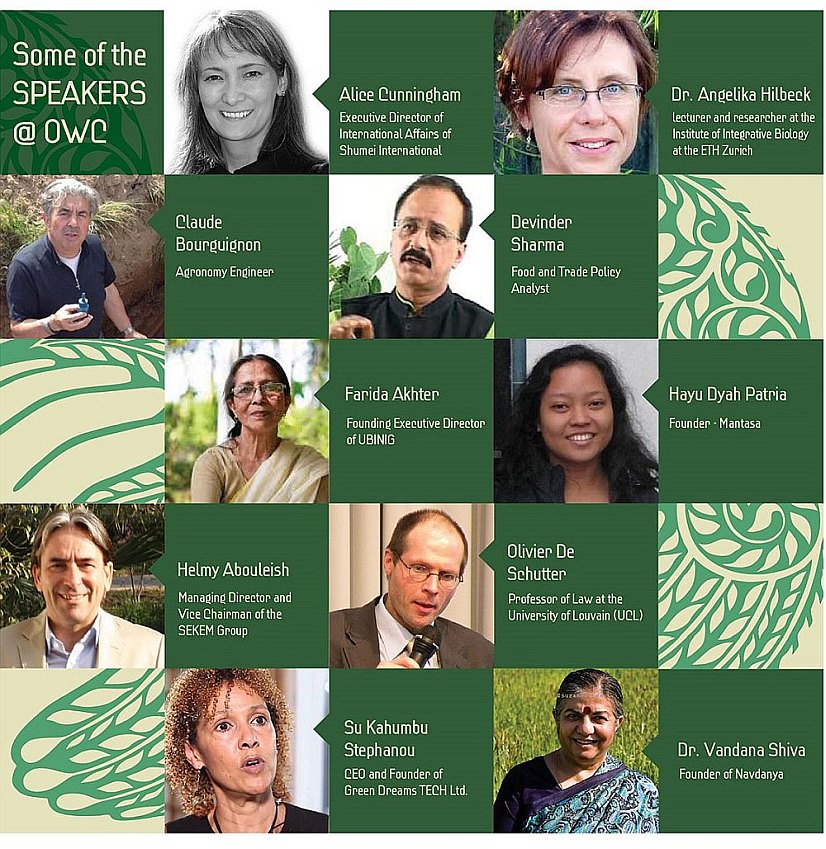 AIM & SCOPE
The aim of the OWC is to provide a platform for global organic industry stakeholders to congregate under a common roof to share expertise, ideas, innovations, best practices, discoveries and solutions.
It will also facilitate fruitful interactions between scientists from across the world and agricultural research agencies, besides showcasing innovative new methods and technologies for organic farming. OWC will exhibit the innovative and path breaking work of organic farmers hailing from Asia, Africa, and South America, with a strong emphasis on the pioneer and host country—India.
On the domestic front, OWC aspires to play a critical role in highlighting the Indian organic farming movement in its endeavour to tilt India's agriculture policy firmly in the direction of organic. Simultaneously, it will foster solidarity among organic farmers and organic farming associations across continents, supplementing the efforts of the Intercontinental Network of Organic Farming Organisations (INOFO), which is an autonomous self-organised structure within IFOAM – Organics International.
SCHEDULE & CONCURRENT EVENTS



The OWC will comprise discussions on vital topics pertinent to the organic sector, with a keen focus on three key tracks: Farmers' Track, featuring farmers' presentations based on their experiences, especially with regards to the innovations and practices employed on their farms; Scientific Track, detailing leading edge scientific research in the field of organics; and Marketing Track, for discussions around strategic marketing of organic produce/products, challenges faced by farmers in finding market linkages and proposed solutions, as well as, latest market trends.
BIOFACH INDIA, the leading organic exhibition in India will be organised concurrent to the Congress, and will enjoy robust participation from both Business-to-Business visitors and exhibitors, as well as, regular consumers. The Congress will also conduct an introductory pre-conference and several interactive workshops addressing various facets of organic farming, as well as, an organic seed festival. Entry to the Congress can be gained through pre-paid registration (at www.owc.ifoam.bio and www.owcindia.org). However, the remaining portion of the venue, where concurrent events will take place—including the BIOFACH INDIA trade fair, the organic seed festival, workshops, demonstrations of soil concoctions and making of natural pest repellents, etc—will be freely accessible to the public.
---
ORGANIC WORLD CONGRESS 2017 BASICS
When: 9, 10, 11 November, 2017
Where: India Expo Mart, Greater Noida, India
What is Organic World Congress? OWC is the Mecca of organic events. It is a mega conference where a large number of organic industry stakeholders from all corners of the world congregate to share expertise, latest innovations, best practices and discoveries about organic agriculture, and discuss solutions to impediments faced by the organic sector at large. It is also an educational platform for organic farmers to learn from the best and glean best farming practices from successful organic farmers of other countries
Who should attend? OWC is the foremost organic event on a global scale and will not be hosted again in India for the next 50 years as it migrates from country to country and is hosted only every three years. Anyone and everyone linked in any way to organic agriculture must attend, along with the layman, who simply wishes to learn about organics or wants to see the latest organic products in the market