Hyper regional. Hyper successful.
◊ By Karin Heinze; Photos ©Karin Heinze
Once again, Berlin-based Bio Company experienced growth in 2017 and sees itself well positioned for the future. The company's first stores were launched in Berlin almost 20 years ago. For Georg Kaiser, Co founder and CEO at Bio Company, merely selling organic products was not enough. So, he insisted on offer­ing products from the metropolitan region of Berlin-Brandenburg and built up a network of regional suppliers. For this CO2 saving measure as an important part of the sustainability strat­egy, the company has been rewarded.
TURNOVER DEVELOPING WELL
This organic supermarket chain in Berlin achieved the turnover of EUR 157 million in 2017. Compared with the EUR 145 million the year before, its turn­over increased by a good 8.3% and was again above the average for the industry. The German specialist whole food trade recorded a total growth of 2.5% in 2017. At the end of December 2017, Bio Company employed 1,570 people, including 111 trainees. In April 2018 it opened its 55th store and this market leader now has 49 outlets in Berlin-Brandenburg, four in Hamburg and two in Dresden.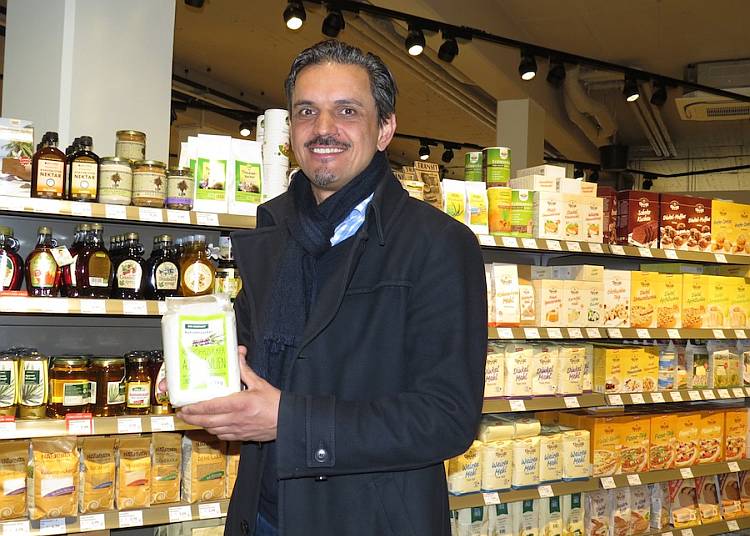 "Our regional concept, which is both long term and transparent for our customers, has shown our approach is the right one"

GEORG KAISER,

Co founder & CEO, Bio Company
MORE THAN 100 SUPPLIERS IN METROPOLITAN REGION
"Our regional concept, which is both long term and transparent for our customers, has shown our approach is the right one," says CEO, Georg Kaiser. Bio Company recently received the Regional Star 2018 for its impressive regional concept, and was awarded by the magazine Lebensmittel Praxis and the International Green Week.
"We'll continue intensifying and extending our sustainability strategy," shares Kaiser. "This involves a tight-knit network of over 100 sup­pliers in Berlin and Brandenburg, and also the further reduction in CO2 by means of state-of-the-art energy efficiency in our stores, plus a sustainable mobility concept," he adds.
In 2018, Bio Company is going to publish a sus­tainability report for the first time. "We want to identify where and how we can further improve and optimise our performance," says Kaiser. They are going to offer more loose products in dispensers, so that customers can fill their own bags and containers. Bio Company is also active in animal welfare—one cent per own-brand egg goes towards ecological breeding, where both hens and male chickens are reared and male chicks are no longer killed.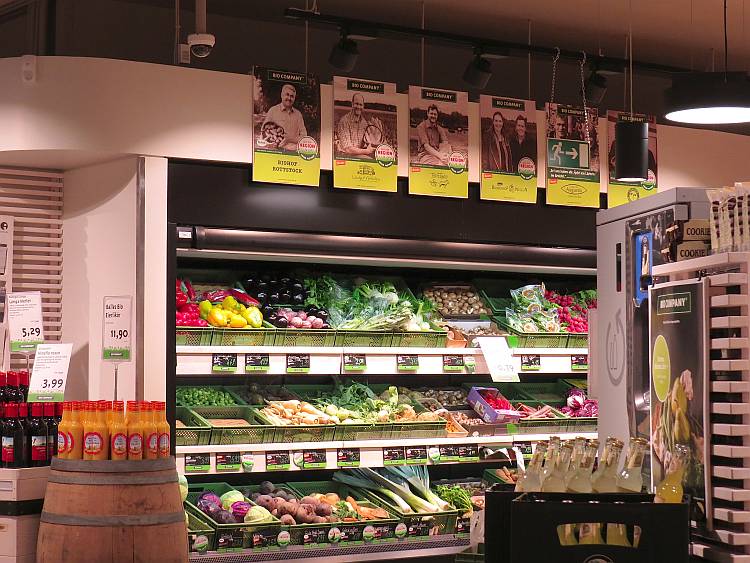 Bio Company recently received the 'Regional Star 2018' for its regional concept, and was awarded by the magazine Lebensmittel Praxis and the International Green Week
The priority given to the regional network of suppliers helps to reduce CO2. The principle of short supply routes applies to all store loca­tions and is continuing to be rolled out. In the Berlin-Brandenburg region, there are now 100 businesses supplying to Bio Company; in Hamburg a good 60, and 30 in Dresden. This local supply strategy is intended not only to guarantee the freshness of products but also to strengthen the regional infrastructure with small and medium-size businesses.
REDUCTION IN CO2 EMISSIONS & SUSTAINABLE MOBILITY CONCEPT
Bio Company is continuing to improve its CO2 reduction performance in its stores. All the recent stores operate with energy efficient heat recovery systems in refrigeration units, so that there is no need for heating in the buildings—a 100% saving of energy to keep the stores warm. Thirty five stores already operate this latest environmental standard and some of the older stores are in the process of conversion. The plan is to complete this energy efficient upgrade of all their outlets by the end of 2019. In order to achieve energy reduction, glass doors have been fitted to the fresh food shelves and LED lighting has been incorporated widely, all of which saves up to 40% electricity.
Bio Company is also beginning to implement a sustainable mobility concept, which will reduce CO2 emissions by up to 30%. This applies not only to the firm's own vehicles, including deliv­ery vehicles, but also to the cars of employees, which are used for company business. The long term aim is to choose the most sustainable means of transport.
5 YEARS WITH BIOMANUFAKTUR HAVELLAND – TURNOVER QUADRUPLED
In 2013, Biomanufaktur Havelland for produc­tion of meat and sausage was taken over by Bio Company as a wholly owned subsidiary, and in 2017, it achieved sales of EUR 10.2 million. Sales increased rapidly, reaching four times the level of 2013 in 2017, and now almost EUR 2 million is being invested to modernise and expand capacities.
Currently, 1.5 tonne of sausage is produced daily. The energetic renovation of Biomanufaktur Havelland had already been successfully com­pleted by the end of 2015. Through combined heat and power generation and a photovoltaic system, the company operates CO2 neutrally and produces its own energy.
LARGEST REGIONAL ORGANIC MEAT & SAUSAGE PROCESSING PLANT
Biomanufaktur Havelland is the largest process­ing plant for meat and sausage, but also the only one of this size. This was another reason for Bio Company to take over the business in order to ensure regional supply. "But the fact that we are so successful shows that our customers also appreciate this unique, regional meat qual­ity. This has a lot to do with transparency and credibility," says Kaiser. Biomanufaktur is the main supplier for more than 50 Bio Company branches.
The number of employees increased from 2013, with 15 employees of the former Biomanufaktur Velten to 35 employees of Biomanufaktur Havelland. Without question, the company is on the road to success. "We are also counting on positive development in the future," says Managing Director, Thomas Schubert.
The company offers 300 products in its range. In addition to the fresh food area, this is also a self service line for the refrigerated counters of Bio Company. Specialities in the programme are, above all, the Havelländer Organic Apple Pork, the Uckermärker Beef, as well as, lamb, every­thing from within the region. The company also produces delicatessen salads and lunch dishes in its own kitchen, for which four chefs were hired. The company is also expanding its offerings in the gastronomy and hotel business.
This article was first published on www.organic-market.info – Online Magazine for Organic Trade 
---