By Anshika Ajmera Chhabra
Lumiere in Bengaluru offers piquant organic burgers, sizzlers, thalis and baked goodies
My longstanding notion of organic food as boring and savourless changed radically when on a recent trip to Bengaluru, I decided to eat at Lumiere. Nestled on the Outer Ring Road, Doddanekundi, in Marathahalli, next to Hotel Jalsa, Lumiere is based on the seed to food business model.
First, we visited its organic store fully stocked with its collection of organic fruits, vegetables, pulses, spices and jams (so fresh and pure that you could identify the clear difference between a ripe mango and papaya with pesticides and the one without pesticides). Next up was an organic bakery with the aroma of freshly baked bread. The organic store entailed the pickles and the pulses sections. This was followed by organic cosmetic range which prides itself on a collection of exciting organic face packs, essences, soaps and mud vases and finally the restaurant where we met the very courteous and warm Manjunath Pankkaparambil, director at Lumiere. With a desire to serve food free of pesticides, he decided to launch a business venture focusing primarily on healthy food, particularly the organic produce, "Our idea is to offer people food that is absolutely farm picked, fresh and organic food yet scrumptious," says Pankkaparambil.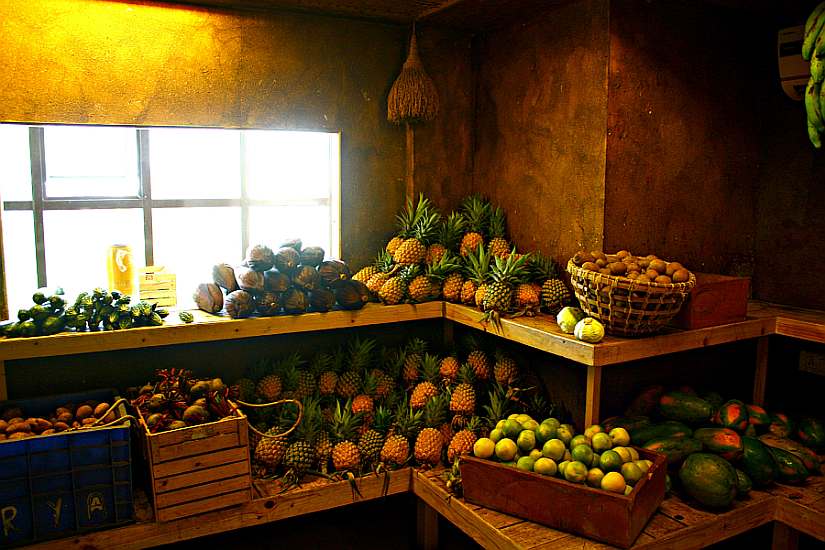 Lumiere's inhouse organic shoppe
With a seating capacity of 100, Lumiere serves patrons a scheme of wholesome, authentic, vegan and non vegan organic food. Peaceful, neat and beautifully made up of bamboo and straw, this place had only indoor seating that entailed wooden and bamboo furniture. Amidst all this, what caught my attention was the bamboo hanging lights and pebble window panels on the sides, giving the perfect break from the bamboo monotony the place had. Unlike any Friday afternoon, the restaurant is reasonably populated for weekday dinners with almost twenty five to forty patrons who are organic food lovers and this number rises to over seventy to eighty over weekends and other special occasions.
Food Tasting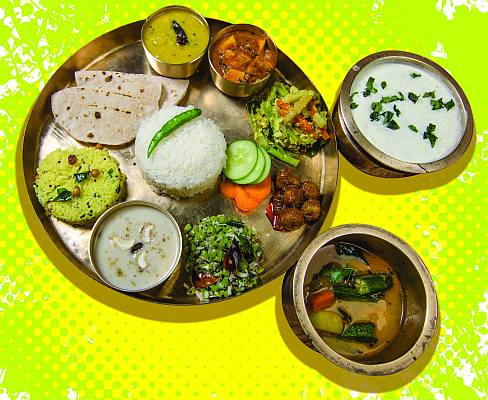 After a pleasant welcome, it was time for some tasting. Ergo, without any formal menu being introduced, Pankkaparambil's staff served us with the very refreshing and nutrition rich pumpkin juice, which is usually served as a free welcome drink to anyone who steps into Lumiere. This was chased by a Vegetarian Organic Thali (Rs 250) (pictured on the right). Contrary to the archetypes associated with organic food, the food served here is loaded with flavour and is made up of fresh fruits and vegetables. The thali was a fancy platter that entailed coconut dry chutney, salad, kheer, chapatti, potato capsicum vegetable, toran (beans and coconut) vegetable, Paneer Butter Masala, Dal, Kondattam (fried rice frames to make it simple). Other than that, Utthapam, curd and the piping hot Sambhar were served to us as a part of the thali. What caught my eye was the serving spoon for sambhar—it was made of coconut shell and coconut tree stem— so trendy yet so environment friendly. Lumiere has certainly carved a niche for itself as far as the organic food restaurants are concerned, along with an environment friendly establishment.
Speaking of the thali—it was absolutely delicious and something that we usually make at home. The difference this thali had was the tint of South, spices and flavours of organic vegetables. One could not resist the dry coconut chutney (a regular feature for South Indian households) which was spicy yet so mouthwatering. The Paneer Butter Masala entailed the spices of North and the sweetening of South to it. The Beans Toran too was filled with the freshness of the coconut; the dal, chappati and kheer extremely tantalising. Also served as a part of the thali are the white basmati rice (sourced from the North) and the red thick rice (sourced from down South) that had their individual tastes to them.
Next came Sautéed Vegetables (Rs 190) and Cottage Cheese with Bell Peppers (Rs 220). For me these were overwhelmingly delicious, simply because of the fresh vegetables they used. Delectable as they were, it seemed as if they were handpicked right from the farm, cooked and served hot. We then tasted Lumiere's dinner hot seller—the Organic Vegetable Sizzler (Rs 250) and all wheat bread (50 gm for Rs 50). The wholesome and soft bread did prove to be the show stopper here.
To sum up the positives of the food at Lumiere—it's fresh, preservative free, unprocessed, home food-like, light and is made from pure organic fruits, vegetables and pulses that are either sourced from their inhouse farm or from farmers who are purely involved in organic agriculture. The restaurant also has a live corner where you can get your utthapams and dosas cooked in front of you. Apart from this, the restaurant is child friendly, for your children can be at absolute joy and play around. The only downside to the place is that it doesn't have the appeal of a fancy five star hotel but has far better food to offer.
Amidst the sea of overpriced and not so healthy food that general junk food joints and food court offers, here is a perfect organic getaway tucked in for all you Bengaluru residents and also the ones visiting the city—something that satisfies the foodie in you, without compromising on your health!
The food is not only light on your stomach but is kind to the wallet as well. Given the prices it charged, one cannot escape the fairly low priced menu and the reason for keeping such low and affordable rates for organic food. Lumiere, with its emphasis on locally grown and unprocessed food, wants to attract a larger number of people seeking organic food that is superior in taste and quality. At the same time, they do not manipulate their rates, doing away with the burden on farmers. Such a business model with extremely noble ideas is keeping the spirit of organic agriculture alive!
Fore!
Lumiere Abridged
Location: Marathahalli, Bengaluru 
Cuisine: Indian and continental; non veg available 
Seating: Indoor 
Meal for 2: Rs 600 – Rs 800
Alcohol: No
Credit cards: Yes
Parking: Free
Favourites: Organic Thalis, organic burger meals, sizzlers, baked goods, Banana Varatty, Herbal Elixirs
Positives: Seed to table organic concept; backward integration to own farms; transparent supply chain; One stop shop for organic food lovers; free flowing supply of fresh seafood
Postscript: Not long after this gourmand's visit, Lumiere launched two new kinds of organic Thalis—one vegetarian, the other fish curry. For burger lovers, it has also introduced an Organic Burger Meal, comprising organic whole wheat buns and pan fried vegetarian or chicken patties served with organic grilled vegetables and a herbal drink on the side.