By Anshika Ajmera Chhabra
(All photographs featured in this article are the property of their respective owners and cannot be used without permission)
Ease-of-purchase, ample inventories, and detailed product information is turning urban Indians mouse-wards, to purchase plants, pots, seeds and gardening accessories online
Imagine getting a warranty certificate with a plant you purchase. Or ordering a plant from the comfort of your office desk, with the same ease that you do, pizza. Except, these are not mere fantasies of a green thumb but a current reality—the new trend doing the rounds in metropolitan cities. After chocolates, cakes, wine, mobile phones, and almost every article that endures human usage and consumption, jumped aboard the online bandwagon, it is now the turn of plants to have their day in the digital marketplace.
Passé is the era when the only way people could buy plants would be by visiting the nursery in person, having to lug them to and out of the car afterwards, the soil-heavy earthen pots weighing them down. After completing the arduous task of carrying the heavy pots indoors, one was left with the additional chore of cleaning up the car, which was left besmeared with loose soil. And if you were unfortunate enough to live high up in a multi storey flat, nobody but a network of building guards could come to your rescue; the wallet roomier afterwards from tipping.
The more comfortable alternative was waiting for the local maali (gardener) to cycle past your home with a limited, and sometimes, shrivelled up stock of plants. You were never quite content with his assortment but bought some any way, as it was the only other way to get plants for your home. "Better than going to the nursery," you reasoned.
 "Ordering plants online saves you from the hassles of transporting heavy pots from the nursery. Besides, foreign plants like the Green Golden Pothos Natural Plant are of better quality at the e-store"

Dipti Sarda, Bengaluru…
Well, not anymore. Taking note of the inconveniences faced by plant buyers and identifying a new market niche, the IT startup generation has spawned a host of online stores selling plants, potters, seeds, garden accessories—indeed everything related to gardening. Be it exotic flowering bulbs from Holland, Bonsai trees or Lucky Bamboo, wide selections of indigenous and exotic varieties of plants and seeds can be added to the digital shopping cart.
And customers are responding.
"Going to a nursery, loading heavy pots in the car, then unloading them again once I reach home—all of this is highly cumbersome. That is why, I do not, in the least mind paying slightly extra for online plants for the ease-of-purchase they afford me. Also, some foreign plants like the Green Golden Pothos Natural Plant are of better quality at the e-store than in a physical nursery," says Dipti Sarda, a home maker from Bengaluru.
Demand Drivers
So what has led to the emergence of this green trend online? According to Shri Sakhare, founder and CEO, Gamlaa.com, which is based in Hyderabad and delivers citywide, "With the advent of e-commerce, people are looking for almost everything online. It is this broader trend that has fuelled the trend for online plants as well. Even tier 2 cities are joining the bandwagon now."
In addition to the comfort and ease online shopping offers, people are frequenting online nurseries for the plethora of information they offer. "Sometimes nursery sellers are not educated enough on the plants they're selling, or are not articulate enough to satisfy all customer queries. Therefore, online nurseries, which not only list plants, but also offer detailed information about them, prove to be a winning combination of ease-of-purchase and knowledge," says Sakhare.
"The new working generation is more concerned about where the plants have been sourced from. Knowing how they've been grown and where, is extremely important to them because buying from a poorly maintained nursery can lead to a diseased plant entering your garden and infecting it," adds blogger and urban farmer, Sunita Mohan. "Also, the working generation doesn't have the time to visit nurseries at the time they are open, leaving them with no option but to look for options online," says she.
Furthermore, industry members believe, people are increasingly viewing plants as suitable gifting options. "More and more people are appreciating plants as decor items for their homes, good for the environment, and contribute to air purity. Hence, more people are viewing them as good gifting options. Also urban dwellers, surrounded by brick and mortar, yearn for greenery, even if in the form of little potters dotting their balconies or windowsills," says Annu Grover, director, Nurturing Green.in.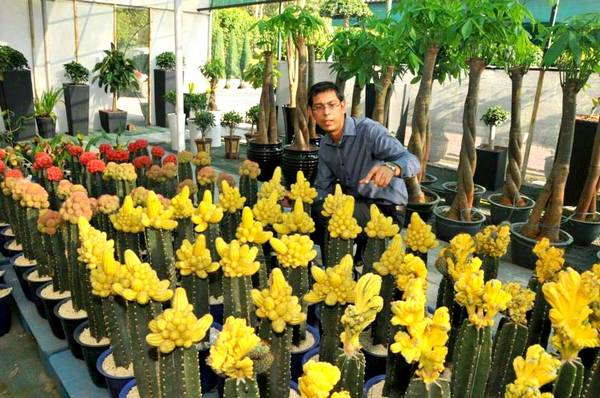 Director, Annu Grover, at the Nurturing Green stocking unit
Some regular buyers of online plants quote health as the reason for their purchases. "Nobody in my circle eats sweets anymore. They're all either diabetic or scared that they will be. Therefore, on birthdays, I order them plants as opposed to the chocolates and cake routine I used to do before," says Meena Talwar of Delhi, a 40-year-old software professional.
"I buy aloe vera, tulsi and lemon grass online for their medicinal qualities," says Astha Rastogi, Mumbai, a 30-year-old primary school teacher and yoga enthusiast.
Customer Profile
Although people across regions, genders, professions, ages and marital statuses order plants online, the average customer, according to stakeholders, is mostly female, professional, between the ages of 20 to 45, and residing in Hyderabad, Delhi, Pune, Bengaluru, Chennai or Mumbai.
"The majority of our clientele has a 75 percent to 25 percent female-male ratio, and falls in the 20 to 45 age group," says Sakhare. "They are mostly professionals, and often belong to the IT sector," he adds.
Nurturing Green, on the other hand, receives maximum orders from married women (working and home makers) between the ages of 25 to 45.
Commercials & Scope
Of all the talk about trending, popularity, and online traffic, how much really converts into sales? Whereas Gamlaa.com receives over 500 to 750 orders a month (despite only offering Hyderabad-wide delivery), pan India e-tailer—Nurturing Green welcomes 50 to 60 orders on weekdays, with 90 to 100 more on weekends. The numbers escalate on festivals such as Diwali, Dusshera, New Year, Rakhi, Mother's Day, Valentine's Day, Environment Day, and also during the monsoon season.
"Orders normally sprout from different parts of India but largely, the ratio of orders emerging from tier 1and 2 cities is higher than from the smaller cities. Chandigarh, Indore, Jaipur, Lucknow—all unexploited so far—carry high potential," says Grover, commenting on regional prospects.
In 2015, Gamlaa.com, which has grown by 400 to 500 percent since the company's inception in January 2013, expects to see sales increase three to four times over. Nurturing Green enjoys an annual revenue of Rs 2 to 3 crore, and expects it to reach Rs 5 crore in the next financial year.
However, the sales of online plants, although cheerful and encouraging, represent only a pittance of the overall Online Gifting and Décor market, which is estimated at Rs 100 crore, and is expanding exponentially year on year. "The online plant market is a fairly unexploited one and scope for innovation is immense, as people are fed up with meaningless gifting options and are looking for variety, ease-of-purchase and innovation—giving us enough and more reasons to grow," says Grover.
Not wanting to miss out on the opportunity of adding yet another category to their funding-rich inventories, mainstream e-tailers such as Snapdeal, Pepperfry, Fab Furnish and Zansaar, have all started stocking modest ranges of plants.
Therefore, although plants were rarely considered present-worthy before, now, the living gifts are only a short distance from evolving into a mainstream gifting option that everyone wants.
HOT-SELLING PLANTS ONLINE
Bonsai
Tissue Cultured Foliage Plants
Bamboo & other lucky charms
Medicinal plants like Aloe Vera, Tulsi, Lemon Grass & Ashwagandha (Withania somnifera)
Outdoor flower plants like Rose, Hibiscus & Jasmine
Indoor plants like Money Plant
Air-purifying plants like Philodendron
Some popular plant e-nurseries in India
Gamlaa.com (Hyderabad-wide delivery)
Nurturinggreen.in (Pan India delivery)
Nurseryplant.in (Mumbai-wide delivery)
LivingGifts.co.in (Pan India delivery)
Ganganursery.com (Pan India delivery but only accepts bulk orders)
Gardenworld.in (Bengaluru-wide delivery)
Hariththarang.com (Chennai-wide delivery)
Nurserylive.com (Pan India delivery)
Javitree.com (Delhi NCR-wide delivery)
Givegreen.in (Delhi NCR-wide delivery)
My Sunny Balcony (Pan India delivery; only sells gardening accessories)
---
 This article appeared in the April 2015 issue of Pure & Eco India