Partha Banerjee of Kumaon Village Trek takes us through his twofold trek with Tassie Mack and Anna Hanson to the Pindari Glacier and the stratospheric Nanda Devi Base Camp in Kumaon
◊ By Partha Banerjee
Almost as soon as we embarked on our expedition, we were welcomed by a potent earthy aroma wafting through the dense forests of Loharkhet. It had been a picturesque 4-hour ride from the luxurious Mary Budden Estate at the Binsar Wildlife Sanctuary and the soothing sounds of the free flowing waterfalls along the roadside became our very own natural playlist.
On Day 1, we walked for 12 km at a stretch to Dhakuri in Bageshwar district, whereupon we were promptly served piping hot tea in our tents. The comfortable sleeping mattresses made us feel right at home and it wasn't long before we fell asleep. In the morning, we awoke early to majestic views of the snow capped mountains and walked for another 13 km to reach village Khati in Kapkote Tehsil, where we set up camp. At dusk, we enjoyed breathtaking views of the Pindar Valley, which was steeped in orange hue.
The following morning, following a 14-km uphill walk, we arrived at Dwali village (in Dunda), a tiny hamlet with only a handful of shops. The peaks of Panwali Dwar (elevation 6683 m) and Maiktoli (elevation 6803 m) appeared distinctly sharper from this viewpoint. It took us an entire day to draw closer to our destination, Zero Point of the Pindari Glacier. Once there, we revelled in fresh snowfall and tucked into a delightful continental dinner under a full-moon sky. The next morning, we walked for a kilometre to a dead end, where we stood facing the mighty Pindar River, a tributary of river Alaknanda. On the banks of the Pindar, a band of wild horses grazed casually. The lush grounds, the pristine river, the wild horses—it was Heaven on Earth.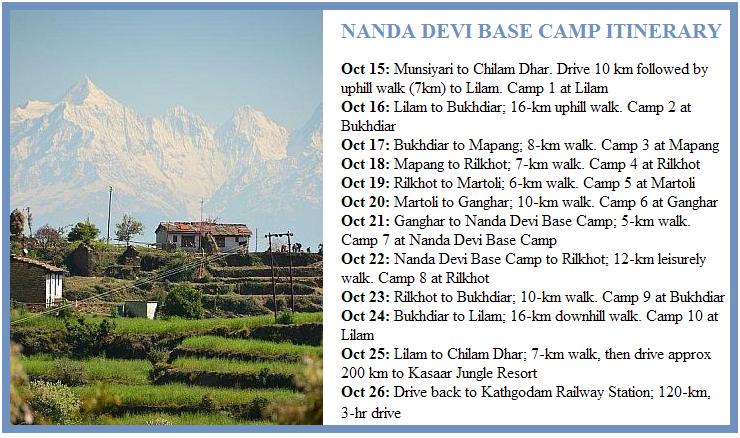 NANDA DEVI BASE CAMP
India's second highest peak is nestled in the heart of the Nanda Devi National Park, a UNESCO World Heritage Site. The hike witnesses pin drop silence as the route is rather strenuous and we conserved energy for the mission at hand. We started from Munsiyari in Pithoragarh district, the hub of treks in northern Kumaon. Before the 1962 India-China War, it used to be a trade centre between India and Tibet.
Succeeding a 12-km drive from our hotel to Chilam Dhar, we camped at a small trekker's hub, Lilam, after a short, 8-km walk. We came across a tea shop and two houses there and camped outside a vegetable garden (after replenishing our veggie stock ☺) for the night.
After a hearty morning meal, we trekked along the valley for 16 km to reach an army camp. The warm hospitality of the Indo Tibetan Border Police (ITBP) encouraged us to continue on our path along the rough Himalayan terrain, which was thronged by porters and mules. We camped along Gori Ganga, the white water river also known as Gori Gad, and the following morning, we headed to Martoli, a dense village with exquisite ancient wooden carved houses. With the majority of its population having migrated to urban cities in search of livelihood, Martoli—with its majestic houses—resembles a ghost village with a prosperous trade history.
We visited the famous Nanda Devi Temple the next day and then set forth on a 17-km walk towards village Ganghar, the gateway to the base camp. Upon arrival in the afternoon, we admired the Nanda Devi East ridge and the next morning, as we approached the base camp, we sighted a gorgeous flock of Tahr (high altitude mountain goat). At 7 am, a 5-km uphill hike gave us an excellent view of the Nanda Devi East and West peaks. Following yet another wholesome breakfast prepared with fresh, local produce, we returned to Barfu village via Ganghar, where we passed a Tibetan school right out of the 1960s!
On October 22, locally brewed liquor, pancakes, a freshly baked cake by Jagdish, our chef, and an impromptu dance party, contributed to Anna's birthday soirée as we concluded our invigorating trek through the mountains of Kumaon.
---
The author is Director, Kumaon Village Trek, an outfit facilitating specialty village stays and high altitude glacier treks