A management professional for 15 years (majorly in the food and beverage industry) with giants like Nestlé and Tata, SIBY MATHEW founded Wellgo Life Farms in 2015 with its flagship product, Organic Virgin Coconut Oil. In an Interview with Rutaksha Rawat, he confesses he is passionate about the coconut business and creating a farm-to-table model that will endure.
WHY ORGANIC VIRGIN COCONUT OIL?
Siby Mathew: In a world where consumers are increasingly moving towards healthier options, Organic Virgin Coconut Oil (OVCO) proves itself to be an amazing, versatile product. Called the 'Mother of All Oils', OVCO is abundant in vitamins, minerals and antioxidants, helps relieve minor and major medical conditions, and builds immunity. Numerous studies have, time and again, demonstrated the gamut of benefits that this wonder oil offers—both through ingestion and topical application.
During the research phase, we came across several hundreds of south Indian coconut farmers who were cultivating organically but did not have markets, certification, financial resources or marketing expertise, and hence, had limited prospects. Therefore, we decided to buy their produce at fair price and offer value added certified organic coconut products in both domestic and international markets.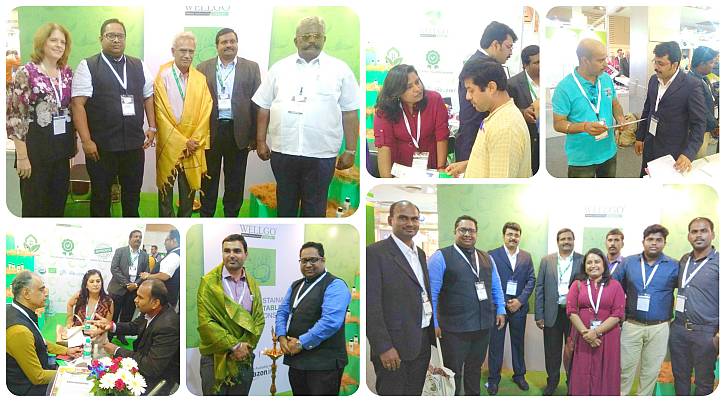 Client interactions at the Biofach India trade fair in November 2017
HOW DID YOU STUMBLE UPON THE ORGANIC FOODS BUSINESS?
Siby Mathew: The food and beverage industry is not new to me. Having worked in the same for 15 years, I was well versed with the ethos of food.
Some years ago, on a trip to Hong Kong, I found myself at a supermarket where organic vegetables were being sold at more than double the price of conventional produce. The fact that people needed to pay exorbitant rates for chemical free food shocked me and set me on the journey to learning about organic farming and foods, and understanding why customers had to pay such high rates.
My research endeavours led me to understand the ecosystem of organic production and its supply chain. I had the epiphany that although I could not influence the entire market, I could, as an entrepreneur, build a sustainable Farm-to-eTable model for my business, which would create a ripple of change, even if on a smaller scale. This led to the inception of Wellgo Life Farms.
TELL US A LITTLE ABOUT WELLGO.
Siby Mathew: Founded in 2015, Wellgo Life Farms is headquartered in Chennai, Tamil Nadu, and our flagship product is organic certified virgin coconut oil. Wellgo is trying to bridge the gap between technology and traditional organic practices to unleash the untapped potential of the organic industry, in terms of scale and quality.
Today, we have 30 employees and a wide farmer network of organic coconut farmers from Karnataka, Andhra Pradesh, Kerala and Tamil Nadu. We have crossed 3,200 acres in our cooperative, encompassing our own land, as well as, that of our farmers.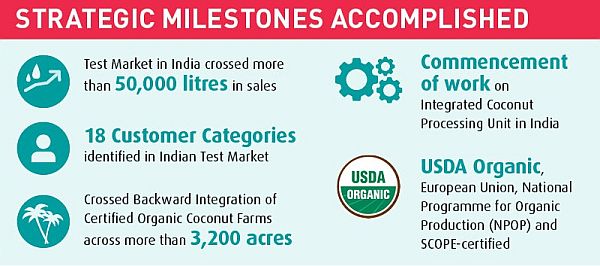 WHAT IS YOUR MISSION?
Siby Mathew: We are passionate about all things coconut and about creating and maintaining a sustainable farm-to-table model that will endure.
We want to go back to all-natural farming methods and support organic and sustainable agriculture until it becomes the norm versus the exception.
My journey will take 10 years to shape up at the company level and it is also my personal journey. My immediate goal is to focus on the digital branding and marketing vertical, which will lay the foundation for my brand. Our plan is to reach 1% of the global e-commerce audience in the next three years by investing in branding and technology.
WHAT IS THE ONE THING YOU HOLD ON TO IN LINE WITH YOUR MISSION?
Siby Mathew: Well, there are actually three:
Patience – The most important aspect of life.

Preparedness – How prepared you are for the battle.

People Focused – Nothing else matters. If you have the people, you have it all!
YOUR THOUGHTS ON QUALITY?
Siby Mathew: A viable business has several criteria. I have worked in the food industry for many years and we all know that quality is paramount. 'Wellgo Life' is short for Wellness, Goodness and Life. We can only stand behind a product that is in line with our mission.