By Gaurav Agarwal
'Roti, Kapda aur Makaan' is everyone's pursuit in life. Food is vital for a healthy body, mind and soul. Therefore, it comes as a shock to learn and acknowledge the food we eat today, does more harm than good, and may be keeping us sick or hindering us from reaching our full potential.
With the alarming rise in the number of cancer patients, young cardiac patients, miscarriages, children with chronic health problems, depression cases, etc, it has become imperative to reconsider our food source. The food we consume is unfortunately one of the major contributors to the tsunami of ailments that plague us. Numerous reports and tests bear testimony to the fact that the pesticides and insecticides sprayed to kill and ward off pests in farms eventually land up on our plates—in our stomachs, our blood. Our children's blood.
"To eat safe and healthy food is the fundamental right of every individual and Just Organik has taken the initiative to help in achieving that. Our J.O.Y (Just Organik & You) range of family packs is a step forward towards motivating consumers to adopt organic for their daily needs. Organic should be a habit, not a hobby"

Pankaj Agarwal, Founder, Just Organik
Further, in today's world, adulteration has also become rampant, as is evident from the barrage of news articles and TV reportage on food adulteration busts. Unscrupulous wheeler dealers have been caught on a number of occasions mixing glue, paint, chemicals and other toxicants in food items in a bid to squeeze out an extra dime for themselves. However, simply recounting horror stories would be infructuous without affirmative action towards a long term, sustainable and permanent solution by making organic foods available to the widest populations possible.
Just Organik is striving to do just that. The brand offers the complete grocery basket, comprising all ingredients one needs in a kitchen. A 100 percent certified organic, the brand's product range includes but is not limited to pulses, lentils, flour, sweeteners and beverages—making it a one-stop-shop for all organic grocery needs.
Just Organik is the organic arm of Treta Agro Pvt Ltd, a Kashipur (Uttarakhand) based firm. A majority of its organic produce is sourced from the hill state of Uttarakhand, which is organic by default. In fact, it is one of the few Indian states that altogether skipped the pesticide bandwagon because it was too remotely located to reach, as well as, because most Uttarakhandi farmers could ill afford expensive pesticides. This has proven to be a boon to the generations of today and the future, as the state is now a rich source of organic produce.
Harmony with Nature Key to Good Health
Just Organik believes in 'Harmony with Nature' as the true essence of being organic. Merely the avoidance of chemical pesticides and fertilisers is not sufficient for a well nurtured and healthy plant, but nature itself needs to play its part in full. Nature is often referred to as 'Mother Nature' because of the pure and unbiased love and care it offers. It comprises this beautiful eco-system, which has rules. Rules on how the soil should be taken care of, how crops should be grown, which seasons are favourable, and so on. Each of these rules is meant to ensure that we eat, feel and stay healthy. At the organic farms of Treta Agro, we constantly work towards maintaining harmony with the rules of Mother Nature. In fact, Just Organik endeavours to adopt more biodynamic practices, which also account for the cosmic energy influencing crops and farmers alike, which in turn is instrumental in producing more nutritive and better tasting produce.
Just Organik's farmer groups implement organic manure, crop rotation and biological pest control to ensure only the best is produced on the farms. The journey of the organisation, which commenced 3 years ago, has evolved into a sizeable movement. Currently, Just Organik is present in all premium retail stores across North India and is a bulk supplier to several large enterprises across the country. It also boasts regular exports to USA, the Gulf and Australia. Over the last few years, Just Organik has emerged as the preferred brand for consumers and businesses, owing to its consistency in quality, packaging and delivery timing.
But besides being a supplier of organic food, Just Organik goes above and beyond the prescribed parameters by educating the farmers, as well as, consumers at large. The company works diligently towards creating identity for the villages of Uttarakhand, wherein farmers toil perseveringly and are entirely devoted to the cause of organic farming. For instance, Rajma sourced from farms in Joshimath has been named Rajma Chitra (Joshimath) and White Rajma from a small village called Supi near Mukteshwar has been conferred the name Rajma Supi across Just Organik's catalogues.
This year will witness the unveiling of the J.O.Y (Just Organik & You) range, which will offer family packs with the sole aim of educating families and encouraging them to switch to organic food for evermore by offering them increased value for money.
Just Organik is committed to knowledge dissemination and promoting adaptable eating solutions for a healthier population and a greener tomorrow. 'Treta' refers to a mythological period wherein everything was Just and Ethical. Just Organik is your Just, Authentic and Ethical supply of organic products. We invite you to join us for 'A Walk to a Healthy Future'.
---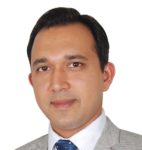 The author is GM, Just Organik