Guilt is persona non grata at the Nirvaaha O' Café at IIT Delhi, which offers all-organic noodles, tikkis, momos and pasta
By P Agarwal
"To sit in the shade on a fine day and look upon verdure is the most perfect refreshment." — Jane Austen, Mansfield Park.

Such was the refreshment we experienced at the Nirvaaha O' Café. Situated in the heart of the green IIT Delhi Campus, the Café, offers a simple and tranquil sanctuary away from the mayhem that is the national capital. Amit Dhingiya, co founder of the café welcomed us and shared with us his journey towards food safety, which commenced four-and-a-half years ago with the establishment of the Nirvaaha Organic Store in Defence Colony, New Delhi. With umpteen pop-up organic cafés and events behind it, as well as, the conception of a new online store, Nirvaaha O' Café is realising its goal of fulfilling minds, bodies and souls by serving over 100 people daily with its delectable 100 percent organic menu.
The café's management is forthcoming about its ingredients and mission. "All of café's organic ingredients are directly procured from organic farmers in Dehradun, Raipur, Udaipur and Madhya Pradesh. Our mandate is to debunk the myth, especially amongst youth, that health food needs to be boring, by providing fast food that is healthy, delicious and all organic," said Dhingiya at the venue.
Taste Test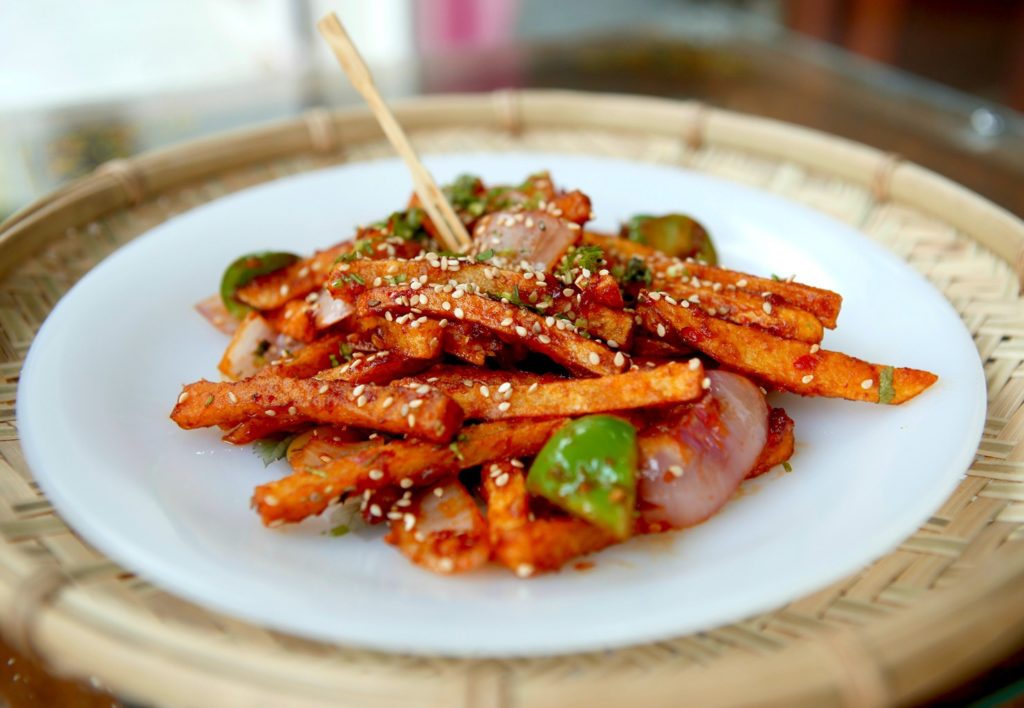 We whetted our appetites with a summer treat in the form of a cool glass of Mint Lemonade (Rs 22). Muddling mint at the bottom of the glass paired beautifully with the acidity of the lemon and the modest addition of sugar helped strike a balance between sweet and tangy. While I was reveling in the freshness of the beverage, Nirvaaha's specialty was put forth before us, an inviting plate of Organic Whole Wheat Steamed Veg Momos (Rs 35). Lightly spiced assortment of organic vegetables embedded in organic whole wheat dumplings accompanied a spicy and hot sauce in a way that left us craving for more. Each mouthful of these organic momos was aburst with soul soothing flavours and made for a light and scrumptious snack.
Next to be demolished were Organic Whole Wheat Noodles (Rs 44), which were cooked to perfection with evenly browned vegetables, and are procured from a milling plant in Paonta Sahib, Dehradun. The organic noodles typify the Café's promise of providing 'fun health food'. We've all heard the aphorism that behind every perfect plate of pasta is a great sauce. Nirvaaha has mastered the perfect sauce and the cafe welded together pure organic ingredients to proffer a plate of the ultimate comfort food, Organic Pasta (Rs 58). Enriched with broccoli, carrots and bell peppers, the creamy multi hued dish is a sound representation of what is popularly referred to as 'food porn' nowadays. Whereas generally, a dish of pasta elicit both pleasure and guilt within me in a 50/50 ratio, at Nirvaaha, armed with the information that the pasta was made of organic whole wheat flour, organic vegetables and sauce derived from farm fresh A2 milk, I dug in with gay abandon rarely experienced during consumption of carbohydrates.
Segueing to the Chaat section, we dove into the Organic Aloo Tikki (Rs 44). Crispy on the outside with a soft interior, the tikkis were embellished with aloo, channa and sweet-and-sour tamarind chutney.
All of the above were washed down with Nirvaaha's Fresh Fruit Milk Shake (Rs 35), which was prepared with farm fresh A2 milk and organic seasonal fruits. My milkshake contained fresh papaya and banana blended with milk, which banded together into a creamy, fruity, coral coloured concoction.
NIRVAAHA IN A NIBBLE
Location: IIT Delhi, Hauz Khas, New Delhi – 110016
Cuisine: Fast food (dynamic)
Meal for Two: Rs 200-500
Seating: Dine outdoors in the serene setting of the café within the IIT Delhi campus
Most Popular Dish: Organic steamed momos
USP: The café offers budget and health-friendly organic fare directly sourced from organic farmers—a welcome substitute for other fast food
---