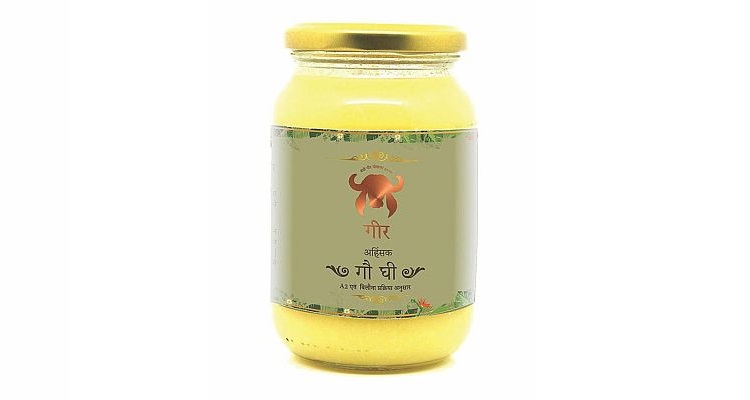 Confused about where to head for organic foods and products? Below are a few legit options…
◊ By Pure & Eco India (Updated on August of 2018)
ORGANIC FOODS
1] BANSI GIR GAUSHALA
BANSI GIR GAUSHALA is an award winning cow habitat (winner of the National Kamdhenu Award conferred by Govt of India), which fosters indigenous Gir cows known for their nutritious A2 milk.
The Gir cows at Bansi Gir are free range and raised on organic fodder, without the use of steroids.
2] PASCATI
PASCATI offers India's first certified Organic chocolate, manufactured in our very own Daman! Organic, as well as, Fairtrade.
3] NATURELAND ORGANICS
Rajasthan based Natureland Organic Foods is one of the leading organic players in India currently.
Buy Organic  Food from Natureland Organics
4] TERRA GREENS ORGANIC
Terra Greens is headquartered in Hyderabad. It promotes (all organic certified) over 120 organic food products.
Website: www.terragreensorganic.com
5] ECO LIFE
ecoLife is primarily into organic rices.
In 2017, Nature Bio-Foods (promoter of ecoLife) was conferred with the CII Food Safety Award. EcoLife is India' largest producer of organic rice.
6] PRO NATURE ORGANIC
Pro Nature Organic is another leading certified organic food brand.
Buy Organic Food from Pro Nature Organic
7] ORGANA
Organa offers yummy organic fruit juices; it is your organic alternate to Frooti, Tropicana, Real, etc.
 8] ORGANIC KOCHI
Organic Kochi has everything imaginable from organic coffee to fresh produce, to pulses, to rice and flours. Take a look!
Buy Organic Food from Organic Kochi
9] SAMRUDHI ORGANIC FARM (inviting franchisees for soon-to-be-launched pan-India retail chain)
Pune-based Samruddhi Organic Farm (I) Pvt. Ltd. has been fostering the culture of organic farming since 2004. It is engaged in the sale of over 175 certified organic products.
Website: www.samruddhiorganic.com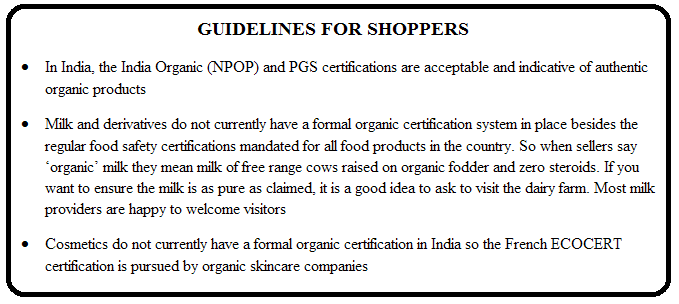 ---
ORGANIC SKINCARE
1] JUICY CHEMISTRY (certified organic-ECOCERT)
Juicy Chemistry (JC) is one of the few to give 100% disclosure of each and every ingredient it uses in each one of its products.
The brand offers organic skincare products for all skin types and across a range of applications—from Soap Bars, Toners, Body Butters, Moisturisers, Face and Hair Serums, Eye Creams and Eye Serums to Lip Balms and Lip Scrubs, Dusting Powders, Face Scrubs, Hand and Foot Creams, Foot Scrubs and Soaks, Bath and Body Oils, Essential Oils, Shampoos, Conditioners, Face and Body Masks, Body Washes, Hair Oils—and even Pain Relieving Balms, Natural Mosquito Repellent and Beard Oil for men.
JC's pilot baby product, the Organic Avocado & Coconut Baby Shampoo & Body Wash, is a hit with young mothers, having already sold lacs of bottles ever since its launch.
Buy Organic Bath & Skincare products from Juicy Chemistry
2] LAST FOREST (Fairtrade & Certified Organic-PGS)
This is a social enterprise and most of its products are handcrafted by tribal women in Kotagiri, The Nilgiris.
Although it offers a host of organic products, its flagship products are its beeswax soaps and balms. Last Forest's beeswax lip balms are the best selling product of their entire product range. Strawberry, Mint and Chocolate flavours are the hottest sellers. Made from the beeswax of the indigenous honey bee, Apis dorsata.
Buy Organic & Fairtrade products from Last Forest
3] RADICO
Radico is a leading certified organic brand of ORGANIC HENNA & ORGANIC HAIR COLOURS.
Buy Radico's Organic Henna & Hair Colours
---
ORGANIC LIFESTYLE
1] SOSE (brought to you by the people behind the Bansi Gir Gaushala), provides all kinds of organic foods & healthy lifestyle products.
2] EARTHEN STORE is an online marketplace for organic, natural & eco friendly daily essential products directly from manufacturers & producers.
Buy Organic Foods & Organic Lifestyle products from Earthen Store
---
PRESERVATIVE- FREE PET FOOD
NOW FRESH offers preservative –free pet food, which is also gluten free.