By Karin Heinze (in collaboration with the Swiss Research Institute of Organic Agriculture)
TThe positive trend seen in the past years continues: Consumer demand is increasing, reflected in the significant market growth. More farmers cultivate organically, more land is certified organic, and 179 countries (up from 172) report organic farming activities, as shown in the 2017 edition of the study "The World of Organic Agriculture" (data per end of 2015). The statistical yearbook is published by FiBL and IFOAM – Organics International and launched at BioFach on February 15, 2017, from 4.00 to 4.45 pm in Hall Shanghai, NCC East.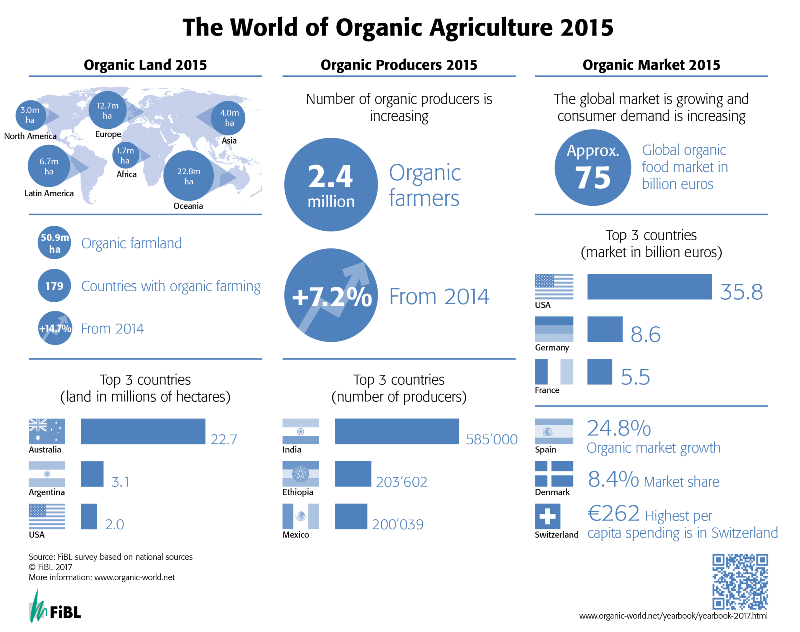 GLOBAL ORGANIC MARKET CONTINUES TO GROW WORLDWIDE

The market research company Organic Monitor estimates the global market for organic food to have reached 81.6 billion US dollars in 2015 (approximately 75 billion euros). Amarjit Sahota, founder and managing director of London Consulting firm Organic Monitor says: "The US market, due to its above-average growth rate, accounts for an increasingly important share in the global organic market." Also most of the major markets showed double digit growth rates. The four leading markets that contributed more than 70% to the global organic market turnover in 2015 are:
United States with 35.9 billion euros

Germany with 8.6 billion euros

France with 5.5 billion euros

China with 4.7 billion euros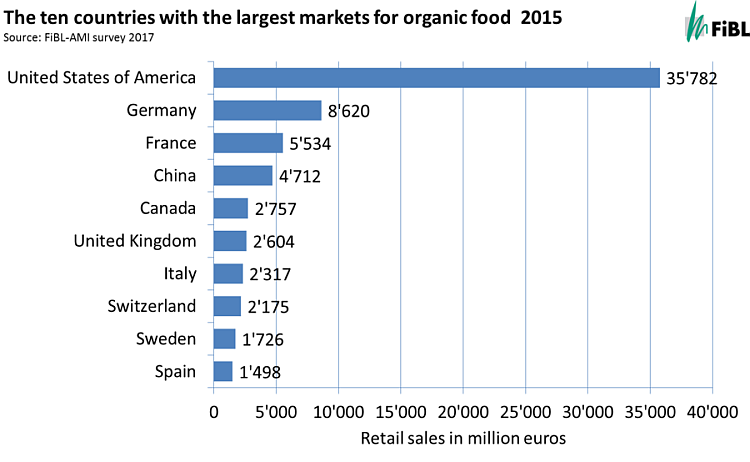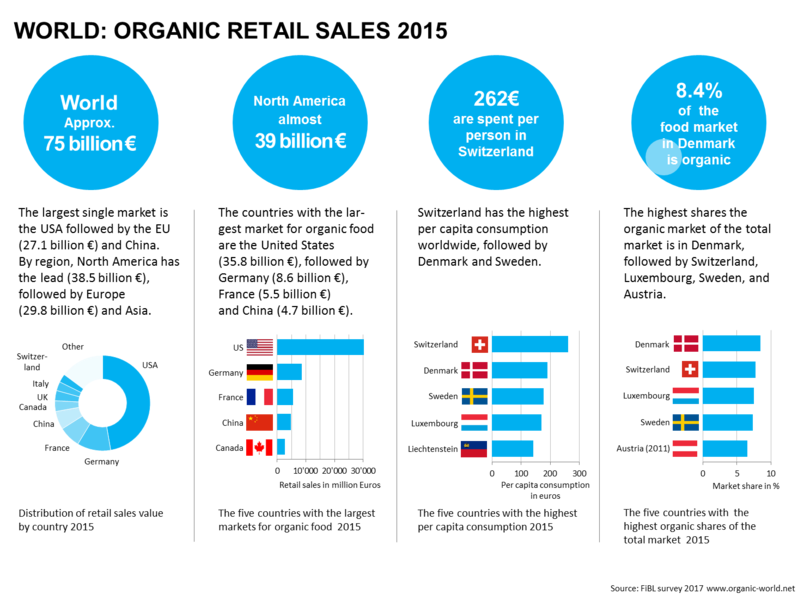 HIGH CONSUMER DEMAND IN MANY EUROPEAN COUNTRIES
One of the highest growth rates in Europe was recorded in Sweden, with a plus of 38 percent. Together with Denmark, Sweden occupies the top position with the highest organic market share of over 8 percent of the total food market. The highest per capita spending was in Switzerland (262 Euros), followed by Denmark with 191 euros and Sweden with 177 euros.

ORGANIC AGRICULTURAL LAND WAS GROWING CONSIDERABLY IN 2015
A pleasing development in 2015 was seen among the organically cultivated agricultural land. A total of 50.9 million hectares were farmed organically in the 179 countries covered, almost 6.5 million hectares more in comparison
to 2014. Even more impressive is the comparison with 1999 as the global ecological area was only 11 million hectares. Of the almost 51 million hectares today, almost 23 million hectares are located in Australia/Oceania (45%), Europe occupies second place with 12.7 million hectares. In Latin America, the only continent in which growth in the area was stagnating in 2015, 6.7 million hectares are cultivated organically (13%).
Although globally, the organic share of the total agricultural area has so far only reached 1.1 percent, the development over the past 15 years has been impressive overall, especially if the non-agricultural land (mainly certified for wild collection) of 39.7 million hectares is added.


NUMBER OF ORGANIC FARMERS IS GROWING STRONGLY
About 100,000 people have opted for organic farming from 2014 to 2015 and have allowed the number of organic producers to grow to 2.4 million. Compared to 1999, where the statistics counted only 200,000 producers this is tremendous growth.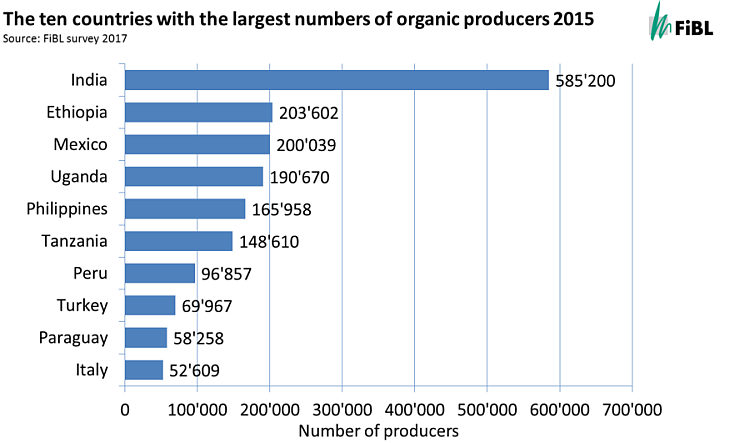 Tip: More charts and infographics and detailed information can be found in the statistical yearbook "The World of Organic Agriculture", published by FiBL (Research Institute of Organic Agriculture) and IFOAM – Organics International.The survey is supported by the Swiss State Secretariat for Economic Affairs (SECO), the International Trade Centre (ITC), and NürnbergMesse, the organisers of the BioFach fair.
"The World of Organic Agriculture" 2017 edition can be downloaded at www.organic-world.net/yearbook/yearbook-2017.html. The print version (25 Euro + shipping; for IFOAM members, 20 Euro) of the study can be ordered at www.fibl.org/en/shop-en.html (shop number 3503) and www.ifoam.bio
---
The author is Editor of www.bio-markt.info (German) and www.organic-market.info (English), online magazines for organic trade