By Rutaksha Rawat

(Photos © Benefit Publishing Pvt Ltd)
Roots has its roots firmly planted in energy conservation, eco consciousness, and wholesome and flavourful food
WWhen I heard Roots was a zero grid cafe (perhaps India's only) run on solar power that also served organic food, I knew I had to go see the place.
Situated in the middle of the Rajiv Gandhi Renewable Energy Park (RGEP); run by the Advit Foundation in Gurgaon, Haryana, the cafe-style restaurant offers simple, vegetarian, wholesome food, with a 'home made' appeal. Roots was founded in 2010 by Rajesh Ojha (co founder, Banjara Camps, an eco tourism facilitator), Ina Sinha and Ashish Arora—the same bunch of people behind Cafe Lota at the National Crafts Museum, Delhi.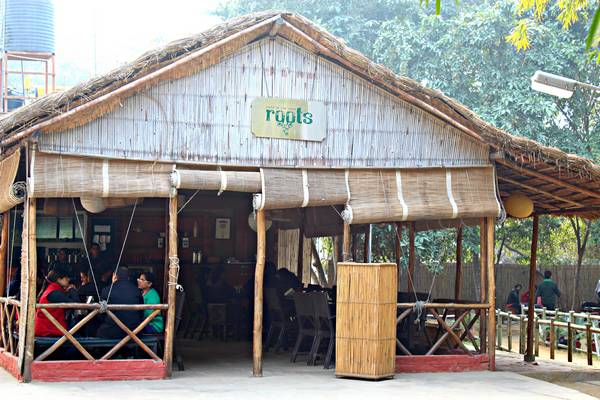 Not far from the entrance of the park, the cafe's structure is made almost entirely of bamboo and straw, and features both indoor and outdoor seating. While indoor seating comprises wooden furniture, the outdoor area offers visitors concrete benches with bamboo moodas or stools to sit on. Spherical paper lanterns light up both areas.
Reasonably populated for a Monday afternoon (when we visited), according to Vinod Dani, the cafe's soft spoken manager, the place is packed to the rafters on weekends, with anywhere from 400 to 500 people visiting.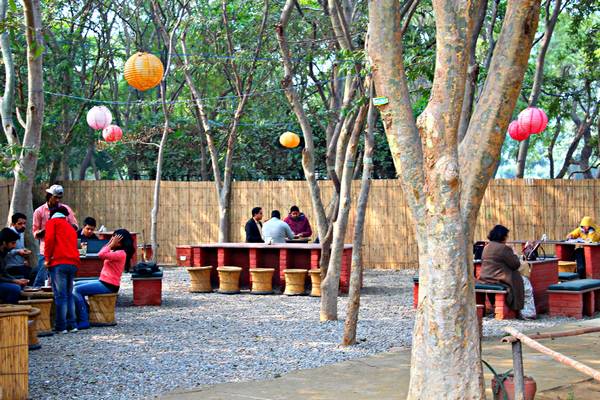 I spied cliques of friends and families; a lone reader perched on a corner bench with a very patient fudge brownie; and a motley group of corporate servants on a brainstorming break. A bunch of college goers laughed more than they ate and an expat or two with steaming mugs of coffee completed the scene.
The objective of RGEP, where Roots is housed, is to spread awareness about renewable energy, energy conservation, energy efficiency and climate change mitigation. Adhering to the theme of the venue, Roots is a zero grid cafe, entirely run on solar power. Its eco consciousness goes beyond energy efficiency, however. The restaurant's mantra word is 'Natural'. It tries to use nature to create its food as much and as pervasively as possible.
From leveraging the Sun for electricity, cooking and hot water, to creating only preservative free food, and composting its waste at the compost pit located on RGEP's solar panel-dotted compounds, Roots goes the extra mile to be green. So admirable and novel are these attributes in the Delhi NCR setting that I would venture so far as to say the place is as much about its ambience, ethos and environs as it is about its food. If not more.
Amidst the sea of heavy duty binge food options that Gurgaon offers, Roots stands out as an oasis for lovers of natural, light, mildly spiced vegetarian food. Whereas, generally, vegetarians are faced with limited eating out options—resorting to visiting heavy thaali-brandishing restaurants or the local dosa cafe, Roots is different in that it offers 'home-like' Indian food with a smattering of continental thrown in. That its offerings are easy on the pocket contributes to robust footfalls from people from all walks of life, especially youngsters reliant on pocket money.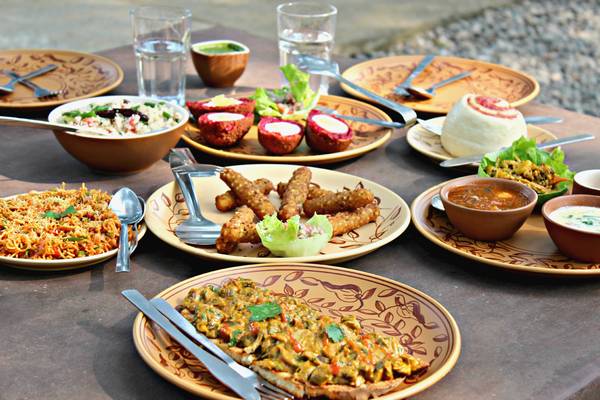 The positives of the food at Roots are that it's fresh, preservative free, processed food free and made "mostly from organic produce". The cafe mostly cooks its food with a solar cooker but on weekends, due to heavy footfall, they revert to gas. It also has an inhouse bakery and doesn't rely on mass-producing commercial bakers for its breads. The milk and milk products used by Roots are organic, procured from Jaipur based, Rajdarbar Dairy, which delivers the stock everyday to Roots and the nearby Westin Hotel.
The differentiating factor, distinguishing Roots from the other vegetarian eateries is its home made appeal and the fact that the food is neither too greasy nor too spicy—a trait people often attribute to restaurant food in India.
But really, anyone that respects conservation; enjoys light, healthy food; likes sitting under trees and thatched roofs and being surrounded by nature at large, would consider it a haven, especially given the concrete and greenery-starved surroundings of Gurgaon. A must visit (at least once) no matter where you live in Delhi NCR.
An added bonus to visiting Roots is that it's situated on the lush premises of RGEP, which conducts educational workshops and activities on weekends; and the park is a lovely place for children to play in— a favourite of many a school trip. The park also features solar car rides on certain days of the week.
The only downside is there is no dedicated washroom for Roots patrons, and one has to use the common toilet of RGEP, which, like most government run properties, leaves a lot to be desired.
Food Tasting
We kickstarted the feast with Poha (savoury flattened rice), Sabut Dana (tapioca pearls) Fingers, Bangla Masala Scotch Eggs, Wai Wai Bhel, and Spicy Creamy Mushroom on Toast.
The Poha (Rs 120) was just like the one we make at home, except the cafe had not used turmeric to tint it yellow. Otherwise, it tasted almost the same, albeit less spicy. I personally prefer something hotter but a lot of people would appreciate a moderately spiced meal when eating out because it's such a rarity in Delhi NCR.
The Sabut Dana Fingers (Rs 110) are the vegetarian's rebuttal to fish fingers. Crispy and delicious, the chef has cleverly added roughly chopped peanuts to the mix to add crunch to the soft centred snack. And it works. I really enjoyed this one and again, it's very similar to the sabut dana cutlets we eat at home. As with Roots' other dishes, the grease is not overwhelming.
I do not eat eggs but communicating for my companion for the day, the Bangla Masala Scotch Eggs (Rs 160) are delicious. A healthier alternative to the regular scotch eggs, the Bangla eggs contain beetroot paste, which gives them their red colour. I would imagine the guilt of scoffing down deep fried eggs would be abated with the knowledge that they are covered in beetroot, a rich source of iron and vitamin C. A must try for egg lovers.
Next, we ate the Wai Wai Bhel (Rs 80), a bhel puri (savoury snack) mix made entirely of Wai Wai noodles. Anyone that loved Wai Wai as a child will light up after reading the name of this dish on the Roots menu. A clever concoction, it does not disappoint. The Wai Wai bhel tastes as delectable and spicy as regular bhel, only the puffed rice has been replaced. In fact, if someone is not too observant, it is quite easy to mistake the dish for regular bhel. A must try.
Concluding the stream of starters, we ate Spicy Creamy Mushroom on Toast (Rs 160). This, for me, was the best of the lot. Cream laden mushrooms on crunchy toast. As for the spicy element, the dish didn't cut it for me in that department. But it was deliciously creamy without being too heavy. The cream base is reminiscent of the flavour of kadhai paneer (cottage cheese curry) but more creamy. Very flavoursome and a meal in its own right. A must eat.
Lastly, we ordered main course, which featured the Nepali Platter (Rs 210). This dish was disappointing as it lacked in taste and didn't score highly in the appearance department as well, although it does look attractive in print. The platter comprises a bowl of what looks like liquidated curd with coriander; a humble aloo (potato) curry; a mixed vegetable dish dominated by bitter gourd; and a red chutney. Upon enquiry, the attendant advised us the liquid curd was the Nepalese version of the kadhi (a curd based yellow curry). To me, it did not taste like kadhi at all—a thin raita (curd based accompaniment) perhaps. The vegetable featured bitter gourd, something most people don't seek out when eating out. The aloo curry was just that—aloo curry. Nothing to write home about.
But on the upside, along with the platter came a large Tingmo (Rs 45, if ordered solo). The steamed Tibetan bread was soft and fluffy, and lacked the egg aroma that some of the tingmos in Majnu ka Tila (Tibetan refugee colony in Delhi known for authentic Tibetan cuisine) possess. The bright red swirl on top of the tingmo was hard to miss and I thought for a moment, it was strawberry jam, and that perhaps this was a sweet bun of some sort.
But the waiter informed me it was grated beetroot and carrots that formed the red swirl. Upon breaking the bun open, the swiss roll-like effect with the carrot and beetroot comes to life. A healthy snack that is sure to delight children.
Roots has a slim but pleasing range of desserts including whole wheat lemon cake (Rs 80) and Fudge Chocolate Brownie (Rs 80) but it was the Solar Cooked Rice Kheer (Rs 60; milk rice pudding) that caught my eye on the menu.
Unfortunately, we were too full to order it.
Post lunch, I met up with a cousin who lives in Gurgaon. I told her to pick me up from RGEP. "You mean Roots?" she instantly responded. "I go there very often because the kids love playing in the park and it's convenient to eat there afterwards, especially because the food's healthy and home-like," she said. The place doesn't seem to need an introduction.
Location: Rajiv Gandhi Renewable Energy Park, Gurgaon
Cuisine: Mostly Indian; vegetarian
Seating: Indoor & outdoor
Meal for 2: Rs 400-600
Alcohol: No
Credit cards: Yes
Parking: Free
Favourites: Beetroot & carrot Tingmos, Wai Wai Bhel, Sabut Dana Fingers, Bangla Masala Scotch Eggs, Spicy Creamy Mushroom on Toast
Positives: Organic milk usage; organic vegetables usage; solar run; home-like, light food; preservative & processed food free; innovative concoctions designed to infuse nutrition into food; set inside lush energy park; charming natural setting; budget friendly
---
This article appeared in the April 2015 issue of Pure & Eco India