By Rutaksha Rawat
Catering for all— B2B, retail and export markets—Sanjeevani Organics is an emerging leader in the Indian organic industry
Sanjeevani Organic's foray into the organic industry started with the objective of procuring pure farm products, including milk, for family and friends. The journey that commenced with a dozen-strong group of farmers has, today, burgeoned into a movement called 'Sanjeevani', that has spread not only India-wide but also overseas.
Sanjeevani's strengths lie in its utmost attention to quality, diligent farming activities, dedicated team and the core belief that the farmer is not a labourer but a Stakeholder in the business—and in the organic movement at large. The company holds itself ethically responsible for its farmers and is not only concerned with production outputs, but also facilitation of better markets for them, consequently leading to better margins and economical betterment for the latter.
Thus, the company essentially views farmers not as means to an end (produce) but in fact the very 'end', as its key focus is the benefit of the farmer. The market expansion is only a 'means' around that objective. In achieving this goal, Sanjeeevani has been extremely successful and has managed to find markets for its products across the world.
Having gained significant ground in the B2B and export arenas, Sanjeevani ventured into retail in 2012 and today, is catering for Indian kitchens all over the country, with omnipresence in physical retail stores and e-commerce platforms.
Therefore, product by product, farmer by farmer, certification by certification, segment by segment, state by state and country by country—Sanjeevani has charted out a success story for itself across the globe in a remarkably short span of time.
Helmsmen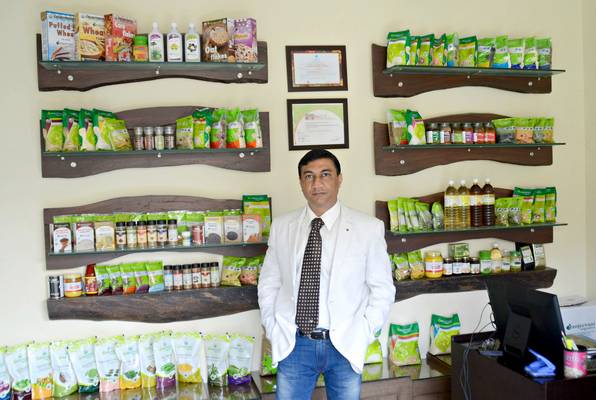 Shrikant Sharma , CEO, Sanjeevani Organics
Sanjeevani Organics is promoted by Shrikant Sharma (as CEO) and Chaudhary Tara Singh (as Project Director).
An engineer and MBA, Sharma is a first generation entrepreneur. Born and brought up in Dehradun, Uttarakhand (UK), and hailing from an agricultural background, Sharma always dreamt of doing something innovative in the field of agriculture, wherein all stakeholders would be benefitted, especially farmers.
Singh, on the other hand is an Agriculture Graduate and has years of experience in agri farming. He used to prepare organic manure for bulk sale to state government farming agencies. The fields on which he dried the manure started yielding 11-ft long sugarcane, the soil having become activated with the organic manure. This occurrence piqued the interest of Sharma, who had already been mulling over the idea of organic food production. Thus, the pair soon got together to march forward, milestone by milestone, for the betterment of society.
In their endeavour, they are assisted by Rajesh Sethi, who heads Sanjeevani's export flagship, Sanjeevani Organics USA, in New Jersey. Sethi and his wife, Ruchi, are working with zeal and taking the company's export business forward.
B2B's Favoured Child
In its quest to serve the farmer, the company has left no stone unturned. In order to gain the maximum possible market share for its farmers, Sanjeevani has striven to, and has succeeded in expanding widely across the business-to-business segment. Today, the company enjoys a vantage point on top. It has emerged as one of the strongest B2B players in the Indian organic industry, being armed with the 360-degree range of kitchen foods and ingredients.
Catering for domestic B2B players, who buy products from Sanjeevani for both domestic and export markets, the company is linked with more than 3,000 associate farmers across 3,489 ha of organic certified land. It also possesses all certifications compliant with world organic farming standards.
Sanjeevani harvests more than 100 crops from across UK, Rajasthan, Madhya Pradesh, Maharashtra, Karnataka and Punjab, and promotes more than 100 organic products under its brand, comprising ethnic and world foods. Its offerings include but are not limited to cereals, pulses, cooking oils, rice, flour, paddy, honey, maize, dried fruits, jams and syrups, pickles, cheeses, dressing sauces and various kinds of pastas.
Singh attributes Sanjeevani's exhaustive range to the versatile climate and conducive growing conditions in UK. "We experience all 3 seasons in UK—Summer, winter and monsoons. This allows us to harvest Rabi, Kharif and Zayad. This is the reason we are able to grow the most diverse and elaborate range of crops in the country—more so than the other states," says he.
Exciting Retail Expansion
The organic food market in India is expected to grow from approximately Rs 675 crore in 2010 to Rs 7,000 crore by 2016, with a CAGR of 50 to 60 percent. Growth drivers in the organic food category include changing lifestyles, rising health awareness, higher disposable income and increasing number of modern and organic retail outlets across the country. If a household switches over completely to organic foods, the extra spend comes to around Rs 2,500 to Rs 3,000 per month, which has restricted the demand of organic products to families with higher disposable income living in the bigger cities of India. However, with the advent of digital media, awareness about healthy living, as well as, strategic alliances with key opinion leaders, the gap is getting minimised with each passing day.
Sanjeevani is witnessing growth in terms of both the customer base and consumption trends. It is, therefore, constantly working towards bringing a greater variety to the market, as the company boasts an enviable range of nearly 200 stock keeping units (SKUs) across categories.
Having scaled B2B and exports, Sanjeevani ventured into the retail market in 2012 and has found itself an ever-widening niche in the segment. "Although B2B has been our forte till now, Sanjeevani is now focusing strongly on the retail market as well. Sanjeevani products are widely available in all major cities through organic specialty and modern trade stores. This includes Delhi NCR, Punjab, Himachal Pradesh, UK, Maharashtra, Haryana, UP, J&K, Madhya Pradesh, Karnataka, Rajasthan, Assam, Tamil Nadu, Kerala, and Gujarat. More channel partners and retailers are added to our business associates' list constantly, as we are in channel expansion mode currently," shares Subrat Das, chief marketing officer (CMO), Sanjeevani Organics.
Moreover, Sanjeevani is present online through its own e-store, doonorganics.in, as well as, through prominent online sellers such as Amazon, Grofers, Healthkart, Snapdeal, and Pepperfry, amongst a host of others. Sanjeevani's products have gained momentum in the retail market since 2013 and are finding homes in shopping bags as fast as retailers can replace them.
Sanjeevani strongly believes in creating an empowering work culture. "We has clearly set our vision 2020 to become one of the top players,  with respect to our top line, traceability, diversification, strong human resource and a strong brand equity," adds Das.
Product Development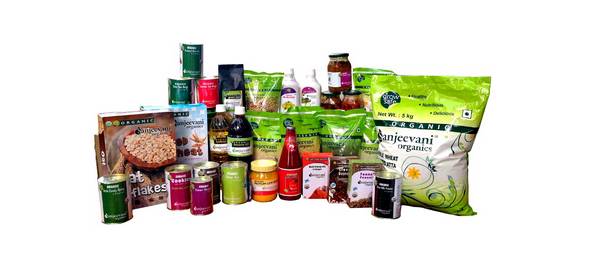 Sanjeevani's R&D unit in Dehradun is brimming with innovation and development, with a pathbreaking project under way and another at the threshold of launch.
The lack of availability of organic seeds has always been a concern for all involved in organic farming. Since the Government of India is parenting organic farming through state government projects, the dearth of organic seeds is a greater cause for concern for projects trying to get off the ground.
Having established a strong footing in most crop varieties, Sanjeevani has taken up the challenge of addressing this issue and the project to prepare organic seeds for the organic farming community is already under way.
Although organic certified seeds are mandatory for organic farming in India, no company is selling them currently due to which, farmers are using their own organic seeds. Sanjeevani, working under the Seeds Certification Act, Government of India, is geared to launch its own brand of commercial organic seeds in 2017. "We're fortunate to be working with USOCA for this project, as it is widely reputed for its seed certification initiatives. We will start with 30 kinds of pulses, as well as, numerous varieties of cereals," shares Singh.
COMING SOON—ORGANIC SEEDS IN 2017
Sanjeevani Organics, working under the Seeds Certification Act, Government of India, is geared to launch its own brand of commercial organic seeds in 2017. With assistance from the Uttarakhand State Organic Certification Agency (USOCA), which is widely reputed for seed certification initiatives, Sanjeevani is currently working on the development of seeds for 30 kinds of pulses, as well as, numerous varieties of cereals.
Friends, Not Farmers
Sanjeevani's ethos promotes building friendships with farmers, first and foremost. "Friendships last forever, work arrangements, rarely," believes Sharma.
While most organic players have farmer associates, for whom they facilitate organic certification in groups, and consequently procure produce from, what Sanjeevani does different is go beyond that farmer-procurer partnership by becoming a friend to its farmers. "A well wisher that cares," reiterates Sharma.
In the villages from where the farmers hail, the company has stationed Master Trainers whose job it is to oversee junior trainers, who in turn instruct farmers on organic farming. The master trainers receive an additional salary per month to conduct evening classes for farmers' children as a way to supplement the school education they receive at the village level. Furthermore, an inhouse veterinarian travels across the villages periodically to tend to the farmers' animals.
On the exposure front, every year, Sanjeevani sends four farmers, two trainers, and one master trainer abroad as part of its Knowledge Exchange Initiative. The idea behind the initiative is to give exposure to the farmers and open their eyes to new practices, techniques and the growing significance of organics in other nations. "Last year, it was Malaysia; this year, they are going to Thailand to observe the Thai way of organic farming," informs Singh.
Growth & Vision
Sanjeevani's long term vision is to bring down the cost of organic products to make patronage more pervasive, which will benefit all concerned—the industry, consumers and farmers— and will also encourage biodiversity. "My personal mandate is embedded in the larger domain of promoting biodiversity in the country," says Sharma.
Contributors to the company's growth include its staunch adherence to quality, caring approach towards farmers, all inclusive product range and active presence across all business verticals and retail formats.
With robust growth come business proposals and Sanjeevani attracts it fair share of investors and joint venture proposals. But the organic major has declined investors in a bid to expand organically on its own. However, the company may consider a JV in the future and is assessing opportunities on that front.
For a company that only laid its foundation stone four years ago, Sanjeevani has come a long way in a short span of time. "Right place. Right product. Right time," is Sharma's modest three pronged explanation for this phenomenon.
FROZEN VEGGIES BY SANJEEVANI USING IQF TECHNOLOGY
Sanjeevani Organics is geared to pioneer the Farm to Fork movement in India by introducing frozen organic vegetables using the leading-edge Independent Quick Freezing technology
Psychographic transformations are always accompanied by changes in the food basket. Over the last 10 years, a shift in consumer shopping patterns at the grocery store (both organised and traditional) indicates that consumption is being driven by processed foods, with frozen food being the leader of the pack. Although, the frozen vegetables category has been around for some time, its penetration is still relatively low, specifically with respect to 'Range and Organic vegetables'. Brands and marketers have been creating awareness through in-store promotions and advertisements. Now, Sanjeevani Organics will be championing concept selling to drive footfall in this category, which can push category sales by as much as 50%. Since the fallout effect of a promotion lasts a week, it will be carried out regularly. Advancement in packaging technology to increase the shelf life of frozen vegetables to two years, and maintaining their nutrient value, taste, hygiene and attractiveness, are key, and will contribute immensely to the category's growth in coming years.
For the first time in India, Sanjeevani will be introducing Independent Quick Freezing (IQF) technology for organic frozen vegetables. This is in accordance with the company's endeavour to pioneer the Farm to Fork movement in India. Sanjeevani will strengthen the go-to-market strategy by entering strategic cities for organic frozen vegetables. It will try to ensure refrigerated container logistics in both primary and secondary markets in the coming years, and will ensure that no temperature abuse takes place by installing data loggers in reefer vans in this highly technology driven superior category, as soon as critical mass is attained with respect to top line.
REGULAR VS FROZEN VEGETABLES
            REGULAR VEGETABLES
      FROZEN (ORGANIC) VEGETABLES
·         Taste & nutritional value loss begins 6 hrs after being plucked

·         So called "fresh vegetables" are actually not fresh, as they reach consumers at least 36 hrs after picking

·         Unhygienic handling adds microbial load to them, which cannot be removed by mere washing

·         Regular vegetables are available only in season, and off seasonal ones are insipid

·         Expiry occurs in maximum 3 days

·         Vegetables that are to be shipped off to different cities around the country are picked much before they ripen, which gives them less time to develop a full spectrum of vitamins and minerals

·         In transit, the "fresh" vegetables are exposed to heat and light, which diminish their nutrient content considerably, especially delicate vitamins such as Vit C and the B vitamin, Thiamin

·         Are not organic and not tested for chemicals and pesticide residue

 

 

 

 

·         Handling & processing occurs within 6 hrs of picking from farm

·         Blanching (treatment in hot water or steam to kill bacteria and arrest action of food-degrading enzymes) removes microbial load

·         Independent quick freezing locks in nutritional value, taste and natural hue

·         Sorting & processing takes place using hygienic state-of-the-art technology

·         No moisture loss during processing

·         No sorting & peeling required; therefore, no wastage

·         Easy & convenient to use, as vegetables are ready for cooking when consumers open the pack

·         Independent freezing allows for vegetable pieces to remain 'independent' and not get clumped together, adding to their convenience factor

·         All vegetable varieties available round the year notwithstanding season, with as much taste and nutritional value as in-season produce

·         Expiry period of 2 years

·         Certified organic and tested for toxins and pesticidal content
FROM THE SANJEEVANI FAMILY
Uttarakhand's award winning farmer, Arun Kumar Kamboj, has developed and breeds the Hansraj rice variety, which has become the toast of the export circuit
53-year-old farmer, Arun Kumar Kamboj of Uttarakhand's Udham Singh Nagar district has received national recognition for his development of an aromatic rice by the name of Hansraj (Oryza Sativa L). This tall variety is a purified landrace of rice and commands a premium price in the export market under the 'Organic Basmati' category. Hansraj is tolerant against bacterial leaf blight and yields 20 tonne/ha. It requires less fertiliser compared to other high yield varieties, and therefore, proves more affordable.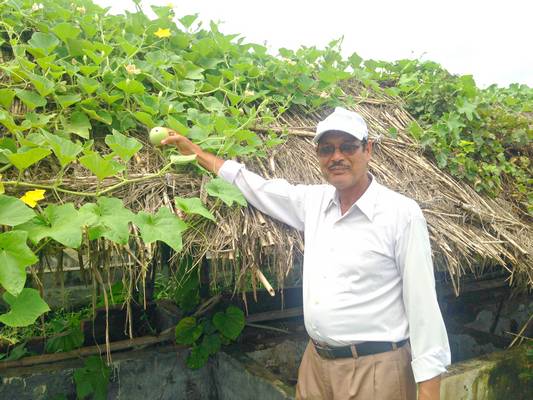 In the photo: Arun Kumar Kamboj
Kamboj, who has 35 years of farming experience behind him, is registered as developer and breeder of Hansraj by the Plant Varieties and Farmers' Rights Act 2001, Government of India. He is also president of the Rishi Parasar Jaivik Krishi Shodh Samiti, Udham Singh Nagar, UK.
Having been awarded several national awards such as the 'National Innovation Foundation Award' for energy harnessing from decomposed biowaste; the 'Best Farmer Award' by the Agricultural Technology Management Agency (ATMA) in UK, and the 'Special Farmer Award' for best practices in organic farming, awarded by the Uttarakhand Organic Product Parishad, Kamboj is a serial innovator, who has invented a 0-energy cooling chamber and a bio geyser, amongst other useful contraptions and technologies for organic farmers.
A major grower of sugarcane (besides rice), Kamboj, also makes and sells organic candy made of jaggery.
---
This article appeared in the October 2015 issue of Pure & Eco India