Why you should have it: The protagonist of this dish, Watermelon, is an excellent source of vitamins A, C and B6, besides being a provider of potassium.
Ingredients
 200 gm Seedless watermelon (diced)
1 tbsp Curd (hung)
½ tsp Green chilli (chopped and diced)
1/4 tsp Fresh ginger (chopped)
1/4 tsp Cumin powder (roasted)
1 tsp Fresh mint paste
¼ tsp Dry mango powder
A pinch of black salt
Salt to taste
1 tsp Mint chutney
½ tsp Sweet tamarind chutney
Fresh mint to garnish (chopped)
½ tsp Sev
8-10 Pomegranate seeds
Preparation
Mash the hung curd with your palm to form a smooth consistency. Then add the chopped green chilli, chopped ginger, roasted cumin powder, dry mango powder, fresh mint paste and salt to it.
Mix thoroughly. Add pieces of watermelon. Marinade and keep inside the refrigerator for 10-12 minutes.
Remove from refrigerator, put through the skewers. Cook inside the tandoor for 2-3 minutes.
Remove and arrange on a plate, sprinkle black salt, topped with mint chutney and sweet tamarind chutney.
Garnish with sev, chopped mint and pomegranate seeds. Serve hot or warm.
---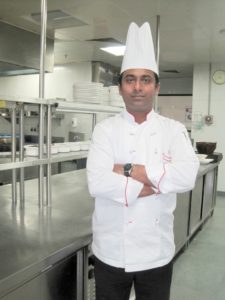 Recipe by Sumalya Sarkar
Executive Chef
The Gateway Resort Damdama Lake, Gurgaon